The Girls Show Their True Sides This Week On 'The Bachelor'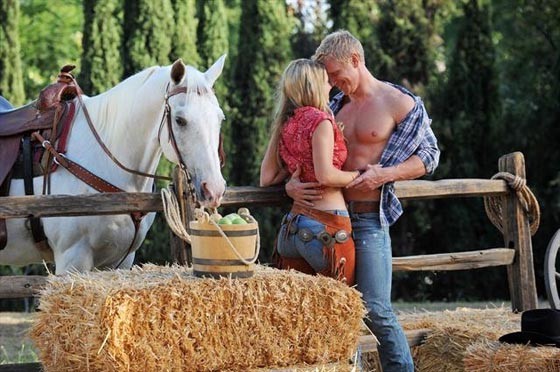 It wouldn't be The Bachelor if they didn't start off with a nice shower scene, would it, Sean? As the nervous remaining ladies wait at the house, the first date card of the night arrives. It goes to Sarah and she is over the moon excited when Sean picks her up in the helicopter. They fly around L.A. and he admits that they immediately clicked once she put it all out there and brought up her disability immediately. Once they get off the helicopter, he tells Sarah that they will be free falling off the tall building they were on, nothing to be scared about, right? It was nerve racking just watching them- we don't know how they did it! At the bottom of their free fall, the two had a glass of champagne and although Sarah is beautiful, we think she lacked a little spunk. She sweetly shared a story with Sean about a time when she was in Las Vegas to go zip lining with her dad and the employee told her that the law prohibited anyone with a disability to go. He was blown away by her story and courage and he gives her a rose and a kiss.
Back at the house, the group date card goes to Kristy, Amanda, Brooke, Lesley,  Daniella, Catharine, Robyn, Katie, Selma, Diana, Karen, Kacie and Tierra where they will 'capture the moment.' The girls pull up to a massive mansion where Sean is waiting for them at a photo shoot for Harlequin Novels. The girls get glammed up while Sean, of course, takes his shirt off and puts on a cowboy hat. The girls will all have to pose in a romance shot with Sean and the winner will get a three cover spread with Harelquin. Not a bad deal if you were a fifty year old lonely housewife! The girls are clearly not a fan of the evil Tierra but when she is with Sean, she turns on her sweetness and denies that she has a mean bone in her body. Lesley knocks the photo shoot out of the park and gives Sean a kiss as the other girls glare at her with hatred. On Tierra's turn, she is very aggressive and also gets a kiss. Kristy was a hot mamma and seduced Sean during the shoot- all the girls admitted that it was pretty hot and she takes the win. Lesley lures Sean inside for a quick chat and he asks her why she is on the show. She answers that she is hopeful that she will find love and although there was no kiss, the two seemed to hit it off and she lapped back around between ladies and gave him a smooch. Next, Kacie takes Sean aside and tells him that she liked him since she met him and Sean agrees that he wants to get to know her more as well. Who will get the rose though? Catherine pulls Sean aside and tells him that she is a vegan but likes beef…Did she just say what we think she did? Did she mean beef, like Sean's beef? Gross!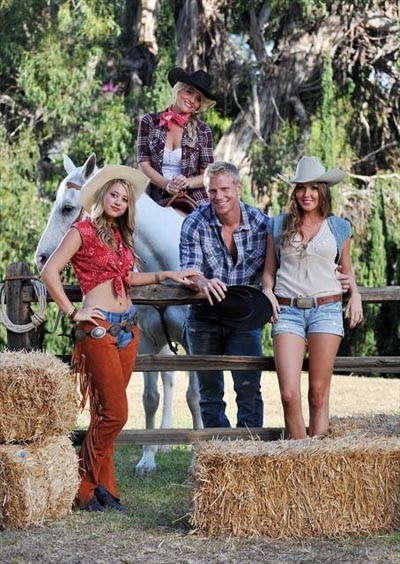 Meanwhile, the chicks that weren't on the group date are waiting at the house for the next date card. And the lucky winner is Desiree. In an awkward moment, Katie tells Kacie that she feels like she doesn't belong and is extremely uncomfortable. We think it's your hair that is uncomfortable, honey. She confesses that she needs to go home as Sean walks her out to the limo, we hope that he gives her a goodbye goody bag with some Frizz Ease and a comb. Was her hair getting bigger by the minute or was it just us? Ultimately, Sean gives the rose to Kacie as she passes through that dreaded 'friend zone' to the romantic neighborhood.
Desiree gets her date with Sean but little does she know, Sean and Chris Harrison set up an art gallery as a prank. One of the art pieces is going to fall and break and Desiree is going to think it is all her fault, while Sean and Chris watch in a hidden room. Poor girl! The two start browsing the room full of art and Desiree and Sean get a sneak peak of the important piece of art that will eventually fall and break. As Desiree stares at it awkwardly and the 'art director' describes the importance of the piece, she leaves Des alone and the piece falls. The poor girl looks like she is going to cry as the 'artist' accuses her of pushing the piece over. Sean can't stand it anymore and he bursts in and tells her it was a joke. After the fiasco, the two have dinner and talk about the loving relationships that both their parents have. They seem to really have a connection as they jump into the hot tub and she snags that rose. Although we were a little distracted by the gurgling of the pool, it didn't seem to take their attention away from the make out session in the pool.
Lindsay and Sean get a moment alone and she confesses that she was out of her element when she showed up in a wedding dress. Amanda (aka the Exorcist version of Lana Del Ray) is giving all the girls the silent treatment and they feel like there is something wrong with her. As Robyn comes out and asks Sean about the diversity in the group, he tells her that his last girlfriend was black and we know that she will be going far in this game. Sean then steals Amanda away and she turns on her happy side and actually smiles for him. The girls are not a fan of her fakeness and we don't blame them.
The night gets interrupted by Chris Harrison alerting them that it is time for the rose ceremony. The first rose goes to AshLee, followed by Lindsay, Robyn, Jackie, Lesley, Selma, Catherine, Kristy, Leslie, Tierra, Taryn and Daniella. To most of the girls' surprise, the last rose goes to the devil herself, Amanda. Single mom, Diana, and Community Organizer, Brooke, are sadly sent packing.