The Girls Put Their Interviewing Skills To The Test On 'America's Next Top Model'

This week on
America's Next Top Model
,
Tyra Banks
wanted to make sure her models had the capability to be a true top model and prove that they were multi-talented; meaning, she needed them to be camera ready.
The episode started off with the girls traveling to the set of The Insider and practicing their interviewing skills with the comedian Ant. Some girls couldn't hold up their side of the conversation. Rae constantly cut him off, while Nicole couldn't think of anything to say back.
The girls had to put their interview skills to the test when their challenge was interviewing
Jessica Lowndes
from
90210
. (Shameless CW plug, anyone?) The girls had two minutes to talk to the actress and had to deal with whatever came their way. The producers decided to take away the girls' questions on the teleprompter halfway through the challenge. Some of the models handled this with ease, like Erin and Jennifer. Others did not. The girl who had the hardest time was Laura. She told the cameras in a confessional that she is dyslexic, so she freaked out when she couldn't read the gibberish on the teleprompter screen thinking it was because of her condition. She took a moment to compose herself and carry on, but it wasn't as smooth as some of the other girls.
Ultimately, Erin won the challenge because she was completely in control of her interview. She won a Seventeen beauty story and took Rae and Jennifer with her to celebrate her prize.
Since the girls were practicing being on camera, it was no surprise when instead of a photo shoot the girls were asked to give their very first Cover Girl commercial. The neat quirk to this cycle's commercial was that the girls had to come up with their own script to memorize. You'd think that would be easier than in cycles past where some girls had to recite a commercial in another language! But, being on camera is never as easy as it seems.
The almost challenge winner Jennifer ended up having the best commercial. It was very obvious that she'd seen a Cover Girl commercial or two and acted very natural and "Cover Girly." She did bob her head a bit too much for my liking, but overall she was the most relaxed out of the bunch. The judges, including guest judge Kim Kardashian, thought she was very charismatic and adorable with a relatable personality.
Despite how much the other models don't like her, Nicole continues to impress the judges. Her commercial started off weak, she wasn't quite getting it, but Nigel Barker directed her and she took that direction to heart. She wasn't overly natural in her commercial, but she definitely had a "pop" that Tyra liked, making her the second to be called this week.
A robotic Brittany was called third. I'm completely over Brittany in this competition. She takes pretty pictures, but she doesn't have much of a personality and she's not that pretty to begin with. I'll agree with the judges, she is very robotic and too scripted. She may get hired as a model, but she won't "wow" anyone with her current way of doing things.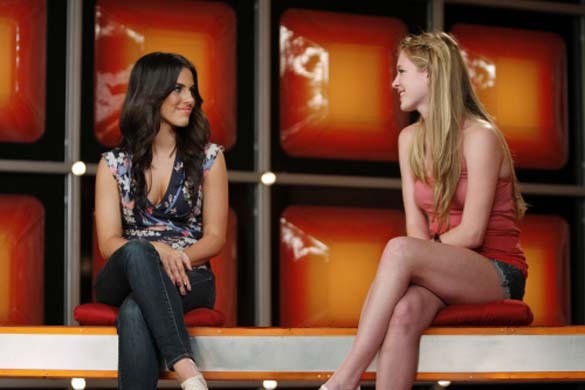 The girls put their interviewing skills to the test as they interview "90210's" Jessica Lowndes on the set of "The Insider" on America's Next Top Model on The CW. pictured left to right: Jessica Lowndes and Laura Cycle 13 © The CW Network
Sundai was next, but her commercial was disappointing. According to the panel, she sounded too much like a saleswoman and not enough like a Cover Girl. Kim Kardashian said she was awkward to watch.
The last three girls had a rough time with this challenge. Laura, luckily, was not in the bottom two. Despite her dyslexia, she still had a decent commercial with just a few skips and stutters. Given what she's said is the severity of her condition, I think the judges felt sorry for her and sympathetic. I am worried, though, that this could be a strong determining factor on whether or not Laura can win this competition as a whole.
This left Erin and Rae in the bottom two. Erin had a terrible commercial. It was ironic that she was so bad in front of the camera because she did perfectly fine in the challenge, and proudly announced (to everyone else's annoyance) that she was the first one to finish her script for the commercial. But, once it was go time she blew it. She couldn't get through a take without crying. They had to re-do her makeup 4 times; this was a first in Top Model history, according to Tyra. But, ultimately they felt Erin still had more potential than Rae. She just was not memorable, and hasn't been for weeks. She couldn't stand out, and that's the most important thing about the modeling industry. It was simply her time to go.
Bookmark our 'America's Next Top Model' News page & check back for regular episode recaps & news!
Story by
Beth Wickman
Starpulse contributing writer