'The Girl With The Dragon Tattoo' DVD Causing Confusion With 'Pirated' Design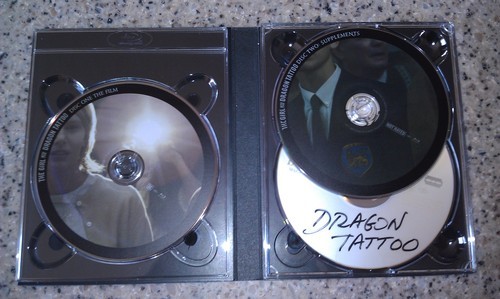 Retailers and rental services are racing to inform customers that the DVD of The Girl with the Dragon Tattoo they just received is not, in fact, a forgery. Sony decided to put a spin on the movie's home release by designing the disc to look like a pirated copy, complete with a title written in marker.
Amazon.com has been forced to write a note to buyers on the movie's page: "It has come to our attention that there has been some confusion on the DVD disc art as it appears to look like a bootlegged copy. Please note that the disc art is in fact the final approved disc art provided to us by the filmmakers.
Redbox also had to warn customers, "NOTE TO RENTERS: The handwritten look on the disc of this movie is legitimate and is intended to look like a burned DVD."
The look follows a hacker theme of the movie, and could be a jab at movie pirates. It isn't the first time actual discs have been passed off as fakes: System of a Down's Steal This Album! was designed to look like a pirated CD. The official Borat release has a covered was designed to look like poorly-copied from the real deal, and had a "pirated" DVD inside with the title written on the disc - complete with a backwards "R."