The Geek Closet: September's Best Merchandise For Fans
As we lament that holiday shopping seems to start earlier and earlier every year, now would seem a good time to crack open The Geek Closet again and take a look at a few interesting items that we've found - five things that might make the perfect gift for that entertainment fan on your list.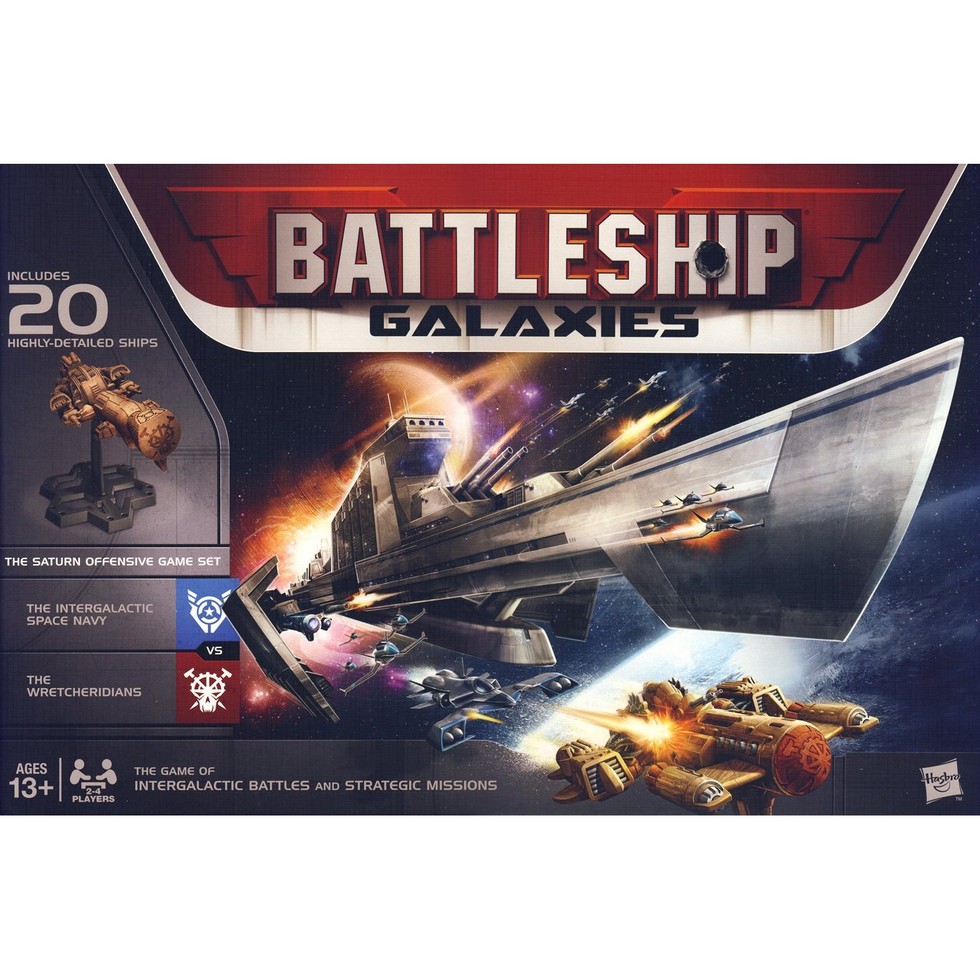 When the good folks at Hasbro sent me Battleship Galaxies, I was skeptical. I grew up playing the electronic version of Battleship, and all I ever did was cheat at it because I found it so boring. I was convinced that I'd just be bored again, this time in space. Thankfully, I was wrong.
Battleship Galaxies is nothing like the board game I loathed as a kid; it's a beautifully designed edition that encourages more brainpower than the random guessing of previous versions. Here, you have options for battles and for customizing your fleet. This is one of the more involving board games I've played in a long time.
It's therefore more complicated than the original game, but there are some easy to understand instructions that come with the game so you can get your head around it pretty quickly. The set also provides a 48-page graphic novel that helps bring the Battleship Galaxies world to life. It helps to create a universe, not just "oh, we're playing a board game."
If that sounds like a lot to take on, once you get the hang of it, games can be played in about thirty minutes. You won't be sitting around for hours on end trying to win. I appreciated that I had a complete game experience without having to give up a large portion of my day. This makes the game ideal for parties or people with busy schedules.
If there's one downer, it's that Battleship Galaxies is not cheap. On Amazon, it currently goes for just shy of $50. Yet if you have the money, and the inclination to really dig into a board game, it's worth every penny.
With Halloween around the corner, I wish someone had shown me this sooner, or I would have been Sterling Archer this year. From the people who brought you the classic "Clean or Die" metal sign, this black turtleneck is a must for anyone who's tempted to dress up as the world's most inept superspy, complete with the Archer logo on the collar.
If you really want to go for broke with the costume, the FX Shop also has plenty of other branded merch, including an ISIS logo mug and (how appropriate!) an Archer flask. As we all know that one of Archer's biggest hobbies is the active ruining of his kidneys.
As I got into the music scene, I wanted something to show off my newfound passion. After a little searching, I was introduced to Pickbay - a handy little device that allows you to wear a favorite guitar pick as a pendant. It's a little bit pricey ($40), but it's worth the expense if you use it consistently - I've taken to wearing mine on a daily basis to show off my Adam Levine pick. (And according to the company, there's soon to be a stainless steel version that will be about $10 cheaper.)
The Pickbay holds up pretty well; I've worn mine for about a week or so now without any worries about it getting scratched or damaged (and that includes through heavy travel and high-traffic events), although I've also been very careful in handling it.
What's neat about Pickbay is that you can change out picks, so you can coordinate your pendant with your mood or your outfit. It's a bit difficult to get a pick out, though slightly easier to get one in. The same is true of the chain it comes with; the first few times I wore it, I had a hard time getting the clasp to cooperate, but it's gotten less difficult over time.
The Amazon description says that Pickbay holds multiple picks; in my case, I wasn't able to fit more than one in at a time. That's obviously dependent on the size of pick you're carrying. Once it gets in there, though, it pretty much stays put. I was able to nudge mine a little with my fingertip but I never had a concern about it coming loose.
This is definitely a distinctive accessory, and a fine gift for anyone who's a musician or just loves music. It's small enough that you could even give it as a stocking stuffer.
Seth MacFarlane, Music Is Better Than Words
Everyone is familiar with Seth MacFarlane, the creator of Family Guy, American Dad and The Cleveland Show - but you might not know that he's recently put out his first CD. MacFarlane's love of musicals and standards has long been apparent in Family Guy and was showcased in the special Seth and Alex's Almost Live Comedy Show, but now he's gotten a chance to record an album bursting with throwback tunes and obscure selections. Whatever you might think of his humor, he's got an impressive set of pipes.
Music Is Better Than Words has the opportunity to appeal to a broad audience - not just the fans of MacFarlane's TV empire, but those who miss the smooth sounds of an earlier age. I'm a casual watcher of the three animated series, but I love the genre of music (one of my favorite songs is Maroon 5's cover of "The Way You Look Tonight"), and I enjoyed not only the sound of MacFarlane's voice but the fact that his choices were songs I hadn't heard of before. Not only was it a good listen, but I broadened my musical horizons at the same time.
As someone else suggested, this is a perfect gift for your parents. Get it for them and watch them be confused at the fact that the guy who makes the show they can't stand can beautifully sing the music they love.
Star Trek Tricorder Prop Replica
At $760, there aren't a lot of Trekkies who can afford this one, but I have to put it on the list because it's just so fantastically awesome. I've wanted a tricorder of my own since I grew up watching The Next Generation, and now you can have one. This little wonder has its own flashing lights, graphics and screen-accurate sound effects. Now if only someone would give us a phaser to go with it.