The Geek Closet: Doctor Who Edition!
In addition to the wardrobe, there are some new releases in the
Doctor Who
universe that will make excellent gifts for the readers on your holiday wish list.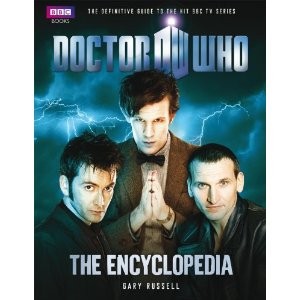 As I mentioned earlier this year, BBC Books has a full line of Doctor Who tie-ins, both fiction and not, and all of them are quality titles. As we near the end of the year, they've released a new edition of The Encyclopedia, as well as the 2012 edition of The Brilliant Book.
Both these titles should be familiar to longtime Whovians, as they've (obviously) been released previously. The former is an updated edition that encompasses all three Doctors from the New Series - Christopher Eccleston, David Tennant and Matt Smith's versions. I picked mine up during the Tennant years, and am glad to have a new version: it really does come in handy when there's something mentioned that you don't remember, or if you just get curious and want to look something up.
To purchase your copy of The Encyclopedia, you can use this link to get it at a sizeable discount off its $40 list price (though as of this writing, it is not immediately available to ship).
The Brilliant Book is released yearly, as a sort of round-up to everything that's happened in the Who universe each year. You get an episode guide, interviews with the cast and crew - this time including writer Steven Moffat, actors Matt Smith, Karen Gillian and Arthur Darvill, and even Alex Kingston - and all sorts of trivia and tidbits.
If you're not able to get the monthly Doctor Who Magazine in your area, The Brilliant Book is a nice way to obtain a collection of the same type of content (but of course not exactly the same). And at only $13.59 as of this writing, it costs less than three issues of the magazine.
To purchase your copy of The Brilliant Book, you can use this link to order it. Don't delay, as last year's edition is already out of print!
Torchwood fans, don't despair: I've got something for you too!
It was a bit of a bummer to hear that Torchwood: Miracle Day wouldn't be released onto Blu-Ray/DVD until 2012. To help you out, though, BBC Audio recently released Torchwood: The Lost Files - three original full cast radio dramas that take place before the last UK series.
The show's three stars (Barrowman, Eve Myles and Gareth David-Lloyd) reprise their roles in these audio adventures, which also feature music and sound effects to create a complete story. There are three of them for under $15. You can order your copy using this link.
If you haven't tuned in to the Torchwood audio series (or for that matter the Doctor Who ones either), you're missing out. These full-cast dramas are just a delight, as the actors really put effort into their performances, and it's fun to imagine everything instead of having it in front of you.
Even if you pick up any of the audio versions of the early Torchwood novels, they're actually pretty interesting. I have Barrowman's version of Another Life and really enjoyed his reading; Myles, David-Lloyd and Burn Gorman have all read others.
On the Who side, David Tennant has read quite a few Doctor Who tales, and his successor Matt Smith has also done so, as have the likes of Billie Piper, Freema Agyeman and Being Human's Russell Tovey.
And if you're just now catching up, you can also order Torchwood: The Complete Original UK Series. It's simply a repackaging of the previous three releases in one volume, but is the perfect set for someone just starting with the show.
Happy holidays, Whovians!
(c)2011 Brittany Frederick/Digital Airwaves. Appears at Starpulse with permission. All rights reserved. No reproduction permitted.