The Geek Closet: Doctor Who Edition!
As we reopen The Geek Closet this month, it's all Doctor Who: I look at the new releases from BBC Books, and check out some out-of-this-world wardrobe!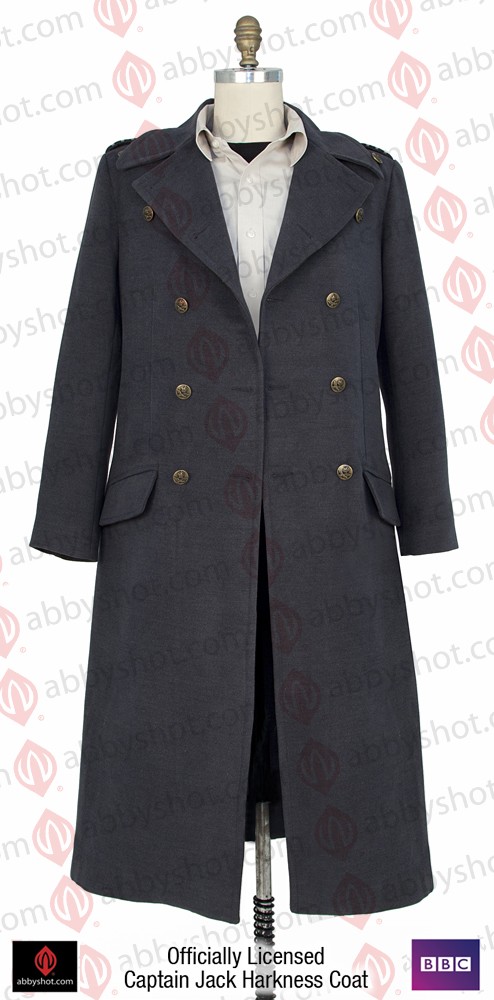 To make it into The Geek Closet, I'm looking for merch that's different from the usual - something that stands out in a collection. For fans of the Doctor Who universe, the replica wardrobe from the good folks at Abbyshot Clothiers definitely fits that description.

Since 2002, they've been designing clothes modeled after the ones you've seen and pined for from TV, movies, video games and anime. The Doctor Who line is but one of their many products - and it is fantastic. Having seen it for myself, I now understand why people want to dress like their favorite characters: because when it's done right, it's incredibly cool.

Being a John Barrowman fan, I jumped at the chance to try out Abbyshot's version of Captain Jack Harkness' greatcoat. It's worth every penny of the $329 (CAD) price.

When it arrived on my doorstep, the first thing that I was struck by was the remarkable detail. You can clearly tell that the product was painstakingly put together, down to the replica Royal Air Force buttons. They're brass, not plastic, and the symbol on them stands out clearly. AbbyShot is considerate enough to send you extras in case you need replacements, but you probably won't; they're also attached securely. It's little things like that which matter most; there are lots of cosplay options, but how many are really built to last?

On to my next point, and that's the purely fangirlish one. This coat is awesome to wear. You've heard it said how a good suit can empower someone? Well, putting on this greatcoat certainly made me feel more confident. It has weight and style that give it a sense of real presence. As an officially licensed product (as are all the Doctor Who products in the AbbyShot line), it's fantastically screen accurate, but it's going to make you feel cooler in your own right.

That's because this isn't just a Halloween accessory. This is a piece of wardrobe you can wear more than once a year, if you were so inclined. I wore it out this holiday season in forty-degree weather and it kept me plenty warm. It has functional inside and outside pockets for your use. And the non-wool fabric is incredibly comfortable.

A word on sizing: if you happen to be particularly short, make sure to note that when ordering via the AbbyShot website. I wore their small, and it came within an inch of touching the ground; no surprise given that it was made for a man, but worth noting nonetheless.

As mentioned previously, AbbyShot makes an entire line of Doctor Who replica wardrobe. Other than Jack's coat, you can also order Martha Jones' (Freema Agyeman) jacket (which is currently on sale for $99 CAD), the Tenth Doctor's (David Tennant) coat ($329 CAD), and the Eleventh Doctor's (Matt Smith) jacket and bow tie ($329 and $29.95 CAD respectively). Here's a look at the Tenth Doctor's coat: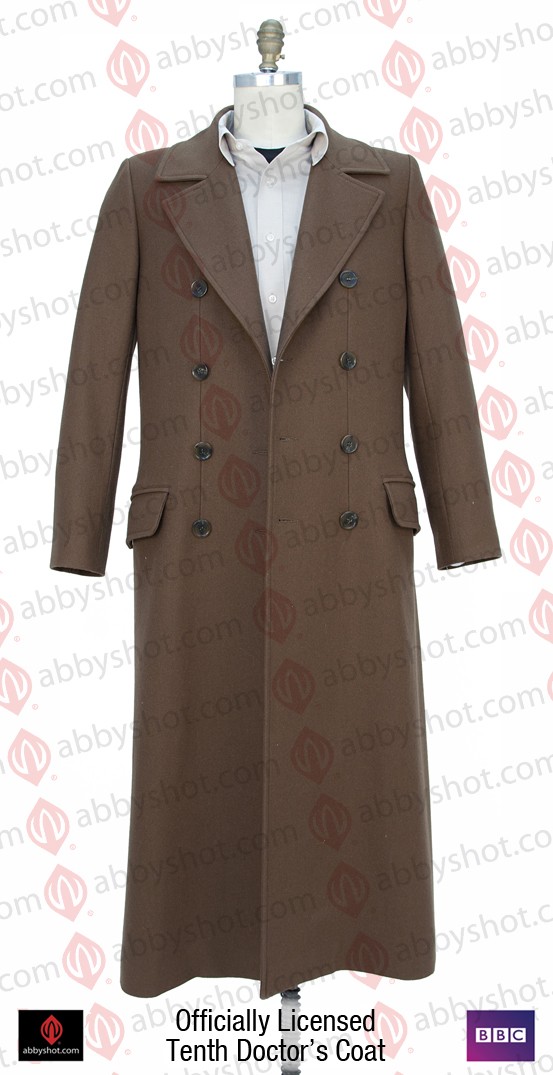 The steep price tag might raise a red flag, but know that you're getting what you pay for - remarkable quality that's going to last you a long time. If you're a Doctor Who fan who really wants to dress like Jack, Martha, the Tenth Doctor or even the Eleventh Doctor, these are products to invest in and enjoy. For more information, visit their website.
Read on for some light reading, including more Doctor Who and some Torchwood that might pique your interest...