The Game's Twitter Account Hacked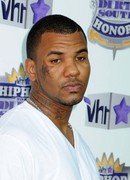 Rapper The Game was left fuming last week when hackers took over his Twitter account and posted a series of joke messages.
 
Internet pranksters broke into The Game's page on the social networking site and uploaded a number of fake posts, with messages such as "I'm gay as hell" and "I like boys."
The jokers also sent a number of rude 'Tweets' to The Game's famous friends including Bow Wow and Lil Wayne.

The Game regained control of the account on Friday and warned the pranksters not to hack his page again.

He wrote, "Give me my Twitter back b**ch... Nice try motherf**kers... (You have) got nothing else better to do than hack Twitters."