'The Game' Recap: 'Grand Opening, Grand Closing' (5.05)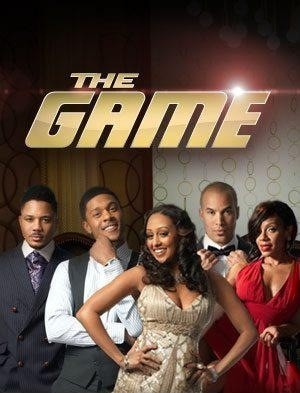 This week's episode of The Game sees Jason get it together - but the rest of the show's still working on that, if what else happens is any indication of the rest of season five.
Jason and Chardonnay are attempting some form of a relationship, which involves Jason being cheap as usual and Chardonnay being one of those people who talks during an entire movie. He suggests they start dating after their annulment, but she's not interested. The next day, Jason drags both Derwin and Malik to the set of his new TV show, just so he can break the news of his drunken marriage and ask for relationship advice. I think the first thing I'd say to him is don't compare the woman you like to bacon, no matter how delicious bacon is.
But as awkward as Jason's attempts are, it's really sweet that the guy is trying. Unfortunately for him, Chardonnay wants a marriage and kids, and he's already gotten out of one failed marriage. Feeling rejected, he tries to move on, going out with a woman whose name he can't be bothered to remember (it's Jennifer) and then turns up on Tasha's doorstep. She points out that he's not used to being told no and will have to get used to it. Then she gives him a spiel on the "plight" of black women, which leads him to say "that's why you're such a bit..."
Jason comes back to Chardonnay, trying to keep his ego in check. He crashes and burns before he finally just spits out an honest plea for her to "take a leap of faith," and she finally agrees to give him the four weeks before their annulment to see where their relationship might lead.
The development of this plot is no surprise, since we know Chardonnay is Jason's new love interest for the length of the season. It's definitely nice to see Jason have a shot at happiness, after so much of last season was fighting between him and Kelly, and his daughter Brittany becoming insufferable.
Having said that, I do have one issue with the plot as a whole, and that's the "plight of black women" spiel. As Tasha describes it, that sounds like the plight of all types of women, not just black women. To me, it felt like adding a racial component to something where there didn't need to be one. I've never seen The Game as a "black" show just because it has a predominantly black cast, and just because the show is now on BET, I don't want it to lose that universality that it's had. But I've made that argument before.
We learn that Malik "was forced into breaking up with Jenna," which is sad because she represented a potential big step forward for his character. Other than that, he's pretty much absent from this episode. The writers clearly skipped over another golden opportunity by dumping Jenna; she was the agent of some potentially great change for Malik, and now I wonder if he'll just go back to being his usual arrogant, overindulgent self without her.
Meanwhile, Melanie and Derwin are trying to get pregnant. Melanie's so invested in the idea that she's willing to change churches just to find one that better fits with their... erm, schedule. The new service is a bit over the top for Derwin, especially when he learns his wife has been "writing big checks for that kind of treatment." He points out to her that being a church "VIP" might be going to her head, only for her to compare the back of a church to the back of an airplane.
Unfortunately, the show pretty much proves her attitude right, depicting the back section as a strange place with an ex-con and an autograph seeker. There's a touching moment where we hear an elderly woman ask for prayers after she's lost nearly everything taking care of her ill daughter - but we don't see anything come of it other than an on-screen graphic inviting viewers to visit BET.com to find out that Mel and Derwin "learned a lot" and have hired the elderly woman as their maid. It seems to me like that deleted scene is the last one that should have been on the cutting room floor. Without it, the last note we get is the elderly woman apologizing to Mel for sitting on her purse. There's a big difference in how those two endings look.
"Grand Opening, Grand Closing" is noteworthy because it finally pushes the Jason and Chardonnay relationship towards its obvious direction (a real romance as opposed to a faux one). Other than that, though, it's a lot of the same, particularly when it comes to Melanie and her ever-growing ego. What happened to the down-to-earth Mel we knew and loved? It'd be nice to see the characters of The Game grow this season, rather than continue to run in place.
(c)2012 Brittany Frederick/Digital Airwaves. All rights reserved. No reproduction permitted.