'The Game' Makes Triumphant Return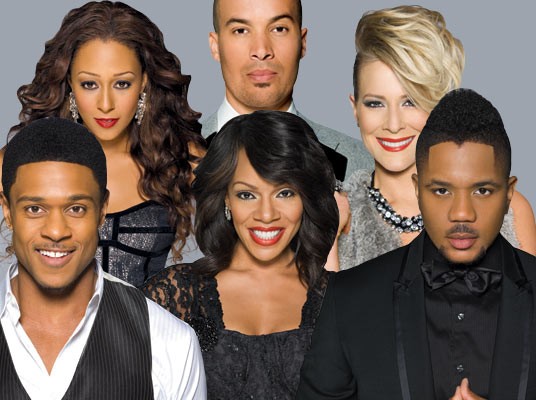 It is my pleasure to report that The Game is back and it's as if the show never left.
There's a new look for the characters, and a little thing called a two-year time jump that we were told about in December, but excepting those two things, this is the show fans loved and fought for. I had a chance to take in the season four premiere (entitled "Parachutes...Beach Chairs") at a sneak preview screening in Los Angeles Thursday night, and I'll say that I cheered, I laughed and yes, I even got choked up a little.
Here's the dish: since it's been some time, there have been some pretty serious changes for our main characters. When we meet them again, Derwin and Melanie are raising Derwin's son, DJ - and that pesky question about whether or not that is his son is answered in the premiere. Their story continues to be the most poignant, and I'll admit the whole paternity drama - particularly Derwin's reactions, as Pooch Hall gives a great performance - had me getting teary-eyed.
Speaking of crying, after making me cry when she started crying at the end of the season three finale, Kelly Pitts has bounced back in a big way. I know a lot of fans wanted to see her back with her husband, myself included, but I have to break your hearts here. She and Jason have split for good, though they share custody of their daughter Brittany. Seeing the adorable little kid recast as a smartmouthed preteen in a miniskirt was the one thing that threw me about the episode. Kelly's struck out on her own, and what she's doing now might surprise you.
I've never been ashamed that I'm captain of Team Jason, and he's still being Jason, saying about a half-dozen things in the premiere alone that he really shouldn't have, while managing to get into a verbal sparring match with former NBA star Chris Webber. If the things he says weren't coming from someone as sweet and charismatic as Coby Bell is, I'm pretty sure he would have been beaten up a few times. I'm still holding out hope that these two will get back together eventually, but it seems like they're going to have a long road to get there. At least their verbal sparring matches are as entertaining as ever.
With Rick Fox having been busy filming Dancing With The Stars, he's likewise gone from Tasha Mack's life, with no explanation about how that relationship fell apart (again). Since a real life scheduling conflict was at least part of that plot decision, and Fox has said he'd like to come back to the show, I hope that the lack of explanation means that the door is open for him to do so. Don't worry about Tasha, though, as she's s still the Tasha Mack we all love. Her first appearance got a huge cheer from the audience and rightfully so, as Wendy Raquel Robinson hasn't missed a beat in her poised, yet always snappy performance.
As for Malik, well...he's probably the one that's changed the least. He's still self-centered and a pain in the behind, ignorant to everyone but himself. In the premiere, he's managed to alienate Tee Tee (Barry Floyd), while making a decision that could possibly be his worst ever. It certainly puts him in hot water with the Sabers' new owner (a very welcome Michael Beach, who of course starred alongside Coby Bell in Third Watch, but alas they have no scenes together). I came away from the premiere really wanting to clock him with something heavy, but that's par for the course with Malik Wright.
There's zero football that takes place in the episode, as it's set during training camp, but that's just fine by me. As much as I love sports, I've always thought of The Game as a sitcom that just happens to be set in that world - to quote a famous ad line from Sports Night, "It's about sports, the same way Charlie's Angels was about law enforcement." I'm just happy to be back in the lives of these six characters and to spend some more time with a gifted cast. I fell back in love with these characters in a matter of minutes. I can still see all the traits that made me embrace them the first time, and a few new ones I'm curious to explore. They've changed a lot, but at their heart, they're still people I want to spend time with. (Okay, and I admit it - I'm still hoping that Jason and Kelly get back together.)
You'll get your chance to see all the action for yourself when The Game arrives on BET Tuesday at 10 PM ET/PT. Tune in, and don't forget to check back here for coverage all season long!