'The Game' 4.11 'Death Becomes Her' Recap and Review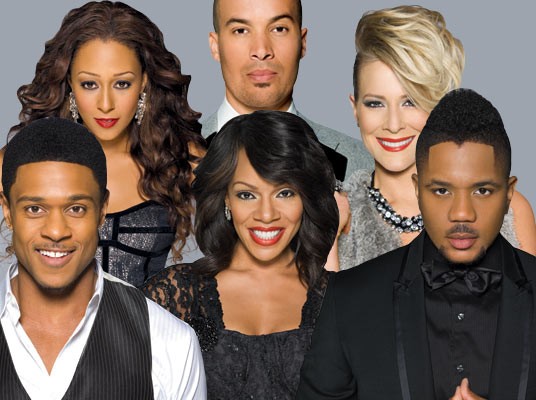 Just when you thought things couldn't get any worse on The Game, they somehow find a way to get even messier. It's time to raise the stakes now that the season finale is just a week away! Unfortunately, the stakes don't raise quite as much as you'd expect.
Tasha

Tasha is at The Vault intending on getting drunk, since between last week's drama with her son and the return of ex-boyfriend Dante, she has plenty of stress that needs to be drowned in booze. I immediately think that this can't go well, and I'm right: she gets picked up by a new beau, who tells her that he's dying - as they're speeding away to avoid the cops after running half-naked through the streets. We find out that he has cancer, which he sees as a blessing because it allows him to enjoy life instead of worrying over it. He asks her what she would do in his position and she admits that she's not even thought about it.
The two set about trying to cross items off their respective "bucket lists," and Tasha admits that the fling has helped her deal with some of her issues and fears. Unsurprisingly, after they spend the night together, Tasha wakes up alone to find that her new lover has left, just a brief goodbye note and a necklace in his wake.
Melanie & Derwin
Melanie and Derwin have decided that they want to try for a baby, with Mel (as usual) being the more aggressive about it. Tasha asks her if she's just trying to "even the score" with Janay, which Mel denies, then cautions her to let things happen naturally instead of trying to force them.
Mel apologizes to Derwin for going a little crazy, and he accepts her apology while telling her that he wants a family just as much as she does. Only time will tell if they actually end up expecting.
Malik
Malik would rather hide in bed after losing Jenna in the wake of the Parker fiasco, even as Derwin warns him that his football career may be in jeopardy if he doesn't report to practice. His teammate has taken the initiative to schedule a sitdown between Malik and Parker's husband, Sabers owner Roger Keith, in order to keep the spoiled QB in San Diego. This meeting does not go well, as Roger would rather torture Malik by keeping him - and forcing him to sit on the bench.
After the meeting, Malik blows up at Derwin, blaming him for not coming more vehemently to his defense. Later, when talking to Melanie, Derwin confides that he can't carry Malik anymore. This leaves Malik calling his mother for help.
Final Score
For the next-to-last episode of the season, I was expecting a little more out of this episode than we got - especially since the promos for next week promise "jaw-dropping" twists. Usually, things of that magnitude take a little more than one episode to set up, and this one really didn't set up too much except for Malik potentially being on his way out the door. If you step back from the show and think about it, though, you have to wonder how much even that matters, because one presumes that the show wouldn't cut out another regular after scaling back Coby Bell and Brittany Daniel this season.
Tasha's relationship issues are nothing new (although this episode did give us a tearful last scene for Wendy Raquel Robinson which makes me wonder if now the door is open for Tasha to find a real love she can settle down with), and Melanie and Derwin's desire for a family of their own is something that's going to presumably play out for awhile. There's nothing here that gets me overly excited for next week. Instead, I'm left looking at all the unanswered questions that are still in play, several of which we haven't addressed for some time.
The one plotline I'm the most interested in - Jason's parenting issues, and his relationship with Kelly or lack thereof - is absent for the second straight episode. We now know from the promos that next week's finale sees the return of Camille (Stacey Dash), the woman he chose over Kelly at the end of last season. I can only hope that Kelly will also return - and that maybe Jason makes a different decision this time. The number-one question I've been asked by fans all season long is if Jason and Kelly will get back together, so it would seem a letdown if we don't at least have hope that they might, especially since this could be the season finale for all we know. They're obviously not going to magically reconcile, but if I don't get to find out what's happened with Jason, with Kelly and with the two of them together, it's going to be a letdown after those plotlines have been started and then somewhat overlooked of recent.
Herein lies my main worry. We have no idea if next week's episode is going to be the season finale or the series finale. This may be the last we ever see of The Game - I hope not, but that is a possibility. And there are plotlines that are still up in the air and not even close to being resolved. What's going to happen to Malik? What's going to happen to Jason? To Kelly? Will Brittany ever calm down? Presumably Mel's parents have figured out by now that she's not expecting just yet? None of those things are even close to a conclusion from what we've seen so far and that's a lot to effectively handle in twenty-two minutes of screen time next week. The show had a chance to start working on that this week, and it didn't make much progress. We'll see how much they can get through next week, but I'd love to see the show go out on the high that it came in on.
Don't forget that next week is the fourth-season finale of The Game! That's right, we're almost at the end already. With the finish line in sight, what do you think of the season so far? Are you happy that BET brought it back for another go-around?
For more on The Game, head over to DigitalAirwaves.net.