The Future Seems Bright For '27 Dresses' Star James Marsden

Chances are you've come across
James Marsden's
dimples on the big screen and been charmed by the man behind them. There's a boyish quality to Marsden, but there's also strong leading man potential, which Marsden is finally beginning to enjoy.
After playing a string of good boys who can't quite hold onto the girl in films such as
X-Men
,
Superman Returns
and
The Notebook
, Marsden joked to
Entertainment Weekly
that his action figure line would be called, "'The Other Guy Series'-the guy-that-doesn't-get-the-girl action figures."
Marsden isn't destined to be "The Other Guy" much longer. His first romantic leading man role opposite
Katherine Heigl
in
27 Dresses
is out in theaters right now, and the future seems bright for the rising star.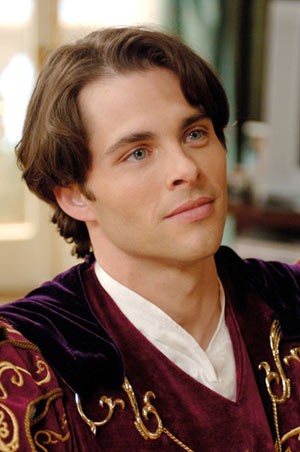 The last year was good to Marsden, who is a man of many talents. He got to show off his singing abilities in
Hairspray
and
Enchanted
, which features his deadpan rendition of "That's Amore," pretty much summing up Marsden's daft, but likable and funny Prince Edward. Marsden, who also sang during his stint on
Ally McBeal
and for the movie
Gossip
, even gives a bar-pleasing version of
Elton John's
"Benny and the Jets" in "27 Dresses" that literally brings him and Heigl to the top of the bar.
Marsden's hard-earned, recent film successes have been long in the making. The Oklahoma native's career began with a chance meeting in Hawaii, where Marsden was vacationing at the same hotel as
Growing Pains
'
Kirk Cameron
and his sister
Candace Cameron Bure
of
Full House
. The encounter led Marsden to begin exploring the acting game.
"Kirk made me realize that acting was something I might be good at," Marsden told
Hollywood Life
in 2003. "I went back to my high school and started doing some plays, and I liked it."
After a year and a half at college, Marsden quit and went to Hollywood in search of that elusive dream, the same one that had brought so many before him. He lost out on the role that eventually went to
Edward Norton
in
Primal Fear
and turned down
Ryan Phillippe's
part in
54
.
But Marsden, a former Versace model, got small breaks on TV in the made-for-television movie
Bella Mafia
and ABC's short-lived "Second Noah" about a family with a lot of adopted children and animals. The anti-
7th Heaven
, Marsden's "Second Noah" character, one of the adopted children, also fathered the youngest adopted child at 14.
Next came roles opposite then hugely popular
Dawson's Creek
stars. Marsden starred alongside
Katie Holmes
in
Disturbing Behavior
and
Joshua Jackson
in "Gossip." Neither film was a financial or critical success, but the underrated, black comedy
Sugar & Spice
would be a precursor of things to come. In the film Marsden got to show off his comedic chops as the all-American football star, Jack Bartlett, who gets his cheerleader girlfriend pregnant.
Roles in big Hollywood films such as "The Notebook" (having to choose between him and
Ryan Gosling
, we sympathized with
Rachel McAdams
) and "X-Men" soon followed, as well as a daring, sexually confused turn in
Heights
from Merchant Ivory Productions.
Now married with two children, Marsden is enjoying the recognition he deserves out of the spotlight while being name-checked on
Ugly Betty
and continuing to jump between genres with the thriller
The Box
, directed by
Donnie Darko
helmer
Richard Kelly
, forthcoming.
Story by
Vlada Gelman
Starpulse.com contributing writer