The Funny Side Of Allison Janney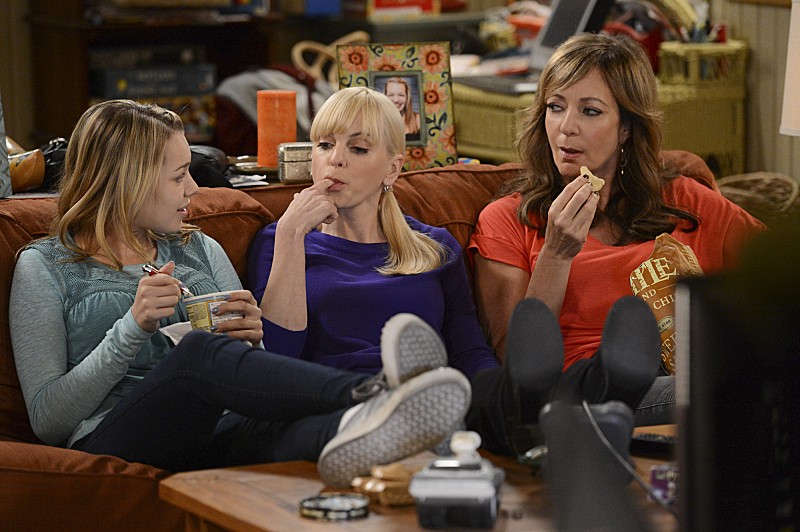 While her role in Mom might be new to viewers, it's not necessarily new territory for Allison. She's been mixing comedy and drama on her resume for years, with roles like Constance Miller in The Object of My Affection and Ms. Perky in 10 Things I Hate About You, just to name two. Does she think the exposure of Mom - which has already been extended to a full 22-episode first season - will help audiences appreciate that other side of her talent? Especially when simultaneously, we can compare it to her dramatic part on Showtime's Masters of Sex as Margaret Scully, wife of Provost Scully (Beau Bridges) and mom to Violet (Rose McIver)?
"I hope so," Allison reflected. "In television, there's a different connection than, I come from the world of theater where you're sort of embraced for the different characters you play. I'm used to going all over the map in terms of style and acting. Masters of Sex is on at the same time and that's kind of showing the opposite side. [Bonnie and Margaret] couldn't be two different characters. I hope that people will embrace me as an actress and as Bonnie, and know that C.J. still exists out there, but I can't keep playing her."
We're not convinced there's much she can't do. She's simultaneously playing in a laugh-out-loud comedy and a controversial drama, illustrating just how much range she's always had. Allison has worked steadily in television, film and theatre; she's won four Emmys and was nominated for two Tony Awards for her work in A View From The Bridge and 9 to 5. Where many actors who work on TV shows speak about not being able to do as many other projects because of the commitment, Allison has been able to keep a diverse resume even as she's been on and off our small screens. What's her secret?
"I think I tend to want to do the opposite of what I've just been doing," she explained. "Things kept unfolding in front of me that made sense and felt like the right moves and [kept] it interesting. I'm just grateful that I have had opportunities to get offers from all different areas. Things work out if you want to do them."
What are some of her favorite projects? While Allison cites the stage work among her best, since you can't catch those anymore, she points us toward some of her films. "Drop Dead Gorgeous was one of those movies that everyone seems to remember that I did.
"And Big Night I loved, because that movie was one of the first movies I got, from doing this incredible play in New York with Stanley Tucci. I think that movie was really lovely. Mike Nichols, he's just been a great champion of mine. He gave me the part in Primary Colors that got me West Wing.
"And then I did this great TV show way back called Morton & Hayes. There's some pretty funny stuff I got to do in that."
Whatever she's doing, whichever medium it happens to be in, we always fall in love with the brilliance of Allison Janney. It's remarkable that she's sustained a career for so long and in so many different arenas, always being so consistently excellent. And the warmth that she has as a person shines through in the characters she plays. This is a woman we admire not just because she's talented, but because she's somebody we enjoy spending time with, whether it's watching her on screen or sharing laughs like we have over the course of this interview.
While she's got a lot to be proud of, Allison is far from done yet. "I do feel proud of what I have accomplished, but I never feel at ease about the future," she told us. "Because I always want to keep working and I don't want to be not current. I always want to keep moving forward and keep working and I'm always afraid that it'll end. And I think every actor has that fear. Even during West Wing, I never did [feel comfortable]. I kept thinking, 'We're not going to go another year, are we?' I've never felt that complete sense of accomplishment."
She's definitely accomplished a lot, so much more than just one role. TV audiences have a great opportunity now to see the complete awesomeness of Allison Janney. Whether it's making us laugh or making us cry, she's one of the best actresses working today, and we're just lucky to be along for the ride.
You can catch Allison on Mom Monday nights on CBS, and in Masters of Sex Sunday nights on Showtime. Also be sure to give her a follow on Twitter (@AllisonBJanney).
(c)2013 Brittany Frederick. Appears at Starpulse with permission. All rights reserved. No reproduction permitted. Visit my official website and follow me on Twitter at @tvbrittanyf.