The Funny Side Of Allison Janney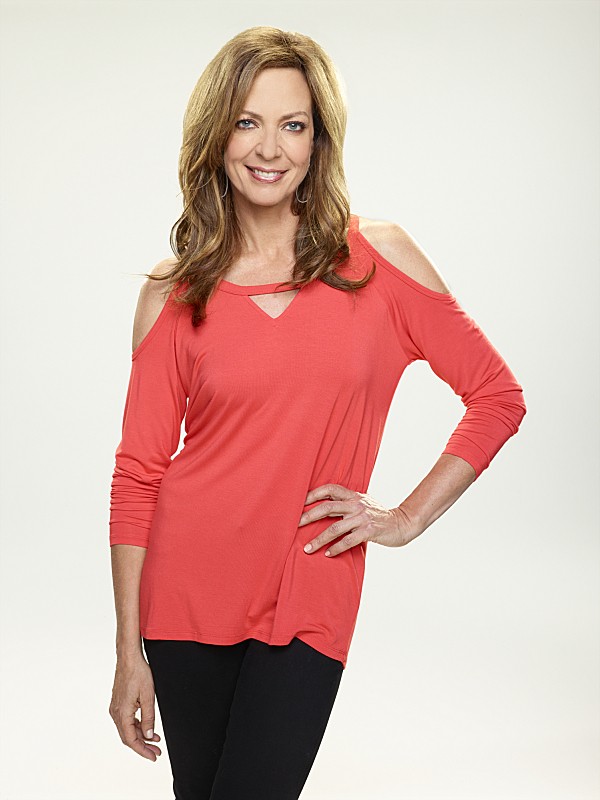 We're all fans of Allison Janney's dramatic work as press secretary C.J. Cregg on The West Wing. But well before she was serving the country, Allison was making us laugh with her comedic talents, which are now on full display as she stars in the CBS sitcom Mom. BFTV had the pleasure of talking with Allison about her new leading role last week, and gaining some insight into this whole other side of her awesomeness.
What made her want to sign on to another TV series in the first place? "I've been looking ever since West Wing," explained the actress, who also took a stab at comedy with the short-lived Matthew Perry vehicle Mr. Sunshine two years ago. "I was looking for the half-hour, multi-cam [series], for many reasons - the schedule and working in front of a live audience. I thought, 'I come from the theater; it'd be the perfect amalgamation of all the different modes I've worked in in the acting arena.'
"Then I got a call about Mom, and that Chuck Lorre and Anna Faris were doing it, and would I come in and meet with them. I'd had a development deal with Chuck after West Wing and I really enjoyed working with him, and I wanted to meet Anna, and I knew the script was funny. I could definitely see doing it."
"It's really fun and exhausting and you've got to be quick on your feet," Allison continued. "I get the best of both worlds. I get to film without a live audience [for pre-taped material], and then Friday nights, it's just so crazy and so much fun."
TV viewers have gotten a chance to see the award-winning actress in an entirely different light, as she plays Bonnie, the recovering addict and mother of Christy (Faris), who can sometimes be helpful and sometimes make things completely worse. It isn't just that Allison is playing comedy; she's playing a whole range of comedy, from the verbal to the physical, and showing off her excellent comic timing. She's truly gifted on the hilarious side of the acting spectrum. So what would she consider to be her favorite moments from Mom?
"I had a couple," she said. "The first one that I loved was the one about menopause ["Estrogen and a Hearty Breakfast"]. It's hysterical. I loved everything I got to do in that. The comedy is so much fun. I grew up watching The Carol Burnett Show, and loved that kind of humor.
"And then the episode where I get to fall off the wagon ["Zombies and Cobb Salad"] was really great, because I got to go all over the place. I got to be sincere and heartbreaking and show her vulnerability and then at the same time, fall through windows and look like a maniac after my binge night. Those two episodes stand out as amazing comedy turns for me, physically and emotionally, and I love the mix."
"Every script I get is a new thing I learn about Bonnie," she continued. "We never know what the writers are going to write for us. There are so many things that click with me and feel comfortable - and I don't know why, because she's not like me at all!"