The Fun And Enchanting 'The Tale Of Despereaux' Comes To DVD April 7

Get ready for an all-new animated classic that families will enjoy together for years to come! In
The Tale of Despereaux
, the world's bravest mouse embarks on a noble quest that leads to discovery, courage, honor and ultimately redemption. Journey along with Despereaux as he encounters an unforgettable group of colorful characters and learns about life's important messages in this charming and fun-filled story.
Based on the heartwarming children's best selling book and featuring the incredible voice talents of
Matthew Broderick
,
Emma Watson
,
Dustin Hoffman
,
Sigourney Weaver
,
Kevin Kline
,
William H. Macy
,
Tracey Ullman
, and
Stanley Tucci
,
The Tale of Despereaux
has something for everyone - excitement, adventure, and a hero for boys, a princess and a love story for girls, fun and entertainment for adults and kids alike! For people of all ages, this is a timeless story about finding one's place in the world.
Consumers will also receive a free Kodak Gallery pocket photo book (a $9.99 value) with the purchase of the DVD (
on specially marked packages, while supplies last
)!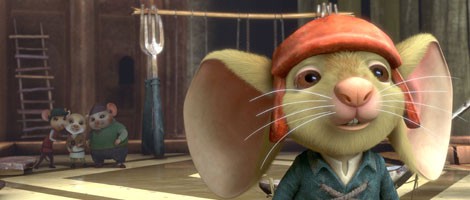 Bonus Features:
-The Tale Of The Tale Of Despereaux: A (Mostly) Non-Fictional Making-Of: In this behind-the-scenes featurette we see how a modern animated film is made from beginning to end - starting with the story's initial conception and taking us through all the various animation steps. The piece will showcase all of the amazing talent behind the creation of this film.
-Top Ten Uses For Oversized Ears: Our hero and role model for the child with similar physical anomalies demonstrates with enthusiasm and creativity the exemplary benefits of having oversized ears, in a top ten countdown.
-Sneak Peek Of Curious George 2: Follow That Monkey: Only on the Tale of Despereaux DVD, be the first to see an exclusive sneak peek of the all-new movie, Curious George 2: Follow That Monkey!
Bonus Features (Exclusive to the DVD):
-Interactive Map Of The Kingdom Of Dor: From this interactive map, viewers can explore the world of Despereaux, learning more about The Kingdom of Dor with each click.
-Despereaux's Quest Game: From fleeing past a crowd of rats to hurtling through a gauntlet of mousetraps, this multi-level game stands as the true test for Despereaux's courage, bravery and honor as he has to deliver the gold necklace to the King.
-Build-A-Boldo Game: After falling into Chef Andre's delicious soup, Boldo must be put back together. Viewers can collect the missing parts and bring him back to life.
D-VD-ROM: Card Creator, Fairy Tale Fantasy, Coloring pages, Wallpapers, Screensavers, Printable Activities are available to the viewer.
Bonus Features (Exclusive to Blu-ray™ Hi-Def):
-Two All-New Songs: Listen to 2 never-before-heard songs from the movie!
-U-Control: Universal's exclusive signature feature U-Control allows viewers to delve into the making of the film with the click of the remote without ever leaving the movie.
--Picture-In-Picture Live Action: Enjoy a behind-the-scenes look at the making of the film while watching the feature.
--Picture-In-Picture Animatic: Watch the entire feature-length animatic on screen as it plays simultaneously with the film.
-Scene Progressions With Filmmaker Commentaries: See how animated scenes come together - from script to final animation.
-Make Your Own Soup Game: Mix two of four different ingredients, stir them up into the soup, and watch as The King samples and gives different reactions to the final concoction.
-Card Creator: Upload your own photos and combine the images to create unique and personal greeting cards with a Despereaux theme.
-Bd-Live Features: Beginning on March 31, Universal brings you even more great content on BD-Live! Access exclusive interactive applications through your internet-connected player and communicate with friends and family while watching the film and access the latest trailers, exclusive content and more!
--My Scenes Sharing: Bookmark your favorite scenes then share with your friends.
--Card Creator Sharing: Upload your own photos and combine the images to create unique and personal greeting cards with a Despereaux theme can send to their family and friends!
Once upon a time… In the far away kingdom of Dor… lived a brave and virtuous mouse with comically oversized ears who dreamt of becoming a Knight. Banished from his home for having such lofty ambitions, Despereaux sets off on an amazing adventure with his good-hearted rat friend, Roscuro, who leads him, at long last, on a very noble quest to rescue an endangered princess and save an entire kingdom from darkness.