The Finals Arrive On 'Dancing With The Stars'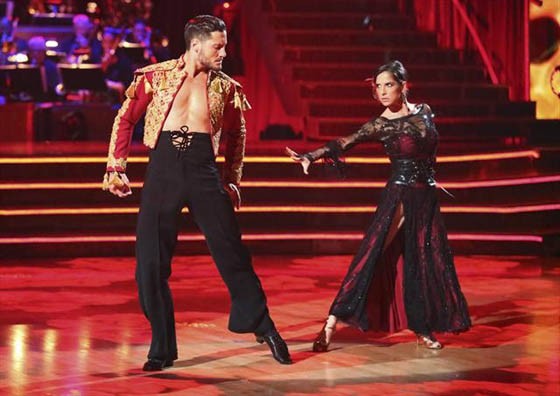 The three remaining couples on "Dancing with the Stars" have reached the finals; with only three dances standing between them and the new mirror ball trophy.  This season the finals make history with all of the finalists being women.
Round one of the finals is a dancer's favorite choice, round two is the super sized freestyle, and round three is the instant dance on night two of the grand finale.
Kelly and Valentin kick the night off with their Paso Doble first performed in week three.  The judges called it Kelly's best dance - polished and had artistry.   The pair scored 29.5 points for their dance.
Melissa and Tony reprised their Samba to "Conga" in a performance that was called fabulous, brilliant, and had great technique.  The dance was perfection as Melissa and Tony scored 30 points for their Samba.
Round one ended with Shawn and Derek performing their rule breaking Quickstep with no revisions.  The judges all commented on the fact that they broke the rules and that they were bound by those rules when it came to scoring.  Shawn and Derek scored 27 points for their dance.
Round one scores…
Shawn and Derek – 27
Kelly and Valentin – 29.5
Melissa and Tony – 30
For their freestyle dance Kelly and Valentin solicited the help of the DWTS Troupe for their high flying routine to "Time of My Life" from "Dirty Dancing".  The judges called the performance spectacular, spellbinding and pure artistry.  Bruno said that Patrick (Swayze) was smiling on them.  The pair scored 29.5 points for their freestyle.
Melissa and Tony performed a Contemporary freestyle without any extra dancers in a performance the judges called amazing, had passion, a gem, and was wonderful.  Melissa and Tony scored a perfect 30 for their freestyle; Len even wished that he had an eleven to give them.
Rounding out the performances was Shawn and Derek with a trick filled freestyle that included the Fierce Five – women's US gymnastic team.  Calling the performance incredible, sensational, fierce, flawless, and brilliant; the pair earned a score of 30 points for their freestyle.
In a two hour grand finale the dancers will perform a third dance – the instant dance - the dancers from season 15 return for some new performances, and the winner will be announced.
Freestyle scores…
Kelly and Valentin – 29.5
Melissa and Tony – 30
Shawn and Derek - 30
Total scores…
Shawn and Derek - 57
Kelly and Valentin – 59
Melissa and Tony - 60
Check out more photos from the finale