The 'Fifty Shades Of Grey' Trailer Has Finally Arrived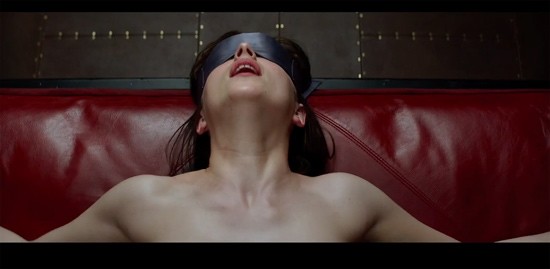 The first trailer for "Fifty Shades of Grey" is finally here! The nearly two-and-a-half-minute clip shows college student Anastasia Steele and billionaire businessman Christian Grey meeting for the first time.
"What was he like?" a friend asks Ana in a voice over.  "He was...polite, intense, smart. Really intimidating," she answers.
Dakota Johnson plays Anastsia and Jamie Dornan portrays Christian, a professional with a secret - he has a penchant for sadomasochism.
As Ana and Christian start getting to know one another, Grey says: "I exercise control in all things, Miss Steel."

She replies, "That must be really boring."
Little does she know.
We see shots of Christian's lavish lifestyle, including his helicopter and sky-rise apartment. The pair then share a passionate kiss in the elevator as Beyonce's throaty voice belts out a very sexy version of her 2003 hit "Crazy in Love."
Christian warns, "I had a rough start in life. You should stay clear of me."
He adds, "I don't do romance. My tastes are very singular. You wouldn't understand."

Eager to know more, Ana says the magic words, "Enlighten me then."
Christian then reveals his red room of pain, and we get a glimpse of the various toys he wants her to play with.
In one word: hot.
The movie is based on the massively popular series by E.L. James. Rita Ora, Luke Grimes, Jennifer Ehle and Marcia Gay Harden also star.
"Fifty Shades of Grey" opens in theaters on Valentine's Day, Feb. 14, 2015.