The Feud Behind '12 Years A Slave' Reared Its Ugly Head At The Oscars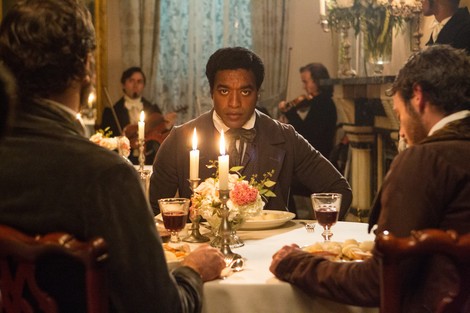 If you did a double-take when you saw 12 Years A Slave director Steve McQueen clap half-heartedly for his screenwriter John Ridley, you weren't alone.
The nation saw a glimpse of McQueen looking like someone who has never clapped before, his hands completely flat and barely coming into contact. Just before the display, Ridley strode by McQueen and looked the other way to hug David O. Russell - who wasn't the director of the film that helped him earn an Oscar, but a competitor for Best Director against McQueen.
According to The Wrap, the two men have been in a feud ever since Ridley refused to give McQueen credit for a shared screenplay. Fox Searchlight ended up siding with Ridley when McQueen approached them.
The men have kept it quiet during the awards season but now sources are slowly leaking details of their bitter rivalry. They sat at different tables during the BAFTAs, with a source telling The Wrap McQueen only came by to yell at Ridley's wife and take items from her BAFTA gift bag.
The two have also failed to mention one another at several acceptance speeches, even as they read prepared remarks. That trend held true at The Oscars - Ridley thanked co-producer Jeremy Kleiner and the "entire crew." McQueen, who read from a piece of paper, used his time to thank production company, the crew, his agents, and to dedicate the film "to all the people who have endured slavery, and the 21 million people who still suffer slavery today." Ridley's work went unmentioned.
Ridley later told Page Six he did not intend to snub the director, saying, "I had less than two minutes to thank everybody, and I was so caught up in the emotion of the moment when I was onstage."
With awards season over, it should be interesting to see what else is said between the two former associates.