'The Fast And The Furious 6' Delivers Big Time Thrills (Video)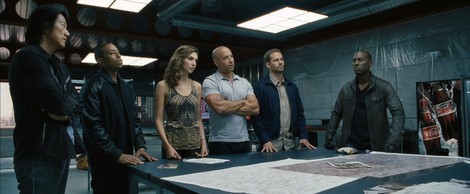 Yes, it's hard to believe that this is number 6.  Where does the time go? Well, I'm happy to report that this one, won't let you down.
As the title suggest...The film is fast...It's furious...and it's definitely, fun.
The whole gang is back including Vin Diesel (Dom), Paul Walker (Brian), Tyrese Gibson (Roman), Ludacris (Tej), Jordana Brewster (Mia), Elsa Pataky (Elsa) and Michelle Rodriguez (Letty).
For those of you who haven't seen 'The Fast And The Furious 5' here's a brief recap.
After stealing 100 million dollars from a drug kingpin, the group is scattered all across the globe, living it up in style...Brian and Mia even have a newborn baby.  
Life couldn't be better for our guys, except for the fact that they're all still wanted fugitives and if they ever set foot in the U. S...they'll be jailed on the spot.
But no worries...that little problem might soon go away.
Enter...Special Agent, Hobbs (Dwayne Johnson) who's been been tracking, super bad guy, Owen Shaw (Luke Evans) and his lethally skilled mercenaries across 12 countries, without any success.  
Hobbs realizes that the only gang on the planet, capable of taking out Shaw and his men are...
Our favorite group of ex car thieves/racers/good-bad guys, that we've all come to know and love.
Hobbs visits Dom and offers him and the rest of the group full pardons in exchange for their help. 
He also breaks the news to Dom that his soul mate, Letty is still alive and she's hooked up with Shaw and his brood. (Again for those of you who haven't seen Number 5, Letty was supposedly killed)
The chance to see Letty again is enough to get Dom back into action.  He picks up the phone, calls the boys and girl, and in less time it takes to make an omelet...the group is back together.
'Fast And The Furious 6', directed by Justin Lin and written by Chris Morgan ('Fast Five') has incredible stunts, killer car chases, lots of humor (some intentional, some not so intentional) and edge of your seat action.  There's even a couple of twists you won't see coming.
In my opinion, this along with the original 'Fast And The Furious' ranks among my favorites.  For that reason, I gave 'Fast And The Furious 6', which opens in theaters, Friday May 24, 2013, 4 bagels out of 5.
Check out our video for John's thoughts and his bagel score.
Please SUBSCRIBE to us on our youtube channel and LIKE us on our Two Jews On Film facebook page.