The Explosive Movies That Crushed The Box Office On Independence Day Weekend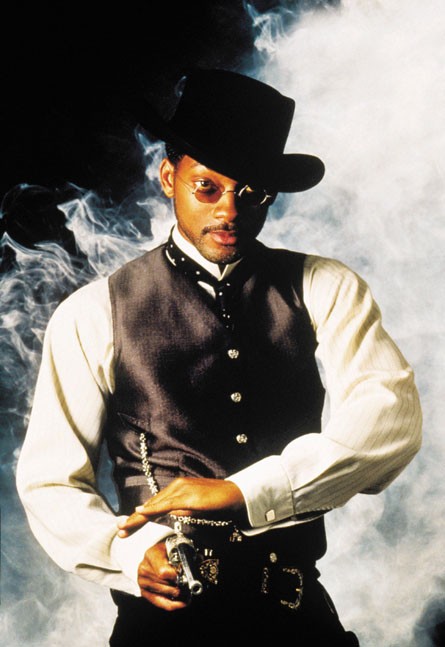 The weekend following Independence Day here in America has become a must-perform spot on the calendar for movie studios. This year, the 4th of July lands on a Friday, leaving us bereft of new releases (although Transformers: Age of Extinction, which came out on the 27th, should do nicely). So with nothing new coming out, let's take a look at the bombastic films we celebrated freedom with in years past.
If there's one thing you need to know about Will Smith, it's that he loves July 4th. No other actor has benefited more from releasing films around Independence Day than Will Smith. Wild Wild West had the formula down to a T: Action Adventure with a heroic Smith, who also releases a cover of a song with the movie's title in the name. An entire generation of children and teens would be saying, "Wicky wild-wild west!" Plus robot spiders! It would earn $27 million its opening weekend.
This tribute to Americana was a big stinker in the box office overall, given its inflated budget of $215 million, but it was king its opening weekend with $29 million pocketed. Perhaps Johnny Depp should have written a song for it.
Americans love trying to do the same thing, only bigger and badder. T2 exemplifies that, taking a small-budget ($6 million) film and creating a sequel that costs nearly $100 million and ending up with the top spot at the box office for the entire year. T2 was everything we loved about the original, turned up to 11. It made $31 million its opening weekend.
There is no solution more American than "blow it up." That's what our smartest scientists came up with when an Asteroid was headed to Earth. In Armageddon, we were so sure it would work that we trained some guys we found on an oil drilling platform how to be astronauts, rather than train those pesky genius astronauts how to drill. Bruce Willis and crew earned $36 million over Independence Day weekend.
America is the land of second chances, and hell if we didn't give M. Night Shyamalan several second chances. Fans of the cartoons series came out to see the movie adaptation over the holiday weekend to help it earn $40 million, but it was too far removed from the source material to become profitable.
You can't get a more American cast than this: George Clooney (Lexington, KY), Mark Wahlberg (Boston, MA) and John C. Reilly (Chicago, Illinois) head out on one last fishing trip for the season while Diane Lane (New York City, NY) fears for their lives. The crew faces a huge storm, created with awesome special effects, in order to make enough money to survive until the next fishing season starts. It made $41 million its opening weekend.
Ice Age: Dawn of the Dinosaurs
After two March premieres, the Ice Age series was ready for prime time. For their July 4th weekend release, they know they needed something big – so they put "dinosaurs" right in the title. Americans love dinosaurs (Jurassic Park almost made $1 billion in its theatrical run), and after an opening weekend take of $41 million during the holiday, the film went on to earn $200 million here and more than $600 million overseas.
Terminator 3: Rise Of The Machines
Nowadays in America, all the big movies have to be made into trilogies... or longer. Such is the case with the Terminator films, which needed to get a third movie in before Arnold Schwarzenegger began his term as California's governor. It was easily the worst film in the series, but it was worth seeing Ah-nold get robotic one more time and blow s—t up. It made $44 million its opening weekend.
The grandaddy of all July 4th releases is pretty high on the list despite coming out in 1996. It had everything: aliens, one-liners ("welcome to Earth!"), explosions, and a show-stopping speech by the President of the United States. ID4 made $50 million its opening weekend and began Will Smith's infatuation with summer films.
Men in Black 1 And 2
Starting with 1995's Bad Boys, there wasn't a year that went by without a Will Smith movie until 2009. Two of those movies were in the Men in Black series, and they both released for July 4th weekend with (naturally) a Smith song about the plot of the movie. All of the July 4th hallmarks are here: explosions, aliens, and bits of slapstick comedy. MiB 1 made $51 million its first weekend, and MiB 2 made $52 million its opening weekend.