The Essential 'Weird Al' Yankovic - 2 CDs, 38 Songs, Out Now; Win It!

Welcome to the wild world of
"Weird Al" Yankovic
- a world populated by a Pennsylvania Dutch gangsta-rapper ("Amish Paradise") and a serial-killing Saint Nick ("The Night Santa Went Crazy") - a world where people frantically search for their Liquid Paper, hallucinate about the floating disembodied head of Colonel Sanders and dream of one day visiting "The Biggest Ball Of Twine In Minnesota." Yankovic, a three-time Grammy Award winner and the biggest selling comedy recording artist in history, shows no mercy to cultural milestones of every stripe - from
Jurassic Park
and
Star Wars
to the hits of
Michael Jackson
,
Madonna
,
Nirvana
,
Queen
,
Puff Daddy
,
Red Hot Chili Peppers
,
Backstreet Boys
,
R. Kelly
and
Green Day
, to name just a few.
All of these touchstone Weird Al scenarios (and many more), as personally selected by the man himself, are gathered together on "The Essential 'Weird Al' Yankovic", his first major collection in a decade and a half. The 38-song, 2½ hour-plus double-CD package, featuring a foreword by NPR Music Editor Stephen Thompson, will be available at all physical and digital retail outlets starting October 27th through Way Moby/Volcano/Legacy, a division of Sony Music Entertainment.
"The Essential 'Weird Al' Yankovic" is currently the most extensive and up-to-date (and only multi-CD) compendium of his work available. This newest addition to Legacy's prestigious, critically acclaimed Essential Series also marks the first collected appearances of selections from Weird Al's most recent studio albums of the late-'90s and '00s, namely
Bad Hair Day
(1996),
Running with Scissors
(1999),
Poodle Hat
(2003), and
Straight Outta Lynwood
(2006).
The release of "The Essential 'Weird Al' Yankovic" follows the August 25th arrival at iTunes, Amazon and all other online retailers of Internet Leaks on Volcano/Jive. The digital-only EP gathers five new audio tracks that Al personally "leaked" to the Internet over the past 12 months, starting with "Whatever You Like" (October 2008), a parody of the
T.I.
hit of the same name. Four more songs followed over a ten-week period this summer, each with an accompanying music video, including "Craigslist," an homage to
The Doors
featuring original Doors keyboardist
Ray Manzarek
(video directed by Liam Lynch), and a
White Stripes
sound-alike ode to the super-human powers of classic TV icon
Charles Nelson Reilly
(video by the JibJab team).
All five tracks from "Internet Leaks" will be included on Yankovic's next studio album, which is tentatively scheduled for a 2010 release. Fans who buy the "Internet Leaks" EP or any of its individual tracks will be able to deduct the cost when they purchase the full album by using iTunes' "Complete My Album" function.
Alfred Matthew Yankovic was still attending Lynwood High School in the 1970s when he sent his first home-recorded cassette tapes to the legendary syndicated radio personality
Dr. Demento
, who gave him his first national exposure. By the time young Alfred landed a shift as a crazy late-night DJ on his college radio station, he had acquired the nickname "Weird Al." While still in college, Yankovic was briefly signed to Capitol Records, who released his parody of
The Knack
's "My Sharona" which he re-titled "My Bologna" (recorded in the bathroom across the hall from his campus radio station).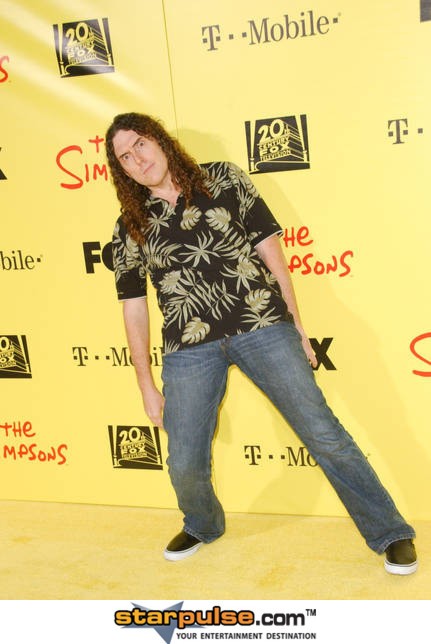 Image © Albert L. Ortega / PR Photos
Just prior to graduating in 1980, Al performed "Another One Rides The Bus" (a parody of
Queen
's "Another One Bites the Dust") live on Dr. Demento's show. The song became viral ('80s style), which led late-night talk show host Tom Snyder to invite Al to perform it on NBC's "The Tomorrow Show" in 1981, with the artist singing and playing accordion while his percussionist Jon "Bermuda" Schwartz banged on a suitcase. With Schwartz already in place, Al filled out the rest of his band with Jim West on guitar and Steve Jay on bass, all of whom are still with him today (Ruben Valtierra joined on as the touring keyboardist in 1991). Al and his band began performing dates and working with producer-guitarist
Rick Derringer
, an association that led to Yankovic's contract with Scotti Bros. Records, his label for the next 16 years. His
self-titled debut album
was released in 1983, featuring "Ricky" (his "
I Love Lucy
" tribute), which was also his first music video. Al's early videos happened to coincide perfectly with the birth of MTV and would be the beginning of a long and successful relationship with the network.
His second album "Weird Al" Yankovic
In 3-D
(1984) led off with what would become his first giant breakout hit: his parody of
Michael Jackson
's "Beat It," re-titled "Eat It." An immediate sensation, the single rose to #12 on the Billboard Hot 100, was certified RIAA gold, sent the album to RIAA platinum, and won Weird Al his first Grammy Award, for Best Comedy Recording.
His next album,
Dare to Be Stupid
(1985), featuring the
Madonna
take-off and lead single "Like A Surgeon," the
Star Wars
tribute "Yoda," the twisted love ballad "One More Minute," and the
Devo
-inspired title tune, again hit the RIAA platinum mark and was nominated for a Grammy Award (Best Comedy Recording).
Polka Party!
followed in 1986, with the
James Brown
parody "Living With A Hernia" and Al's
Talking Heads
homage "Dog Eat Dog."
Weird Al was ready for another big explosion, and it came his way in 1988 with his new album
Even Worse
and his second Michael Jackson parody, in which he turned the King of Pop's "Bad" into "Fat." Michael allowed Al to shoot on his subway set for the making of the music video for "Fat," which earned Al his second Grammy Award (Best Concept Music Video). "Even Worse" became Al's third platinum album, and also received a Grammy nomination for Best Comedy Recording.
The film project that followed, 1989's
UHF
, told the story of a ne'er-do-well (played by Weird Al) whose uncle wins a local access UHF TV station in a poker game and gives it to his nephew to run. The movie attained a huge cult following over the years due to the film's irreverent, parody-fueled screenplay (written by Yankovic and his longtime manager Jay Levey) as well as an eclectic cast that included
Michael Richards
,
Fran Drescher
,
Anthony Geary
,
Victoria Jackson
,
Kevin McCarthy
, Emo Philips and
Billy Barty
.
After a three-year hiatus, Al came roaring back in 1992 with the release of
Off the Deep End
, led by "Smells Like
Nirvana
," his hit parody of Nirvana's "Smells Like Teen Spirit."
Kurt Cobain
was widely quoted as saying he knew his band had "finally made it" when he heard the Weird Al parody. "Off the Deep" End, which also included the originals "Trigger Happy" and "You Don't Love Me Anymore," hit the Billboard Top 20, broke the platinum barrier again for the artist, and brought yet another Grammy Award nomination (Best Comedy Album).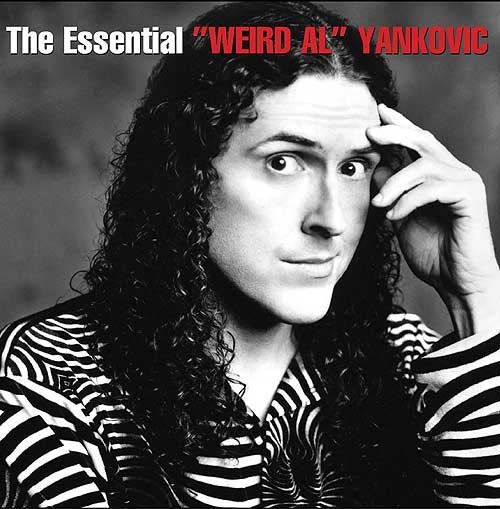 Image © Sony Music Entertainment
Al quickly followed up with his 1993 release
Alapalooza
, named for
Perry Farrell
's annual rock festival. The album included the
Red Hot Chili Peppers
/
Flintstones
mash-up "Bedrock Anthem," as well as the
R.E.M.
-inspired "Frank's 2000" TV" and the "MacArthur Park" parody "Jurassic Park," which encapsulated that year's
Steven Spielberg
hit movie in the framework of the Richard Harris/Jimmy Webb pop classic.
1996 brought the double-platinum selling album
Bad Hair Day
. Highlights included the enormously popular
Coolio
parody "Amish Paradise," the a cappella "Since You've Been Gone," the
Forrest Gump
/
Presidents of the United States of America
send-up "Gump," the
They Might Be Giants
pastiche "Everything You Know Is Wrong" and the festive holiday tune "The Night Santa Went Crazy" (presented in an "extra gory version" for the Essentials release).
When Weird Al returned in 1999 on
Running with Scissors
, he had a new record label for the first time in 16 years - Volcano (successor to Zoo Entertainment, notable for the band
Tool
), which had just been purchased by the Zomba Label Group. "Running with Scissors" rose to the occasion, reaching platinum sales on the strength of such tracks as the ska-infused "Your Horoscope For Today," the nerd-core anthem "It's All About The Pentiums" (based on Puff Daddy's "It's All About The Benjamins"), "The Saga Begins" (Al's second
Star Wars
tribute, via
Don McLean
's "American Pie") and the album's epic 11-minute narrative closing track "Albuquerque."
The pace continued four years later with 2003's
Poodle Hat
. Highlights included "Bob" (sung in the style of
Dylan
, with song lyrics comprised entirely of palindromes), the tongue-twisting fan-favorite "Hardware Store," and "eBay," a parody of "I Want It That Way" by Zomba's very own
Backstreet Boys
. "Poodle Hat" shot to #17 in Billboard and earned Al his third Grammy Award, for Best Comedy Album.
The title of
Straight Outta Lynwood
, the most recent album by "Weird Al" Yankovic, signaled an artist coming full-circle as he completed his first quarter-century in the spotlight. Here he gleefully assimilates the styles of
Brian Wilson
("Pancreas"),
Rage Against the Machine
("I'll Sue Ya," skewering the perpetrators of frivolous lawsuits), and over-produced celebrity charity anthems from the '80s (the RIAA-baiting power ballad "Don't Download This Song"). Also included are parodies of
Green Day
("Canadian Idiot," a tribute to our friends in the Great White North),
R. Kelly
(the dramatically tedious "Trapped In The Drive-Thru") and
Chamillionaire
(the platinum-selling "White & Nerdy," Al's most popular single to date). Both Straight Outta Lynwood and its lead single jumped into the Billboard Top 10, signaling career firsts for Al. The music video for "White & Nerdy," a true viral phenomenon, was viewed over 100 million times on the Internet and remained perched in the #1 position on the iTunes chart for five weeks. A critical favorite, "Straight Outta Lynwood" gave Yankovic his 10th and 11th career Grammy nominations (Best Surround Sound Album and Best Comedy Album). Three years later, its tracks provide a fitting climax for "The Essential 'Weird Al' Yankovic".
"The Essential 'Weird Al' Yankovic"
Disc One - Selections:
1. Another One Rides The Bus
2. Polkas On 45
3. Eat It
4. I Lost On Jeopardy
5. Yoda
6. One More Minute
7. Like A Surgeon
8. Dare To Be Stupid
9. Dog Eat Dog
10. Lasagna
11. Melanie
12. Fat
13. UHF (single version)
14. The Biggest Ball Of Twine In Minnesota
15. Trigger Happy
16. Smells Like Nirvana
17. You Don't Love Me Anymore
18. Bedrock Anthem
19. Frank's 2000" TV
20. Jurassic Park
Disc Two - Selections:
1. Since You've Been Gone
2. Amish Paradise
3. Gump
4. Everything You Know Is Wrong
5. The Night Santa Went Crazy
6. Your Horoscope For Today
7. It's All About The Pentiums
8. The Saga Begins
9. Albuquerque
10. eBay
11. Bob
12. Hardware Store
13. I'll Sue Ya
14. Canadian Idiot
15. Pancreas
16. Don't Download This Song
17. White & Nerdy
18. Trapped In The Drive-Thru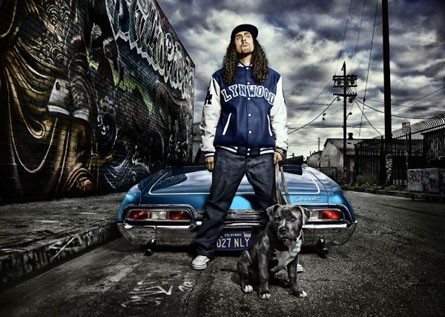 Image © Sony BMG