The Encore: Talking with 'Wedding Band' Star Peter Cambor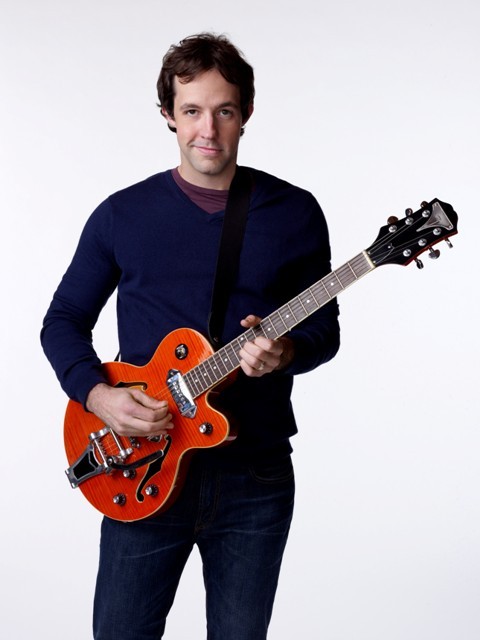 TBS's Wedding Band has been as much fun as front-row seats to an awesome concert. The TV season's best new comedy has packed in plenty of laughs, covered a list of catchy songs from KISS to Jay-Z, and even induced a  heartwarming moment or two. Tonight, Wedding Band celebrates its first-season finale, and it's sure to go out on a high note.
To mark the occasion, actor Peter Cambor, who plays family man and weekend rock star Eddie, recently talked with me about all the things that are awesome about this show.
"First and foremost, the first thing you do is you read the script, and the writing was great," he explained of his initial reaction to the material. "It just really sort of came off the page well. It wasn't too jokey. It was more sort of situational and sort of character-driven."
Once he got into the audition process, there was another plus: the people he'd end up working with. "I think kind of getting the vibe of [co-creators] Darin [Moiselle] and Josh [Lobis], and also the kind of the whole core that was going to be producing it, it was so sort of collaborative. They were really open to your input and feedback," Peter explained.
While he and his Mother of the Bride bandmates - Brian Austin Green, Harold Perrineau and Derek Miller - might not look like the foursome you'd expect to headline this kind of show, they're pretty much perfect, and according to Peter, they knew they were right for the gig once they'd auditioned together. "We just kind of went in and did this group scene and it was so much fun," he explained, going on to compliment the show's entire ensemble, which also includes actresses Melora Hardin, Jenny Wade and Kathryn Fiore. "They did a great job casting this. It's just a really great cast."
Wedding Band requires the four actors to perform several songs each week, and Cambor came to the show with his own musical background. "I started playing guitar when I was in sixth grade. I've sort of played my whole life," he said. "I sort of had enough to ease me into it." His character has since wielded everything from his usual guitar to a sitar, and played songs ranging from classic rock to the Backstreet Boys. Even if they are made for TV, no one can call this band a one-hit wonder.
And yes, those performances are just as exciting as you think they are. "The musical numbers are incredibly fun," explained Peter. "You're up on the stage, there's 150 extras sitting there screaming. It's everything great about being a musician and nothing bad."
Is there anything he's hoping never to see on a Mother of the Bride set list? "I'm a big believer in never covering The Beatles," he confided.