The Eagles To Be Honored By Berklee College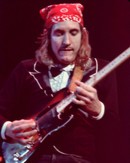 Iconic rockers The Eagles are to receive honorary degrees from Boston's prestigious Berklee College of Music.

The music school, based in Boston, Massachusetts, has awarded honorary doctorates to influential musical figures for over 40 years, with past recipients including Duke Ellington, Quincy Jones, David Bowie and Aerosmith's Steven Tyler.

This year's honorees are the Hotel California stars, as well as bluegrass singer Alison Krauss and Ethiopian musician Mulatu Astatke.

They will receive their degrees at a ceremony on May 12th at Boston University's Agganis Arena.