The Doctors Are In: On The Set Of TNT's 'Monday Mornings'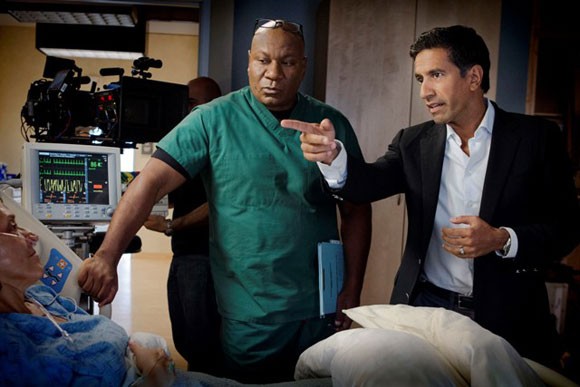 It's lights, camera and life-saving. BFTV recently visited the set of TNT's upcoming medical drama Monday Mornings, to walk the halls of the fictional Chelsea General Hospital and get introduced to the show's cast and creative team.
The man running the show on a daily basis is executive producer and director Bill D'Elia, who's no stranger to the task. "I've worked on a lot of medical shows and in fact was executive producer on Chicago Hope," he said. "David [E. Kelley] and I have been working together for a very long time and we've done quite a few shows together. This one is a little different because it's based on the book by Sanjay [Gupta]. David adapted it, and then when he finished the script, I started working on putting it together as a production and directed the pilot."
Unlike other series where some producers may not be hands-on all the time, D'Elia explained that he, Kelley and Gupta work as a unit on Monday Mornings. "The three of us are executive producers together on this each with very specific functions," he continued. "Sanjay was the guy that got it all started, David is the brilliant mind behind the scripts that come out every week, and I'm the one that is here making it work on a daily basis."
"I believe you actually watch this show in a different manner than you watch most medical shows," he said of the series, which has a ten-episode order from TNT. "As you watch the show, even if these doctors are successful, there's something to be learned from what they did, or the way they did it, or what they could have done differently. You'll watch this show and see success and wonder, did he do the right thing? Even though the patient lived, did the right thing happen? If the patient died, did they still do all the right things? It's an interesting way into a medical drama."
Gupta, who is also CNN's chief medical correspondent, spoke about translating his novel into a television series. "As a surgeon attention to detail is the most important thing," he said. "I thought making a television show about this, there's not going to be that same level of diligence because it's a television show. but the amount of prep and diligence that goes into every part of the show was surprising to me. There's a lot that goes into even a very simple scene."
"Everything that's done on the show, it's real. This is stuff that's really happening," he said of the medicine that's depicted, though he added that when it comes to what makes it into an episode, "The operations really follow the storyline more. Just about any operation that we want to do, from pretty sophisticated brain surgery, to transplants, we can do."
He also expressed how Monday Mornings functions as more than just a piece of entertainment. "It's a television show that's supposed to be entertaining and engaging," he continued,  "but I think there's an educational component to it. Speaking truth to power is a real theme of the show. The idea that doctors hold each other accountable in a really no holds barred way is part of that speaking truth."
That's a reference to the morbidity and mortality (M&M) conferences that are a key part of the show, and having been in the real-life ones, Gupta explained just how serious they can be. "No one wants to be at the lectern in that spot, but everyone has been," he said. "Academic wars are waged in these rooms. Sides are picked. You're dealing with some very, very strong personalities as well, arguably over the most important things."