'The Dark Knight' Bestows Role of a Lifetime For Heath Ledger, Epic Proportions For Itself

(Hollywoodchicago)
– With only three short words comprising the film's enigmatic title, "
The Dark Knight
" also boasts three epic claims to fame: the role of a lifetime for the late
Heath Ledger
as the hauntingly deranged Joker, one of the best films of 2008 and one of the greatest superhero films of all time.
In a year when Hollywood has the superhero woody comparable to when westerns where the greatest thing since sliced bread, "The Dark Knight" not only fares well against blockbuster competition with films like "
Iron Man
" and "
The Incredible Hulk
" but also manages to rise above chartbuster status into a whole new league of undisputed justice.
Heath Ledger stars as the Joker in The Dark Knight
Photo credit: Warner Bros., copyright DC Comics
Though a decidedly dark and outcast Batman is the heart behind the marketing machine for "The Dark Knight" from writer and director Christopher Nolan (who also directed the film's first iteration in 2005 entitled "Batman Begins"), Christian Bale in the seminal role as one of history's most beloved characters has his show stolen by Ledger's villain.
While to some it may be surprising to classify Bale's performance as "B" list and Ledger's as "A+" list, you almost feel modesty in Bale's screen time to honor the true man of this film's 142 minutes.
While "The Dark Knight" completed principal photography prior to Ledger's death, Bale delivers an intricately muted role as compared to Ledger. While entwined with the power inherent in his superhero marauding, Bale's also humbled from working with another man who was delivering the culmination of his life's work.
Health Ledger disappears so convincingly and completely into the Joker that you struggle to remember him in anything else.
This is a telling testament to an illustrious – albeit too short – career of an actor who memorably broke free in transformative roles in films including "
Brokeback Mountain
". Nolan – who for this film was significantly influenced by the 1995 film "
Heat
" – says he selected Ledger for the focal Joker role based on his "fearlessness".
Ledger's Joker is developed to the finest of details even down to his unruly tongue action and the sounds of his excess saliva. Moreover, Nolan and co-writing brother Jonathan Nolan (David S. Goyer was also integral in the film's story) deliver to Ledger the best profundities of any talent in the star-studded film.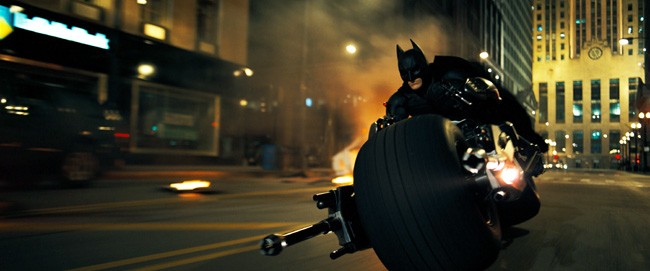 Christian Bale as Batman on his Batpod in The Dark Knight
Photo credit: Warner Bros., copyright DC Comics
These include: "You either die a hero or you live long enough to see yourself become the villain." "I use a knife because guns are too quick. Otherwise, you can't savor all the emotions. You know who people are in their last moments [of life]." "It's not about money. It's about sending a message." "I'm a dog chasing cars. I don't have plans. I just do things. I'm not a schemer." "This is what happens when an unstoppable force meets an immovable object."
In his beautifully deranged state of chaos and anarchy, the Joker even utters the cheesy "
Jerry Maguire
" line "you complete me" to Batman and follows with: "You're just a freak – like me. You've been cast out like a leper."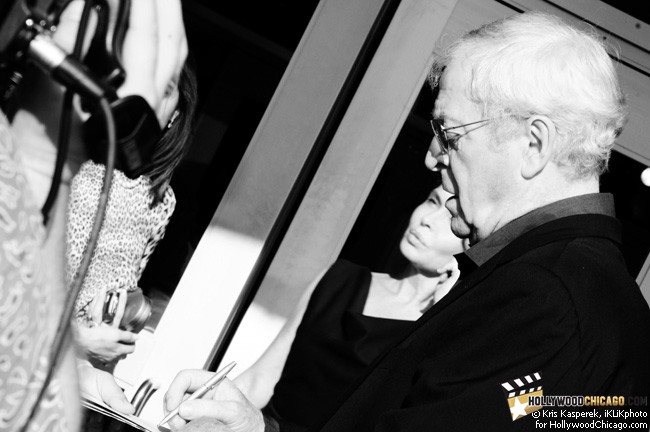 Michael Caine at Chicago's Navy Pier for the red-carpet premiere of The Dark Knight on July 16, 2008. In the film, Caine plays Alfred Pennyworth
We are not to forget that "The Dark Knight" won't be the last time we see Ledger at work. Despite a threat to shut down the 2009 Terry Gilliam film "The Imaginarium of Doctor Parnassus" following Ledger's death on Jan. 22, 2008 at the young age of 28,
Johnny Depp
,
Jude Law
and
Colin Farrell
are completing with the assistance of some shrewd script rewrites.
But along with the glory of Ledger's Joker – a performance that will remain throughout history as having trumped any iteration before him including interpretations by
Jack Nicholson
and
Cesar Romero
– the power of "The Dark Knight" is in its totality. The film didn't even need "Batman" in its title and is in fact the first Batman film not to use the iconic name.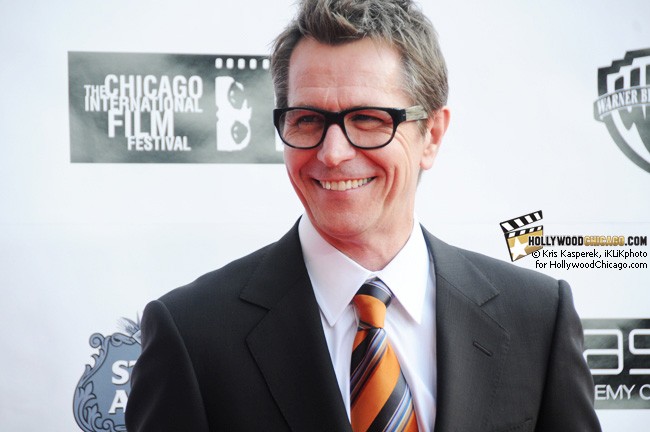 Gary Oldman at Chicago's Navy Pier for the red-carpet premiere of "The Dark Knight" on July 16, 2008. In the film, Oldman plays Lt. James Gordon.
Original photography for HollywoodChicago.com by Kris Kasperek of iKLiKphoto
Along with the incessantly marketed roles for Bale and Ledger, Nolan in this deeply developed and brilliantly complex film redefines the concept of a supporting cast. He not only uses them in integral roles but draws high impact out of them in ways you typically only achieve from lead roles.
In addition to furnishing an Oscar-worthy role for Ledger's interpretation of the Joker (the academy can conceivably nominate the film for six or so categories also including best picture, screenplay and art direction),
Aaron Eckhart
as district attorney Harvey Dent (known in the Chicago-filmed Gotham as the "white knight" in contrast to Batman as the "dark knight") and then the villain Two-Face along with
Gary Oldman
as Lt. James Gordon also deliver personal bests with performances unmatched in their own careers.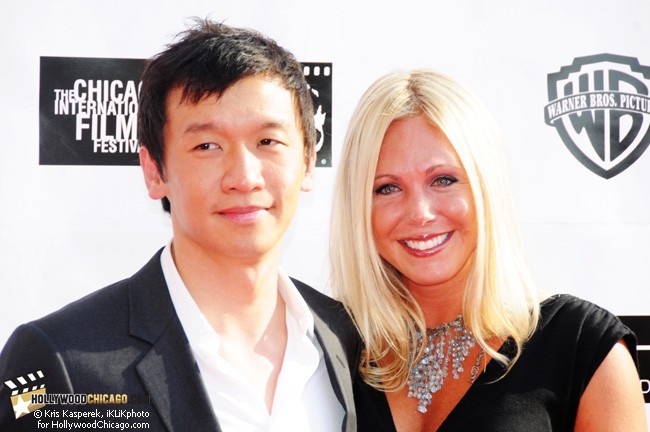 Chin Han at Chicago's Navy Pier for the red-carpet premiere of "The Dark Knight" on July 16, 2008. In the film, Han plays Lau.
Original photography for HollywoodChicago.com by Kris Kasperek of iKLiKphoto
Moreover,
Michael Caine
as Bruce Wayne's faithful confidant Alfred Pennyworth is as fundamental to this film as Bale's Batsuit is to Batman.
Maggie Gyllenhaal
– who thankfully replaced
Katie Holmes
for the part of Rachel Dawes (tension exists with her dual love between Harvey Dent and Bruce Wayne) and neither
Rachel McAdams
nor
Emily Blunt
(who were rumored for the part) would have fit the bill – indeed cashed a fitting check.
Nolan honored his son, Rory, with the working title "Rory's First Kiss" while filming extensively in Chicago. Chicagoans embraced the city with open arms during filming and become regularly involved with "The Dark Knight" viral marketing, which has been the most elaborate in the history of film.
After capturing the first set photo of the Batsuit from Chicago filming and publishing more than a year of comprehensive local coverage, those who participated in the countless viral campaigns recall sophisticated events including Harvey Dent campaigning in downtown Chicago (many thought someone was actually running for a political seat) to cell phones embedded in cakes.
Countless viral Web sites for the film popped up with aggressive regularity while printed newspapers were distributed, the bat signal beamed atop Chicago's Sears Tower, Anthony Michael Hall's character was revealed here and there was even the real-life explosion of Chicago's defunct Brach Candy factory, which was purchased by the film for transformation into a Gotham hospital. The Joker hysterically does his deadly deed in a nurse's uniform, too.
In retrospect, seeing the film is a huge payoff for viral marketing followers because a climax is revealed to everything the campaigns teased.
"Why so serious?" How'd the Joker get his scars? Why a "world without rules"? Who likes to just "watch the world burn"? Does Harvey Dent's double-headed coin make it into the film from the comics? How does the new Batpod spawn from Batman's Tumbler (which hilariously changes from a ruinous "loiter" mode to devastating "intimidation" mode)? Why is the Joker indeed a "man of his word"? All answers are revealed.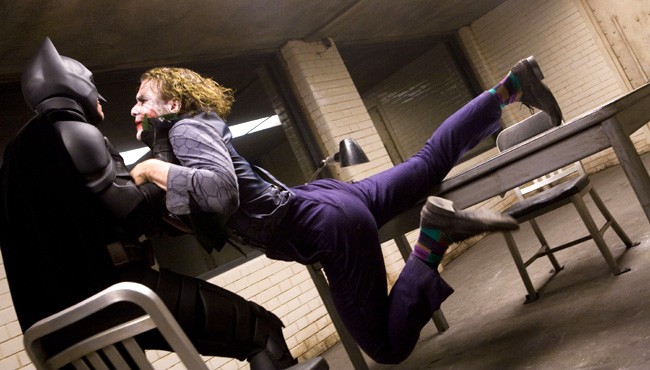 Christian Bale (left) stars as Batman and Heath Ledger (right) stars as the Joker in "The Dark Knight".
Photo credit: Warner Bros., copyright DC Comics
While you can enjoy "The Dark Knight" in regular theaters, its epic nature is tailor made not only for the big screen but actually for the biggest screen on IMAX. Nolan made use of custom IMAX cameras to shoot several scenes, and while you won't notice the difference at the traditional ciné, you'll see the screen transition from widescreen to full screen for IMAX and then back to widescreen.
Some, though, may merely dismiss this film with a fleeting "Batman isn't for me".
From experiencing the coming together of the film over the course of a year and being moved by all the fruits of its labor in high-impact IMAX, though, you clearly needn't be a diehard "Batman fan" or even a Batman fan at all to enjoy "The Dark Knight".
You even needn't be a Chicagoan who appreciates the way "The Dark Knight" majestically shines a spotlight on the Windy City. You need only be a person who enjoys seeing a historic film so complete that it's nothing short of a once-in-a-lifetime opportunity.
But perhaps
Kevin Smith
sums it up best in his early review of "The Dark Knight": "It's 'The Godfather: Part II' of comic-book films and three times more earnest than 'Batman Begins' (and [bleep] was that an earnest film)."
As for the lingering question beyond "The Dark Knight" about whether there will be a third film, we won't discuss whether all loose ends are indeed tied up. Instead, we'll leave you with this simple gem: Batman's not just a vigilante superhero. He's becoming something more.
"The Dark Knight," which is directed by Christopher Nolan and features Christian Bale, Heath Ledger, Aaron Eckhart, Michael Caine, Maggie Gyllenhaal, Gary Oldman, Morgan Freeman, Cillian Murphy, Eric Roberts, Anthony Michael Hall, Colin McFarlane, Joshua Harto, Michael Jai White and William Fichtner, opened everywhere on July 18, 2008 in traditional theaters and in IMAX. The film will show in IMAX for a continuous 72 hours for its opening Chicago weekend.
-
Watch the trailer
-
"The Dark Knight" Pictures
-
Heath Ledger Pictures
View Hollywoodchicago's exclusive, 35-image red-carpet coverage of "The Dark Knight" in Chicago on July 16, 2008.

By
ADAM FENDELMAN
Editor-in-Chief
HollywoodChicago.com
© 2008 Adam Fendelman,
HollywoodChicago.com