The Dance Community Reacts To The 'Black Swan' Controversy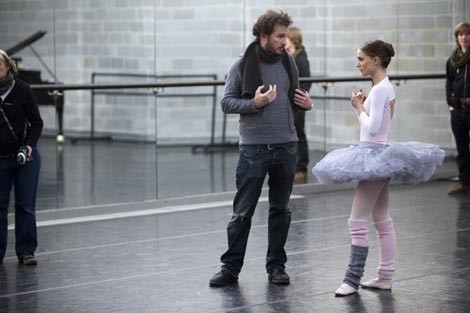 It all started with an innocent Facebook posting of the Entertainment Weekly (EW) article about Natalie Portman's dance double in "Black Swan", Sarah Lane, publicly airing the fact that she got little credit for her work in the movie.  As a former dancer who trained at Boston Ballet School and who received her BFA in Dance from NYU's Tisch School of the Arts, I thought I might stir up some conversation amongst my dance friends.  Instead, I started a heated firestorm that launched opinions from pro-Sarah to pro-Natalie to just downright cynical about the whole Hollywood process. 
In this corner:  Natalie Portman, winner of the Academy Award for Best Actress for "Black Swan", never claimed to do all of her own dancing even though she trained for a year for the role.  In fact, professional dancer and on-camera host, Stuart Brazell, interviewed Natalie at the AFI Fest premiere of the movie and said that the actress was " humble and gracious towards the dancers in the movie." And that "Miss Lane should feel honored and blessed to be a part of such an incredible film".   While I think Natalie recognized the importance of her dance double, she forgot to thank Sarah Lane in her Oscar acceptance speech.  This is where things started to sour…..
In this corner:  Benjamin Millepied, choreographer and partner to Natalie during the film.  He recently gave an interview to the LA Times where he claimed that, "Honestly, 85% of that movie is Natalie."  This is around the time Sarah became quite vocal and started to fight back.  While that may be technically true since they used Sarah for footwork and turn sequences, Natalie was mostly framed in close-up shots in classic ballet poses.  To make the situation even stickier, Benjamin happens to be the fiancé to Miss Portman and the father of her unborn child.  Of course, he will support Natalie.
In this corner:  The feisty Sarah Lane, dance double to Natalie Portman and a soloist at the American Ballet Theatre, insists the studio and particularly producer, Ari Handel, asked her to stop doing interviews during the awards season, most likely to keep Natalie's road to the Oscar a smooth one.  She claims to EW that "Of the full body shots, I would say 5 percent are Natalie".  Well, that certainly changes things if that number holds true.  Is there a cover-up in progress? 
In this corner:  The studio, Fox Searchlight, released a statement over the weekend stating, "We were fortunate to have Sarah there to cover the more complicated dance sequences and we have nothing but praise for the hard work she did. However, Natalie herself did most of the dancing featured in the final film."  I don't think the studio was ready for such a stubborn dance double who won't back down to the filmmakers claims, but I take this statement as their final word on the matter.  However, there are a couple of videos out there that seem to back Sarah's claims and make the whole situation seem a bit shady.
What this really comes down to is an age-old Hollywood issue of a stunt person or a double not getting the credit they deserve.  The doubles are often required to do the physical aspects of a role that are too technical for an actor to accomplish.  There is no way Natalie would ever be able to master the moves of a professional ballerina and Fox Searchlight was initially pretty open about showcasing the visual effects (VFX) of the movie.  The original video clip (video below) they released about the movie's VFX showcased Sarah starting a turn sequence and then replacing her head with Natalie's face.
It was amazing to see how computer's allow for such a seamless transition.  Unfortunately, once the Oscar race heated up, this clip was pulled and Sarah is not seen at all.  It's like she never doubled the role at all.  This is the new clip that remains on YouTube.
On Sunday, it came to light in a Wall Street Journal article, that Sarah did not have a manager, agent, or lawyer representing her during the contract negotiations.  It is crucial for any artist to realize that Hollywood is a business and although they are strong on the creative side, you always need someone in your corner on the business side.  If Sarah had someone representing her, she might have received the proper credit in film because it would have been written in her contract.  In fact, Sarah isn't the only one who had this issue with "Black Swan".  Rodarte, designer of the key costumes for Natalie Portman, was not properly credited, so they missed out on a possible Oscar nomination.  Rodarte is continuing to pursue work in the movie industry, but they are now doing it armed with an agent.
So, it turns out it is a precautionary tale for all artists to remember you have to pursue the business side of Hollywood with as much passion and dedication as the creative side.  I leave you with a few quotes from my dance peers for you, as a movie going audience, to ponder.  From Dance Channel TV:  "No matter what publicity would like us to believe, we know from personal and professional experience that it is simply impossible for any person to attain the level of professional ballet dancer in a year, no matter the hours spent training. Ballet is a profession which requires a life of devotion, and we hope the renewed interest in this incredible art form will have a lasting effect" But, perhaps it is musician and former dancer, Carolina Tejada, who sums it up best, "In the end I still want to fantasize about Natalie being able to do it all in the movie."….which is exactly what Lionsgate wants you to believe.  
Be sure to see Dance Channel TV's reubuttal video to all of the "Black Swan" controversy.