The CW To 'Bring It On' This Fall With 'Hellcats'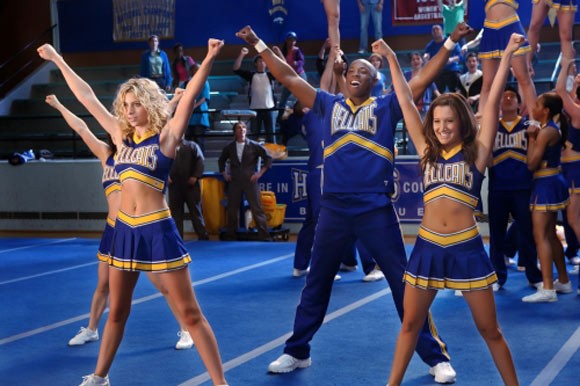 Bring it On- the Show?
 
Actually the show premiering to the CW Network this fall is "Hellcats". The preview available online basically just shows a gymnasium full of cheerleaders grinding each other and a random male cheerleader in the middle. From out of the bleachers is a blonde, somewhat distressed, looking guy carrying two coffees. The music gets faster, the hips move more, the two girls in front battle each other with their dance moves and their eye contact.
The basis of "Hellcats" is supposed to be that Marti Perkins, played by Alyson Michalka, is new to the squad but deep down she isn't a cheerleader, she's a gymnast (kind of like Eliza Doolittle's character in Bring it On). Her home life seems racked with complications; an alcoholic mother, a dream to go to law school, and a lost scholarship. All of which lead her to join the cheerleading team. Of course there is the blonde vs. brunette tension before they become the best of friends and work side by side to do the best cheers ever. Savannah Monroe, played by Ashley Tisdale, is the captain. Behind the cheerleaders is their squad leader, Vanessa Lodge, whose job is on the line if the Hellcats don't make it to the top. Everyone is counting on the Hellcats, they have to be the best or everyone's lives will be ruined. Dan Patch, played by Matt Barr, is the plutonic friend to Marti but (surprise), deep down he has feelings beyond those of a friend.
This show could be funny if the writers take a satirical slant to it, but from the looks of things it doesn't appear to be that way at all. Kevin Murphy, producer of "Desperate Housewives", is working on the show which could be good or bad. "Desperate Housewives" had elements of humor that almost mocked the small town mentality while still keeping it a drama. Hopefully that will happen with "Hellcats".
All the elements of this show are very cliche. I'm not saying that it won't get decent ratings due to the short skirts, gyrating dance moves, and teen angst that has been moved into a college setting. This isn't an argument over whether or not cheerleading is a sport, not even going there, but the athletics on the show do look impressive. Hopefully the pretty faces will have at least some interesting dialogue to keep the audiences attention in between routines. 
The show premieres this fall on the CW, Wednesdays at 9:00p.m.