The CW Announces New & Returning Shows For 2011-12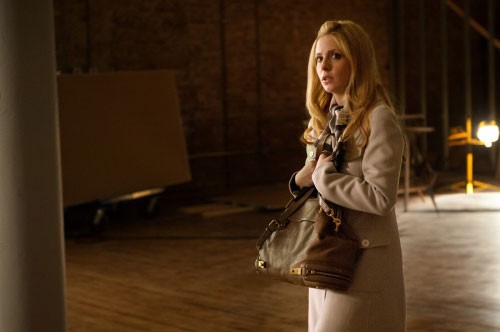 The CW Network unveiled the schedule for its 2011-2012 season at its annual upfront presentation for advertisers, affiliates and national media from Jazz at Lincoln Center.  Electro hip-hop group LMFAO staged a rousing flash mob dance and performed their hit song Party Rock Anthem to open the show.  The announcement was made by Dawn Ostroff, President of Entertainment, and Mark Pedowitz, the new President of The CW.

"Hart of Dixie," from the "Gossip Girl' team of Josh Schwartz and Stephanie Savage, is a medical franchise with a proven star in Rachel Bilson, added Pedowitz.  Sarah Michelle Gellar has incredible appeal to our core audience and beyond, and when word got out that she was starring in "Ringer' on our network, it went viral online immediately.  "The Secret Circle' is from Kevin Williamson, the producer of "The Vampire Diaries,' and is also based on a popular series of books by author L.J. Smith, and it fits perfectly on Thursday nights.  Our new reality series "H8R,' and "Re-Modeled' and "The Frame' at midseason, are brash and loud, and continue our commitment of giving our audience more original content all season long.  And we're thrilled to have "One Tree Hill' return for its farewell season this spring.  The 2011-2012 season is poised to be The CW's best season yet.

On Monday night, one of the most talked-about shows on television, GOSSIP GIRL, returns to the 8:00-9:00 p.m. timeslot, leading into the new drama HART OF DIXIE from 9:00-10:00 p.m.  From the creators of GOSSIP GIRL and The O.C., HART OF DIXIE stars Rachel Bilson as Doctor Zoe Hart, a sophisticated New York City woman who finds herself practicing medicine in a small Southern town.

90210 graduated from West Beverly High and moves over to Tuesday nights, 8:00-9:00 p.m. Following 90210, 9:00-10:00 p.m., is one of the most buzzed-about shows of the new season, RINGER, starring Sarah Michelle Gellar, who stars as a woman on the run, who assumes her twin sister's identity, only to discover that her sister's life is just as complicated and dangerous as the one she's trying to escape.

On Wednesday, new reality series H8R brings celebrities face-to-face with the people who love to hate them, with host Mario Lopez, 8:00-9:00 p.m.  With its focus on celebrity culture, H8R gives a great lead-in to the first-ever All-Stars edition of AMERICA'S NEXT TOP MODEL from 9:00-10:00 p.m.

Thursday night will feature two shows from star producer Kevin Williamson and based on a series of books by author L.J. Smith.  The CW's top-rated show THE VAMPIRE DIARIES returns in the 8:00-9:00 p.m. timeslot, leading into new drama THE SECRET CIRCLE from 9:00-10:00 p.m.  Britt Robertson stars as Cassie, an orphaned teenage girl who discovers the truth about her lineage – she's a witch who holds the key to an ancient battle between good and evil.

Friday nights are action-packed, with the sexy and exciting NIKITA moving to 8:00-9:00 p.m. and the Winchester brothers of SUPERNATURAL returning in the 9:00-10:00 p.m. timeslot.

The CW's 2011-2012 Primetime Schedule

MONDAY

8:00-9:00 PM              GOSSIP GIRL (New Time)
9:00-10:00 PM            HART OF DIXIE (New Series)

TUESDAY

8:00-9:00 PM              90210 (New Night)
9:00-10:00 PM            RINGER (New Series)

WEDNESDAY

8:00-9:00 PM              H8R (New Series)
9:00-10:00 PM            AMERICA'S NEXT TOP MODEL

THURSDAY

8:00-9:00 PM              THE VAMPIRE DIARIES
9:00-10:00 PM            THE SECRET CIRCLE (New Series)

FRIDAY

8:00-9:00 PM              NIKITA (New Night)
9:00-10:00 PM            SUPERNATURAL

HART OF DIXIE

Fast-talking New Yorker and brand new doctor Zoe Hart has it all figured out – after graduating top of her class from medical school, she'll follow in her father's footsteps and become a cardio-thoracic surgeon.  But when her dreams fall apart, Zoe decides to accept an offer from a stranger, Dr. Harley Wilkes, to work with him at his small practice in Bluebell, Alabama.  Zoe arrives in this small Gulf Coast town only to find that Harley has passed away and left his half of the medical practice to her in his will.  She quickly finds that Southern hospitality isn't always so hospitable – the other doctor in town, Brick Breeland, is less than pleased to be sharing the practice with this young outsider, and his daughter, Lemon, is a Southern belle whose sweet disposition turns sour when she meets Zoe.  Zoe's only allies are the mayor, former football star Lavon Hayes, her bad-boy neighbor Wade Kinsella, and handsome lawyer George Tucker – who just happens to be Lemon's fiancé.  Zoe is out of her element and ready to pack her bags, but a surprise visit by her snobby New York mother leads to Zoe's decision to stay in Bluebell for a while, discovering small-town life and a side of herself she hadn't known was there.  The series stars Rachel Bilson as Dr. Zoe Hart, Jaime King as Lemon Breeland, Wilson Bethel as Wade Kinsella, Cress Williams as Lavon Hayes, McKaley Miller as Rose and Scott Porter as George Tucker.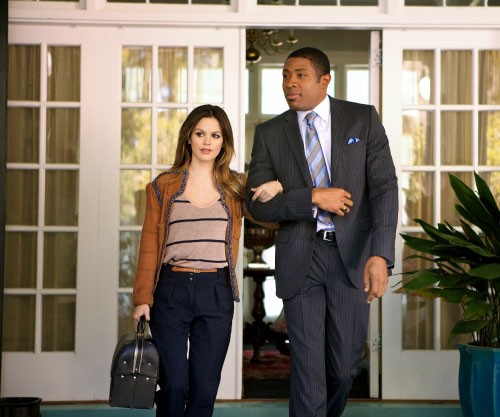 RINGER

Sarah Michelle Gellar stars as a woman who, after witnessing a murder, goes on the run, hiding out by assuming the life of her wealthy identical twin sister – only to learn that her sister's seemingly idyllic life is just as complicated and dangerous as the one she's trying to leave behind.  Bridget is six months sober and starting to turn her life around when she is the sole witness to a professional hit.  Despite the assurances of her FBI protector, Agent Victor Machado, Bridget knows her life is on the line.  She flees to New York, telling no one, not even her Narcotics Anonymous sponsor, Malcolm.  In New York, Bridget reunites with her estranged twin, Siobhan.  Wealthy, pampered and married to the strikingly handsome Andrew Martin, Siobhan lives what appears to be a fairy tale life – a life where no one knows that Bridget exists.  The sisters seem to be mending their frayed relationship, until Siobhan disappears mysteriously, and Bridget makes the split decision to take on her sister's identity.  She discovers shocking secrets, not only about her sister and her marriage, but also about Siobhan's best friend, Gemma, and Gemma's husband, Henry.  And when someone tries to kill Bridget in her sister's penthouse, she realizes she is no safer as Siobhan than she is as herself.  The series stars Sarah Michelle Gellar as Bridget and Siobhan, Kristoffer Polaha as Henry, Ioan Gruffudd as Andrew Martin, Nestor Carbonell as Agent Victor Machado and Tara Summers as Gemma.
 
H8R

Celebrities go head-to-head with civilians who hate them to win their haters over.  Hosted by Mario Lopez, H8R is from Horizon Alternative Television with executive producers Lisa Gregorisch-Dempsey (Extra), Jeremy Spiegel (Extra) and Mario Lopez.

THE SECRET CIRCLE

Cassie Blake was a happy, normal teenage girl – until her mother Amelia dies in what appears to be a tragic accidental fire.  Orphaned and deeply saddened, Cassie moves in with her warm and loving grandmother Jane in the beautiful small town of Chance Harbor, Washington – the town her mother left so many years before – where the residents seem to know more about Cassie than she does about herself.  As Cassie gets to know her high school classmates, including sweet-natured Diana and her handsome boyfriend Adam, brooding loner Nick, mean-girl Faye and her sidekick Melissa, strange and frightening things begin to happen.  When her new friends explain that they are all descended from powerful witches, and they've been waiting for Cassie to join them and complete a new generation of the Secret Circle, Cassie refuses to believe them – until Adam shows her how to unlock her incredible magical powers.  But it's not until Cassie discovers a message from her mother in an old leather-bound book of spells hidden in her mother's childhood bedroom, that she understands her true and dangerous destiny.  What Cassie and the others don't yet know is that darker powers are at play, powers that might be linked to the adults in the town, including Diana's father and Faye's mother – and that Cassie's mother's death might not have been an accident.  The series stars Britt Robertson as Cassie Blake, Thomas Dekker as Adam Conant, Gale Harold as Charles Meade, Phoebe Tonkin as Fay Chamberlain, Jessica Parker Kennedy as Melissa, Shelley Hennig as Diana Meade, Louis Hunter as Nick, Ashley Crow as Jane Blake and Natasha Henstridge as Dawn Chamberlain.  The show is based upon the book series by L.J. Smith (author of "The Vampire Diaries" book series).

MIDSEASON

RE-MODELED

Modeling industry veteran Paul Fisher is planning to bring together hundreds of small agencies around the world in a new venture called The Network.  The Network will give Paul the leverage to change the industry from the inside out.  He has two missions: to make sure agents in small towns no longer get screwed, and to empower models to take control of their careers and lead healthier lives. 

THE FRAME

What happens when your whole life is reduced to one Frame?  There's only one rule: if you're out of the Frame, you're out of the game.  Ten teams of two, chosen for their dynamic personalities and their existing deep-rooted relationships, are selected to compete in this wild social experiment.  These teams will each live in one Frame – a stripped down version of their home living space – for up to 8 weeks, with the entire world watching their inter-personal soap operas play out atop a highly formatted game.  Couples cannot physically see one another, but each frame is rigged with plasma screens & communication devices that allow for visual and verbal interaction.  The teams will face outrageous challenges, punishments, head-to-head competitions, and eliminations, all while isolated from the outside world.  With 24/7 web cams streaming content live, and a bi-weekly television show, audiences will vote for – and have control over – many elements of the show, from rewards to punishments to eliminations.  The last couple standing will be America's favorite pair, and walk away with a cash prize.