'The Counselor': Interesting Characters Do Way Too Much Talking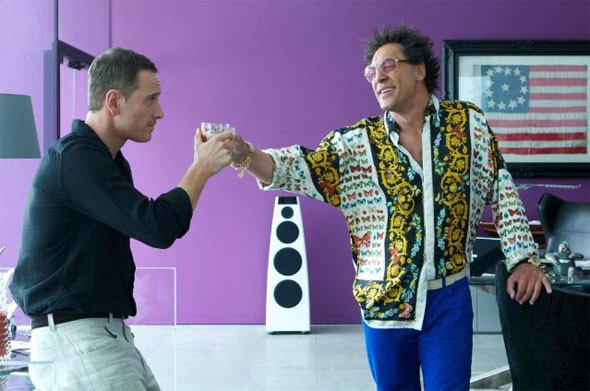 'The Counselor' is one of those films that I really expected to love – after all, it was directed by Ridley Scott and written by Pulitzer Prize winning author Cormac McCarthy (No Country for Old Men).
If those credentials weren't enough, the cast included Michael Fassbender, Javier Bardem, Brad Pitt, Cameron Diaz and Penelope Cruz. What could possibly go wrong? - Actually a lot.
Fassbender plays The Counselor. That's right; the guy doesn't have a name. Everyone simply calls him, Counselor.  
The Counselor, for unexplained reasons, needs to make a great deal of money fast.  Maybe it's because he just got engaged to the love of his life - played by Penelope Cruz and he wants to spend every day in bed with her instead of working.
In any case, he ignores the advice of his good friend/client, Reiner (Javier Bardem) - a crooked, larger than life nightclub owner, who brings him into the shady deal and then tries to talk him out of it.
Reiner, in one of his many monologues, tells the Counselor: 'If you pursue this road that you've embarked on, you'll eventually come to moral decisions that will take you completely by surprise - ones you didn't see coming at all.'
That's how everyone in the film talks. No one just says, 'Dude, it's a bad idea to get involved with the cartel' - nope it's one long soliloquy after another.
Even Brad Pitt, who plays Westray, a shady middleman, gets in on the philosophizing; as does Cameron Diaz - Reiner's malevolent, sociopath girlfriend - who has a thing for sports cars. 
Cormac describes the Fassbender character as a classical figure in tragedy.  'He's a decent man who gets up one morning and decides to do something wrong...and that's all it takes.' 
I agree, Fassbender's character makes a very big mistake, but you don't know enough about him to really care. For that reason I gave 'The Counselor' which opens in theatres Friday, October 25, 2013, only 3 bagels out of 5.
Check out our video for more of our thoughts and for John's bagel rating.
Please SUBSCRIBE to our channel on YouTube and LIKE us on our Two Jews on Film Facebook page.
Thanks everyone and let us know what you think about this film.