The Continuing Rise of Jesse Macht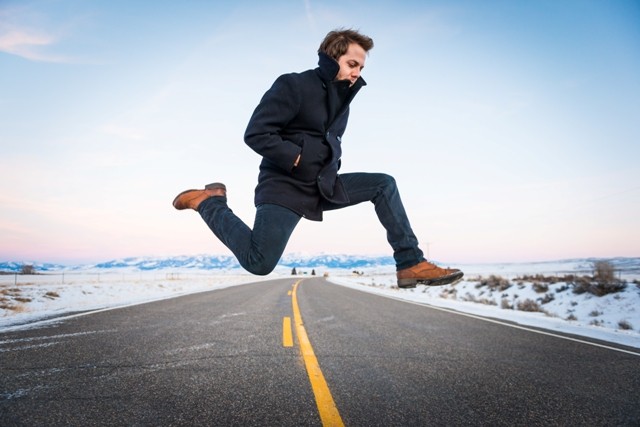 Since he was introduced to Starpulse audiences in the fall of 2011, singer-songwriter Jesse Macht has cemented his status as the best unheralded musician. The talented performer with the amazing lyrical acuity released the single Out of Control in August 2012, and Jesse Macht and the Buffalo Fight dropped their album Acts of Providence not long afterward. It was a welcome burst of new material from one of music's freshest voices.
After that much work, some artists might consider taking some time off - but Jesse is making 2013 his year with new gigs and new creative partnerships. He recently sat down with BFTV to give me the dish on what he's been doing since we last spoke, and what's ahead for the future.
Acts of Providence is a compelling combination of select highlights from his previous EPs and songs that are being released for the first time. The result is an album which shows off Jesse's range, as it goes from catchy pop tunes like "Once in a Lifetime" to more ponderous tracks such as "Heartache." Because it contains everything from the now-classic "Love Is Another Drug" to fresh sounds, it's a perfect release for both longtime fans and those who have somehow yet to discover how talented he is. It provides a sense of the complete Jesse Macht.
What selections from the album stand out to Jesse himself? "Of the new ones that I've done, I'm stoked about 'Kick and Scream.' I think it's a fun tune. 'Gonna Make It Out' is another sort of pop-country tune," he said. "My favorite track is 'Heartache,' which is on there."
The album also served as a launching pad for his next efforts. "Because of that record, I was able to facilitate some writing workshops with different people," he continued. "People are like, 'Okay, this guy knows what he's doing.' It's been a lot of writing with different artists."
Those collaborators have included fellow Starpulse featured artists Eddie Anthony and Edan Dover of The Score, Matt Parad, Stephen Gage and Ben Scala (The Spotlight), Tyler Lyle, Micah Daulton, Jacqueline Becker, and Emily Katter. Jesse co-wrote one of Acts of Providence's best tracks, "Shooting Star," with Jeremy Silver, and has written a few songs with fellow singer-songwriter Katie Boeck, with whom he shared space at Montana's Way Alt West Fest after catching the ear of event founder Dave Goodwin at two other gigs in the state.
"Katie and I wrote three great songs together and made a connection in writing together. She has family in Montana, and my old band, Burn Down the Mission, the singer's father had family in Montana, so I'd been there and I had friends there. So when [Katie] said, 'Do you want to come up to Montana?' I was totally down," said Jesse, whose next show is on February 26 at Room 5 in Los Angeles (more info here). "We went up to Montana and played and just got a remarkable reception from the people."
At Way Alt West, "I played a few different sets, and the most fun set was New Year's Eve," he continued. "I played with the Buffalo Fight, my guys from New York version of the Buffalo Fight, and it was awesome. We got promoted really nicely in the newspaper, really well received. Montana's just been this new sprouting of inspiration. I love it up there."
In addition to traveling to places like Montana and New York, he has branched out into other performance venues as well. "I've started doing these little dinner parties," he added. "It's usually between seven and twenty-five people. We sit around and talk for a little bit, and after that I'll play a set. I've done some just by myself, me and Katie have done some, and I'd like to do some with other songwriters here in LA."
Jesse ventured into online performances via StageIt earlier this month, joining the ranks of artists like Justin Hopkins, Christian Kane and The Voice's Javier Colon, all of whom have used the site. Asked if he'll continue to do more Internet gigs, he said, "I'd like to. I have all these great fans that are spread around the world. If I can find the time to do it, I'd love to." In addition to StageIt, he's a featured artist as part of the upcoming MySpace relaunch.