'The Conjuring' Review: An Extremely Scary And Terrifying Must See Horror Film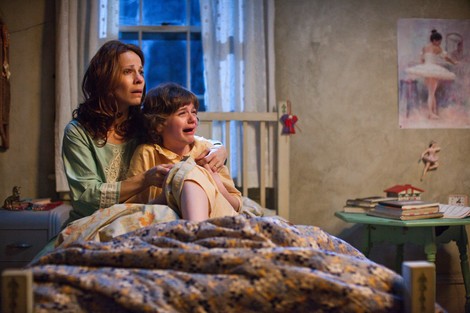 "The Conjuring" is one of the most terrifying films I've seen in a very long time and I loved every second of it.  Of course I love being scared, but only when I'm seating in a movie theatre.

Based on a true story, the film tells the tale of how world renowned paranormal investigators, Ed Warren (Patrick Wilson) and his clairvoyant wife, Lorraine (the wonderful Vera Farmiga) find themselves in one of the most horrifying case of their lives.

For those of you unfamiliar with these demonologists, the Warrens have spent years fighting evil forces.  One of their most famous cases was made into a movie, entitled "The Amityville Horror."

Okay, so for those of you who aren't sure if evil spirits are occupying your home, here's my version of "Demonic Activity for Dummies."

First stage: Infestation, whispering, footsteps, the feeling of another presence...

Second stage: Oppression - You feel as if your will is being crushed (that must hurt) and last, but certainly not least...

Third stage: Possession - Self explanatory… the entity has you, mind, body and soul!

Luckily, Carolyn Perron (Lili Taylor) doesn't wait for stage three to contact the Warrens.

Carolyn and her husband, Robert (Ron Livingston) live with their five daughters, in a centuries old farmhouse in Harrisville Rhode Island and it doesn't take long for her to realize that something is not quite right.

The year is 1970, so Carolyn can't 'Google' what to do when you feel your house is haunted?

The Warrens arrive to investigate and immediately agree that there is a very sinister entity occupying the Perron home and the family is in grave danger.

Thanks to director James Wan (creator of "Saw") what transpires is so intensely scary, that you'll be jumping out of your seat. I know I was.
Wan builds the tension slowly and has created "set pieces" that delivers everything you've come to expect (but don't always get) in a horror film.

Also, the script, written by Chad and Carey W. Hayes ("The Reaping") makes sure you care about all of these people.

The five Perron daughters played by Joey King, Shanley Caswell, Hayley McFarland, MacKenzie Foy and newcomer Kyla Deaver are excellent.

I gave "The Conjuring" which opens in theatres Friday July 19, 2013, five bagels out of five.

Check out our video to see John's bagel rating and for more of our thoughts.
Please SUBSCRIBE to our channel on YouTube and LIKE us on our Two Jews on Film Facebook page.