'The Closer' Recap: 'Walking Back the Cat'

For those sci-fi geeks out there, watch for David Hewlett in this episode! Now on with the show. The opening for this episode is strikingly without crime- Brenda is laying dinner out as Fritz walks in. Fritz walks in, unfortunately holding Kitty's ashes. Brenda, of course, breaks down with this dead body unlike her many others. They finally sit down to a now cold dinner, the credits still rolling, and Fritz slyly tries to get Brenda's help on a case. The music cues on this show are dead on and highlight the well timed cast. The next day, she is talking Pope into taking the case while looking into the box on her lap holding Kitty's ashes. Pope gives in to Brenda's well-played ploy to have PHD take on the Austin missing person's case.
Finally we get a answer for why Provenza has been so happy, his girlfriend, Lauren. Brenda looks on from the office, adding more comic relief to a possibly lighter episode. Taylor brings in info on the case and discusses it with Brenda and Flynn. Brenda soon shuts down their stereotyping, snarky comments as they talk about Austin Blair's gay lover, Travis Myers. She goes out on the floor to speak with the other team members, kicking Sanchez when he asks Lauren how old she is. Before the scene ends, we get a long look at
In the morgue, looking at the body, Gabriel and Brenda are schooled in the ways of gay culture to figure out how the story. Fritz walks in with Agent Moore (David Hewlett) as they find the body, turning the missing person's into a homicide case. Back at the ranch, the team has to be deputized into the FBI for the case. Provenza walks in with Lauren and the age difference jokes keep flowing. He asks Buzz to take her out of the conference room and show her one of his interrogation videos. Buzz counters with, "The one with John Wilkes Booth?". The team has fun playing with the real FBI agents telling them they have to act like FBI agents, Flynn answers, "I solemnly swear to be act as stupid as possible."
Brenda calls in Austin's step-father, Dr. Blair, and informs him of Austin's death. Dr. Blair runs out of the office, as they try to question him. He tells them to ask the guy at Austin's apartment. Walking into the apartment, the team starts to question Travis Myers, Austin's boyfriend. Flynn breaks Austins' death to Travis rather hard. Provenza calls in Brenda and tells her that they found loose cash and a ton of GHB. Provenza also tells her that the FBI may have gotten them involved for a different reason, as he found Fritz's business card in the apartment. Pope is upset that it seems like they are cleaning up the FBI's mess. Fritz calls her and she meets him in the hallway. She finds that Fritz did place PHD as a tool trying to get the case analyzed as a homicide. In the interrogation room, Brenda and Tao question Travis. Fritz and Agent Moore look on from the video recording. He gives the name Peter Benjamin. Moore immediately stops Brenda's interview just after Moore hears the name Peter Benjamin uttered.
Fritz and Brenda fight it off back at the house at opposite ends of Chinese takeout. Fritz tells her, to mend the fight, that he has Austin's wire footage from the night he went missing. They watch Austin blackout in the men's bathroom at Hell-A. The next day, Brenda, Moore, Pope, and Fritz interview Peter Benjamin. Brenda reaches into her bag turning on a recorder, covering it by reaching or a tissue. Benjamin says that Austin recovered and that he immediately was fired. Fritz brings her out of the room, telling her she cannot lie to Benjamin, telling him that they have three witnesses saying otherwise. She retorts that the LAPD lies back when criminals lie to them; which is, according to Fritz, counter to the FBI protocol. She rips off the FBI badge, telling him that she is no longer playing FBI agent and that the LAPD now considers the case a homicide and not an overdose. The team finds Austin's keys, figuring out that Austin never left as Benjamin said he did. The lost car, they find, is in Dr. Blair's driveway. She brings him in for a Brenda interrogation. They question him about Benjamin, after uncovering his drug business with his stepson. She tells him that she doesn't care about the drugs, just about Austin's murder. He tells her that Benjamin threatened him when he tried to leave the drug business. Benjamin ordered him to pick up the car, and that was when he found that his stepson was dead. She leaves, saying that the LAPD is done with him. She finds Fritz in the hallway, with Moore, and they trade off, both sides getting what they want out of the doctor and Peter Benjamin. Fritz comes in to the interrogation room with Moore and they arrest the good doctor.
Brenda walks in to the room, and the team gives her boxes from the evidence locker to give Travis the envelope of money. Brenda tries to give him the money, however he doesn't want it. She talks him into taking it, telling him to let something good come if it (his chance to go to college). Back at the house, Fritz and Brenda hold a funeral for Kitty. They sit and watch one of Kitty's babysitting videos as the episode fades to black.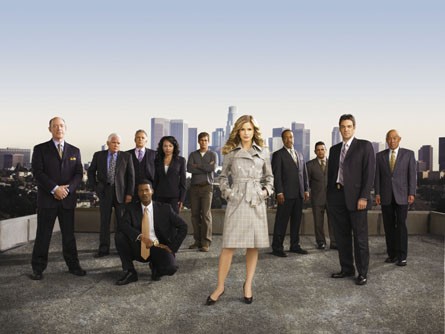 Image © Turner Broadcasting System, Inc.
The Closer
Cast:
Kyra Sedgwick
,
J.K. Simmons
,
Corey Reynolds
,
Robert Gossett
,
Gina Ravera
,
more
Bookmark our 'The Closer' News page & check back for regular episode recaps & news!
Story by
Sarah Lafferty
Starpulse contributing writer