The Click Five Call It Quits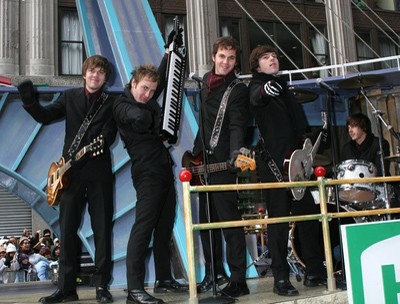 Power-pop-slash-rock band The Click Five have finally parted ways after almost a decade of making music together.
Keyboardist Ben Romans broke the news to the band's fans on Jan 14, with a link to the band's Facebook page where the band posted the following statement at 1335h (PST):
"Hello everyone,
After a long hiatus, we are parting ways so that we may continue to focus on our individual endeavors. Although we will no longer be active as The Click Five, our friendship and bond as band-mates is strong and will continue to be. We are ready to move on, and are excited to begin the next chapter of our lives.
Thank you to our families and friends for always being there for us and pushing us to be better. We especially want to thank our amazing fans. We think about you every single day, and we wouldn't be who we are today without you. We had some of the best years of our lives together and we will never forget the love you gave us. The feeling we got from inspiring you with our music was always at the top of the list for us. We have such positive memories of our time together and hope you do too. Thank you, we are truly grateful.
Moving forward, we hope you will continue to support each of us in our personal ventures, just as we band-mates support each other. We're lucky to have experienced so much together and to be where we are today. We look at this not as an end, but the beginning of a new journey.
To everyone who listened to our music along the way, thank you.
Much Love,
Joey, Ben, Ethan, Joe, Kyle"
The band officially parted ways on Jan 14, which also happened to be lead guitarist Joe Guese's birthday.
The band comprises of: Kyle Patrick (lead vocals, rhythm guitar), Ben Romans (keyboards), Joe Guese (lead guitar), Ethan Mentzer (bass guitar) and Joey Zehr (drums).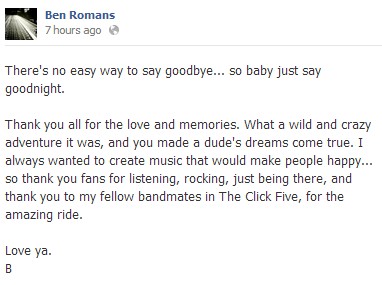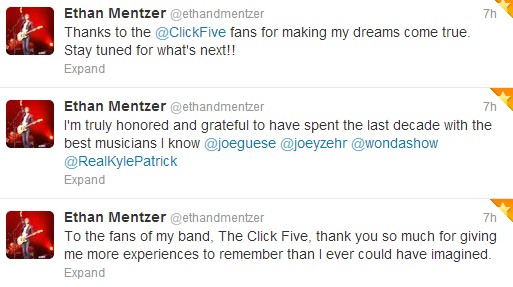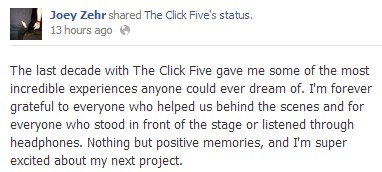 Joe, Ethan, Joey and Ben also tweeted and Facebook-ed their farewell messages while Kyle was on a flight back from Singapore to his hometown in GA.
Twitter went into a frenzy as fans of the band, also known as "clickers", tweeted their OMGs and tweeted song lyrics and pictures in memory of the band's decade-long career.
The band was formed in 2003, and the original lineup comprised of: Eric Dill (lead vocals, rhythm guitar), Joe, Ben, Joey and Ethan. They released their debut album Greetings from Imrie House in 2005 and proceeded to tour around the world. Their debut single "Just The Girl" is one of the most well-known tunes of the twenty-first century.
In 2007, Eric left the band to pursue a solo career and Kyle Patrick was introduced as the band's lead singer. The band then went on to release Modern Minds and Pastimes, followed by a world tour where they played sold-out shows in Singapore, Australia, Taiwan and many more.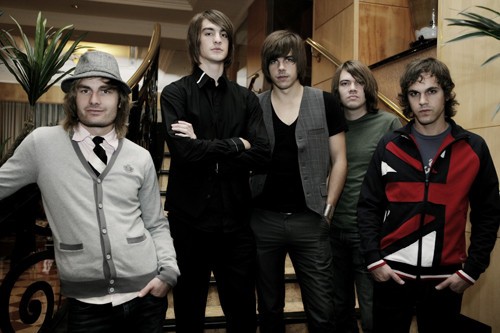 The band released their third album TCV in Asia in 2010 and the rest of the world in 2011. Kyle is currently pursuing his solo career. He released his first mainstream solo record Kyle Patrick in 2012 along with his debut single "Go For Gold!" which has done extremely well on music charts in Asia.