'The Chicago Code's' Devin Kelley To 'Covert Affairs'
First Matt Lauria to Burn Notice, then Warren Kole to Common Law...now make that three former The Chicago Code actors that USA has snapped up.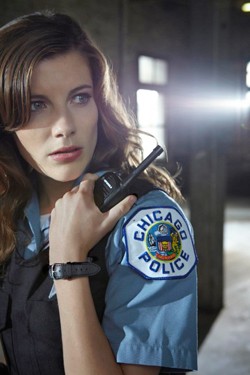 TV Guide reports that Devin Kelley (known to Code fans as Officer Vonda Wysocki) has grabbed a role in the back half of Covert Affairs' current season. Starting with the second episode of the winter run, she'll play Parker, the younger sister of one of Auggie's (Christopher Gorham) military cohorts. Though she put her life on pause when her brother was killed in the same mission that blinded Auggie, she meets him as she prepares to head out with the Peace Corps, and sparks apparently fly.
Kelley is signed for three episodes.
Her casting follows Matt Lauria's (the former Detective Caleb Evers) appearance in a recent episode of Burn Notice (as Ethan Reed in "Square One") and Warren Kole's (who played Officer Ray Bidwell) casting in an upcoming USA pilot called Common Law (as LAPD cop Wes Mitchell). Series lead Jason Clarke (aka Detective Jarek Wysocki) also landed a part in the upcoming film version of The Great Gatsby.