'The Chicago Code' 1.05 'O'Leary's Cow' Review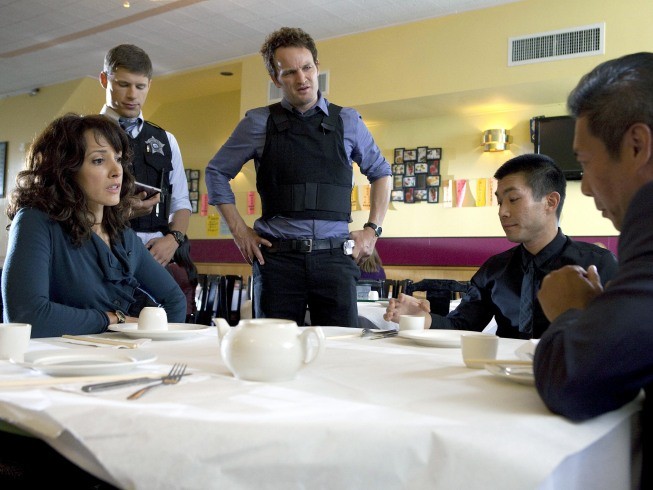 I've officially become addicted to The Chicago Code. I say this because, when I saw a promo spot during last night's FOX  lineup, I made a noise that can only be described as fangirlish.
And why not? This is my favorite cop show on TV - at the least, it's second only to Justified, which I'm not sure I'd call a cop show in the first place.
This week sees Jarek and Caleb's day off spoiled by the discovery of a dead body inside a firehouse in Chinatown. Apparently Jarek is not in the neighborhood's good graces, so he enlists Teresa's help to smooth things over with the locals while trying not to mouth off, which lasts through all of two meetings. Since he's screwed that up, Teresa has to turn to Alderman Gibbons for his help in making everything copacetic, while Jarek and Caleb uncover a conspiracy to commit murder in retaliation for the activity of a pair of young thieves in the area. In closing one case, they're also able to give closure to an older crime at the same time. Just when you think all is well, we realize that Gibbons is seizing the opportunity to replace the local authority with his second-in-command, someone else that he can mold. There are always consequences.
Jarek's also not happy that members of the Irish mob are torching houses to make a profit in the construction business, especially since he has to hear it from Isaac and not Liam. This motivates Liam to look for his piece of the action, and he helps burn down another house, only to be taken aback when someone leaves in a body bag. He's going to have to live with that, and it's something that he struggles with. Everyone has their weaknesses.
Meanwhile, Teresa's brother-in-law Robert (yes, that's former Terriers star Rockmond Dunbar) asks her for a favor, and isn't happy when she can't drop everything to help him. In turn, Teresa is fuming when she finds out that her brother was paid off to enlist her help. When she confronts Robert about a long list of possible repercussions, it fractures her relationship with her sister, who expects her to choose her family over her ethics. In the end, Teresa's decision to keep her integrity - and the integrity of the city of Chicago by extension - costs her the one thing she has outside of her work.
One of the things I love about The Chicago Code is that nothing ever feels cliched to me. Cop shows are very, very familiar ground, so it's not necessarily uncommon - or a sin - for a series to walk the same path as another, but this one puts its own unique touch on even the most recognizable elements. I can name at least a half-dozen short-tempered cops, but when Jarek cops an attitude, I believe it thanks to the imposing presence of Jason Clarke and the writers' good sense not to feed him hollow one-liners. This is someone I really do not want angry at me.
Likewise, we've seen characters whose family members or loved ones get in a bad situation a few times, but the scenes between Jennifer Beals and Rockmond Dunbar are so good that I don't care. I can feel Teresa's heartbreak in each of them, even as I know that were I in her position, I'd do the exact same thing. Billy Lush does a great job of conveying Liam's inner turmoil at the morally wrong action that his morally right job has forced him to take. And how adorable is Matt Lauria? These actors just click, and the writers are playing to their talents. I can really see and feel this show gelling together episode by episode' already it's better than some entire first seasons. It doesn't even feel like a first season to me anymore. With every installment, it only gets better.
And as if that weren't enough, next week guest-stars one of the best character actors in my memory, Steven Culp (JAG, Desperate Housewives, 24). I've already got a smile on my face just anticipating it.
Yep. I'm well and truly addicted to this show. And I'm loving every minute of it.
For more on The Chicago Code, check out the show category at my blog, DigitalAirwaves.net.