The Cheetah Girls, Hot Off The Heels Of Two Disney Movie Sensations, Prepare To Release New Album, 'TCG,' Sept. 25

They may be called
The Cheetah Girls
, but
Adrienne Bailon
,
Sabrina Bryan
, and
Kiely Williams
are all grown up! The proof is in their third CD,
TCG
. The trio, which became international sensations on the Disney Channel and have gone on to sell nearly four million albums, wrote or co-wrote six of the 11 songs on the album.
"This is definitely our most personal CD," says the outgoing California girl, Sabrina, who explains the other two movie soundtracks were all about their on-screen alter egos. "The fans knew us as our characters Chanel, Aqua, and Dorinda, but this time around the fans are going to know us on a personal level and connect with us on a first-name basis."
The group, whose hit Cheetah Girls movies paved the way for made for TV movies like Disney Channel's High School Musical, are already a household name with teens and younger audiences, grossing $26 million over 86 concerts, selling $10 million in tour merchandise in a mere five months, and holding the record for the largest sales in the history of Houston's Reliant Stadium with an impressive 73,200 tickets sold (the record was previously held by
Elvis Presley
in the 1970s).
But with a more diverse sound on
TCG
(the nickname their legions of fans gave them on message boards), The Cheetah Girls are primed for crossover success. Adrienne has brought her love of salsa and hip-hop to the music, while Kiely adds her passion for electronica and retro rock, and Sabrina contributes a pop and house sensibility. Together, they've created a whole new Cheetah sound.

"I don't think our generation just listens to one kind of music, so we wanted to mix it up and give people a taste of all the sounds we like, and hopefully they'll like them all too," says Adrienne, the savvy New Yorker. Kiely, the wise-beyond-her years New Jersey native agrees. "We wanted to work with producers from all genres of music who could really bring some color to the album. Each song gives you a totally different feel. We were in the studio for four months, making sure the sound was something that people hadn't heard before."
The time and effort paid off. "Fuego," the party anthem they co-wrote, which kicks off the album, mixes Latin influences with a
Lionel Richie
sample from his '80s hit, "All Night Long," to create a guaranteed club classic. "It's one of our favorite songs on the album," says Adrienne about the track produced by Jonathan "JR" Rotem, who's created hits for everyone from
50 Cent
to
Rihanna
. "I love the message about setting a party on fire and having a good time, because that's what The Cheetah Girls are all about."
But there are also deep messages woven in between the good-time tunes. "Break Out This Box"-a piano-ladden pop track Adrienne and Sabrina collaborated on with writers including
JC Chasez
and producer Ron "Neff-U" Feemster of
Jay-Z
and
Ne-Yo
fame-is about not letting anyone hold you back. "It was important for us to send a message about reaching for every goal that you want to achieve in life," explains Sabrina. "That's how we've lived our lives, and it's worked for us!"
Then The Cheetah Girls switch things up by channeling another famous girl group,
TLC
, on an R&B song they co-wrote. "Uh Oh" explores that feeling of falling for an ex all over again, even if you know it's wrong, wrong, wrong. "Who can't relate to that?" asks Adrienne. "Man, I wish I couldn't!" she says with her signature laugh.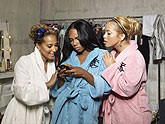 Continuing the theme of love-gone-bad is "Crash," which is written and produced by RedOne, Steve Lunt, and Kristal "Tytewriter" Oliver. "It's a really creative song," says Adrienne. "It's happy, feel-good music, but the lyrics talk about love in terms of cars-sometimes you take things too fast and you crash. That's a universal theme."
On the flip side of the relationship spectrum is "Do No Wrong," a club-banger in the making. "The intro reminds me a lot of the days of
Salt 'n' Pepa
," says Adrienne. "I just loved the attitude. It's very old-school hip-hop. I can see me and my girls getting ready to go out somewhere and singing along to this-it's just a fun, high-energy song."
"And I love the electronica-style beats," interjects Kiely. "It's pop with the hip-hop intro and then electronic beats-it really combines those three sounds to create something new."
"One of our favorites on the album is 'Who We Are,'" continues Kiely. "It was one of the first songs we recorded, and we were all absolutely obsessed with the lyrics. Every girl questions whether a guy likes her for who she really is, but this song tells her to be true to herself, and by doing so she realized her self worth. It's definitely an empowering song that you listen to when you first get up in the morning because it inspires you for the whole day."
"So Bring It On,"which will be the first single released through the Disney Channel, "has more of a rocker vibe," says Sabrina. "It's all about being in control of your life, your destiny, your world-which is something I think every girl wants to be."

Perhaps the most personal song of all is "Homesick," the album closer, which Kiely wrote. Understated and beautiful, it's the track that's sure to have fans swaying along with their cell phones in concert. "It's about being on tour and missing my hometown, my bed-everything that has made me, well, me," says Kiely.
"What I love about the song," chimes in Adrienne, "is that it's not just about being on the road, people who've gone off to college or even summer camp share those same feelings. We all know what it's like to miss home."
Though everything they've touched seems to have turned to gold-make that platinum-sales aren't what the group is most concerned with. "Our main goal is to make positive, uplifting music that everyone can enjoy," says Kiely. "It's not just for young people. But we want to show people that music doesn't have to be risqué or provocative to be enjoyable. We've done that with this album, and I'm really excited to see what our fans and their friends and sisters, aunts, uncles, and grandmothers think about the album."
As part of the
TCG
campaign, Adrienne, Sabrina, and Kiely will soon appear on 70 million Kraft Macaroni & Cheese boxes, and there will be Cheetah Girls dolls, a Nintendo video game, an exclusive line of stationery at Limited Too, and an exclusive cheetah "bear" at Build-A-Bear workshops across the country.
Aside from promoting the CD, the girls will be heading to India in January 2008 to film their third made-for-Disney Cheetah Girls movie. In the meantime, the girls are each exploring their own talents. Kiely is writing a self-help book for teen girls and costarring in the 2008
Adam Sandler
-produced comedy
House Bunny
alongside
Anna Faris
,
Katharine McPhee
and
Rumer Willis
. Adrienne is preparing to record her first solo album, a mix of Spanish and English songs. Sabrina is co-writing "Princess of Gossip" for Pocket/MTV Books. Sabrina will also be one of the stars on "
Dancing With The Stars
" this fall. Not only great singers but great role models too, you name it and these multi-talented girls can-and will-do it!
Listen to "So Bring It On":
Real
|
Windows
-
Cheetah Girls pictures
(Streaming audio and/or video links may expire without notice)