'The Celebrity Apprentice' – The Final Task Ends On A Cliffhanger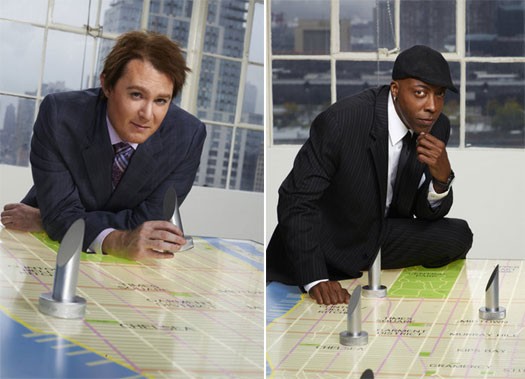 Previously, on Celebrity Apprentice: the Final Five was whittled down to four, when Teresa Giudice project managed her team's assignment to a loss. But the Donald was not finished yet; he brought in last season's Celebrity Apprentice  winner John Rich, and runner up Marlee Matlin, to interview Arsenio Hall, Aubrey O'Day, Clay Aiken and Lisa Lampanelli. Based on John and Marlee's recommendations, he fired Lisa. This week, we'll find out the second person chopped, and have one last challenge. Next week, the winner will be chosen. Ready?
Arsenio, Aubrey and Clay wait nervously for Trump's decision. He begins by saying that there are no losers in the room, but there is at least one, isn't there? Because one of the three will be leaving. Each gives good reason to be kept on, but it's Aubrey's turn to leave, despite Trumps assertion of her "great beauty and great intelligence."
She takes the firing graciously, blows a two handed, Marilyn Monroe-ish, goodbye kiss to Amanda the receptionist, but interviews, "There's nothing see-through about me. I'm somebody that stands in your face and is so bright and shines so big that you're either intimidated, you're annoyed, or you're in love."
In the Board Room, Clay's having a little déjà vu, finding himself once again a finalist against a tall black man. Arsenio's thrilled to have the opportunity to win more money for his charity.  Trump will see them tomorrow when he assigns the final task.
As they leave, Arsenio says "I'm getting in your ass." Clay laughs and says, "You might want to rephrase that." Arsenio is flustered when he realizes he was misunderstood. Clay just gives him a hug.
In the Winner's room, Clay says that this time, he's not going to lose. He's been known as the American Idol runner up for years. He'll work even harder to make sure it doesn't happen again. Arsenio's just as determined to win the money for the Magic Johnson foundation.
At the Lincoln Centre, Trump and the Trumpettes (Don Jr. and Ivanka) meet with Clay and Arsenio to outline their biggest task of the challenge. They will have to produce, host, and sell tickets to a celebrity charity event. They'll be responsible for all aspects of the show, including selling tickets, creating a thirty second charity awareness ad, and producing a variety show to entertain their guests. They themselves will be the entertainment at their show. So they'll need a little help getting organized.
Time to bring back the also-rans! The Final Two will have help from some of the celebrities who've been eliminated over the season. Welcome back, Debbie Gibson, Aubrey, Lisa, Teresa, Penn Jillette, Dee Snider, Adam Carolla, and Paul Teutel Sr. In a very awkward schoolyard pick, Arsenio grabs Adam, Lisa, Paul and Teresa for his team, while Clay chooses Penn, Debbie and Dee. Since no one wants Aubrey, she sheepishly joins Clay's group. Oh, someone will pay for this humiliation, I'm sure!
While the winning team will get $250,000.00 for their charity, any money they earn from their show will go to the Project Manager's charity, so both teams are ready to give it their all.
Team Clay convene, and Clay begins by telling them about his charity, the National Inclusion Project, which he began after appearing on American Idol. It allows special needs kids to be involved in events they might normally not get a chance to experience.  
Clay assigns Aubrey to planning and decorating; Penn and Dee will handle the creative for the ad; Debbie will work on the music for the variety show. Penn proffers "let's all play" as a slogan. Aubrey thinks that a carnival motif would work, and Clay says they could also have inclusive games, reflecting his charities concerns. Aubrey's prepared to take on any and all jobs.
Clay's not working as well with Penn, who has dismissed Clay's first idea for an advertisement. Clay wants creative input, not putdowns. Penn does finally come up with an idea that works for Clay. Clay says Penn's hit the nail on the head; it's a great ad concept.
Team Arsenio is also talking charity, as Arsenio outlines a few statistics about people suffering from HIV/AIDs.  Lisa points out that they only have 75 tickets to sell in total, so they need to prioritize a list of their best and biggest donors. Adam wonders if they should sell the tickets based on attracting an audience of children. The donor would be buying their ticket for a child, not themselves. Lisa doesn't think the team is necessarily 'kid friendly,' but doesn't want to go over PM Arsenio's head.  Arsenio very diplomatically vetoes Adam's idea.  Adam's next idea is a return to the eighties.
Next, Adam says that he can get people from his radio show to visit and film Magic Johnson, who's on the West Coast, and have the film sent to them in New York. Arsenio works out a comedy concept for their 30 second ad, loosely based around Magic Johnson's own words.   
Since the most important aspect is raising donations, Paul Teutel Sr. begins calling his wealthiest friends, and Teresa uses her own contacts tirelessly.
Next stop, the Costumers. Adam and Teresa are greeted by the manager who shows them his office – inside a cage. Even odder is the man's office 'art' – a giant penis statue. Adam finds it all very creepy. But they strike gold with costumes for characters based on Michael Jackson, Madonna , Cyndi Lauper, and a new wave, romantic look.   
Ivanka drops by Arsenio's room, where Lisa assures her that she's already raised $50,000.00 that will be forwarded to Arsenio's charity. Teresa's got $5000.00 pledged. Arsenio assures Ivanka that he's having a great time with his team, and that they're all working well together. He tells her that they've got Magic's approval via video, and they're working on a comedic event. Ivanka admires Arsenio's whole hearted embrace of his charity. She agrees that his idea of providing comedy and laughter may be more universal than basing a show on musical performances.
Team Clay now has to decide on the music they will be performing, so Debbie and Clay sit down to toss around songs. How about Dee and Debbie dueting on "Baby Love?" Dee's a good sport but says "If you had told me that I'd be singing 'Baby Love' with Debbie Gibson in the 1980s, I would have punched you in the face." He can't get a handle on where the show is going, but will play along.
Don Jr. stops by for an update. Clay immediately asks Junior if he'd like to sing in their show.  Junior wisely says he wouldn't be an asset. Clay is sure that he has the best team, especially when Penn says Teller will be joining him on stage for a 4 minute 'cups and balls' routine. Although Junior thinks they have great ideas and a great team, he's wondering why there doesn't seem to be any emphasis on bringing in donations, as that's important criteria for a win.   
By nightfall, Team Arsenio is concentrating on soliciting donations, with everyone pulling out the stops to find the best donors. Arsenio's called Whoopi Goldberg, Jay Leno, Chris Rock, Eddie Murphy, George Lopez and Tracy Morgan. Lisa's trying to reach Jerry Seinfeld. They're working the phones nonstop.
Clay admits that he's not pushed his team to bring in money, but now is the time they need to focus on donations. He's worried that he won't come anywhere near the amount that Arsenio's team will be able to pull in.
At the Skylight Soho, a huge warehouse space, the two teams will perform side by side, separated by a wall.  Arsenio has no idea how they'll decorate the large space in such a short time. Teresa's put in charge of organizing the décor and catering, with Lisa's help, and a few event specialists.
Team Clay's 'visionary and perfectionist' Aubrey walks a décor specialist through their space. She can also get one of her designer friends to do custom circus outfits for everyone. Clay loves Aubrey's enthusiasm, but says she needs to be pulled back to a place that is workable. Stilt walkers! Balloons! Popcorn gift bags! Let's paint the whole room! We can each call five friends and get the whole room painted in half an hour!
Clay tries to diplomatically tell Aubrey that they will not be painting the 77 foot wall, and why, but Aubrey immediately feels disrespected.   She wants to 'execute her vision' regardless of Clay's wishes and she'll do it better than you could ever dream of! Debbie suddenly realizes that her cousin could do a mural, but can she do it in a few hours? Debbie's miffed that Clay wants to see a sketch of the mural before the cousin starts the painting.