'The Celebrity Apprentice' – Teresa Giudice And Lisa Lampanelli Are 'Blown Away'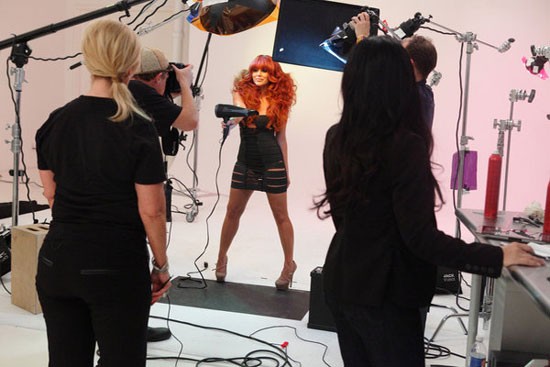 Junior says that Unanimous' work covered the necessary information, and catered to both the Elle and CHI audience. But the models' clothing looked dated, and their presentation lacked a little in passion.
Clay and Lisa say that they worked together as a team, and if they lost, it would be down to each of them to 'extol their own virtues' to see which person Trump would fire. Teresa says that she and Aubrey did all of the work, so Arsenio would have to go. Arsenio defends himself strenuously, while Aubrey sits silently. Teresa keeps looking to Aubrey for backup in her defense, but none arrives.
Well, Unanimous won. $100,000.00 will be donated to Lisa's charity, Gay Men's Health Centre. And Teresa is fired.
But the Final Four don't get a lot of time to celebrate, as they've barely sat down when they are summoned back into the Board Room.  Trump tells them that they're about to have the most important interview of their lives. They will meet up with last year's winner John Rich, and runner up Marlee Matlin, and at the end of the interview, Marlee and John will consult with Trump, after which two people will be fired. Ouch!
The Donald meets with John Rich, Marlee Matlin, and interpreter Jack Jason. He solicits their thoughts on this year's players. Marlee says that Aubrey is stunningly beautiful, very intelligence, and yet so young. She's passionate, but seemed very nervous when they met. She spoke about being involved with a lot of charities, including battered women's shelters, refugee camps, and the like, and says she's worked with Nelson Mandela, the Dalai Lama and … Fidel Castro? Aubrey explained that she chose her own charity GLSEN, because it's not well known, and is trying to end bullying in schools. She hopes to travel around telling school kids about her own experiences.
John Rich also seemed taken with Aubrey, but he did cut right to the chase when he asked her why she's only raised $50,000.00 total for her charity. How much did Sean 'Diddy' Combs contribute? The answer is $0., but, if he watched "Making the Band," he'll know that she was fired from that show. When she implies that there are hundreds of thousands of dollars waiting to go into her charity, he wants to know why that money isn't in the account yet. He tells Trump that Aubrey is a chess player, though a little transparent in her play. He felt played. And she's a little green.  Marlee adds that bullying is a big issue for her, as a mother of four.
They then discuss Clay. Marlee says he's very sweet, genuine, and she understands his complete love for his charity. But she's not sure if he's a leader or a follower.  During their interview, Clay mentions that he was a special ed teacher before appearing on American Idol, and saw that the kids he worked with during the school year were not allowed to go on special summer trips like others could. So he started an organization that helps train people to work with kids with disabilities, so that the kids could be included. He defends her belief that he's been playing the game safely by saying that he's made it that far without making any enemies, which should speak to his character, and to the respect he's earned from the other players.
John's interview with Clay was a little harsher. He wonders if Clay is willing to buck everyone's perception of nice guy Clay to win the game. He also thinks Clay has played it safe, only being Project Manager twice in 13 tasks. Clay says that he wanted to be PM more often, but was up against strong people. He's manipulated by John into saying that he hasn't shown the best that he's got, but wiggles out by saying he doesn't need to show that tougher side of himself, until he needs to. He says he didn't come to fight with people; he came to the show to win. And he absolutely will.
John sums up his feelings about Clay by saying that Clay has been in the spotlight, and under scrutiny, for a long time. Like Marlee, he wonders if Clay is a leader or a follower. Why would he hold back if he's playing on behalf of a charity?
What did they think of Arsenio? John says there's a general energy around Arsenio; people feel good around him. But there seems to be a flip side that's a little out of control, despite his charisma. During their interview, Arsenio said that he would win the title by continuing, until the last moment, to give 100%. John says that he's a big Arsenio fan, but wonders how Arsenio raised only $100,000.00 for his charity, while John raised over a million dollars for his. He wonders if Arsenio tried as hard as he could have. Arsenio again says that he's given 100% every moment of the competition, but John says that Arsenio doesn't look tired to him.
Arsenio and Marlee bonded over his charity, as he reminded her that they both go way back to when Magic Johnson announced that he had HIV, and formed the Magic Johnson foundation. It's the twenty year anniversary of the charity. Marlee wants to know how he got along with everyone. He admits that he fought with Aubrey, and called her names, that it was inappropriate, and he shouldn't have, but he can't make the moment go away. All he can do is apologize and ask for forgiveness. Marlee says she's a little disappointed.
Marlee tells Trump that she knows Arsenio, and knows that he's very passionate, and fights for what he believes in. But she knows that there have been flare ups between people, due to lack of sleep or stress. That doesn't excuse them, but as long as there is an apology, and the situation dealt with as a man should, that's fine.
Ah, Lisa, Lisa, Lisa. What can the celebs say about Lisa? Well, Marlee says that Lisa was so loud and talkative that even she could hear Lisa, despite being deaf! She comes on strong, and seems very passionate about whatever she does. Rich likes that Lisa has been so successful as a comedienne. He's a touring musician, so he knows how hard that life is. She's one tough lady. She told him that being on the show was a billion times harder than she expected, but exciting and energizing. No one's left standing when LL comes after them.  She believes she's the toughest in the Final Four.
Marlee wants to know what Lisa thinks her other cast mates would say about her. Lisa admits that she has a big mouth, and a big personality. Her temper can get the best of her, but at the end of the day, she makes her apologies and gets the job done.  She says that she's very emotional. Marlee notes that Lisa can lose her temper, and has been known to cry in the Board Room. Is that appropriate behavior for the winner of Celebrity Apprentice? Lisa says there's been a lot of crying in the Board Room, since there have been a lot of type A personalities. Marlee tells Trump that Lisa's major weakness is her control of her emotions. She's passionate, which Marlee likes, but can a leader break down as often as Lisa did?
John adds that an important key to success is to make people have an opinion of you, one way or the other, and Lisa certainly has that ability. You either love her or hate her.
Trump thanks them for their input, and heads off to fire someone.
The final four re-adjourn in the Board Room. He congratulates them; "Arsenio, amazing. Aubrey – great. Lisa – I'm not that surprised. Clay, great job." He tells them that John and Marlee had a lot to say, both good and bad, about them. He took their advice, but it will be his decision.
Trump asks Clay how he thought his interview went. Clay thinks he did okay, and says he liked Marlee and John, but he had to spar with John a little.
Arsenio says his interview was good. It was honest, and he thinks he did well, but he wondered if John was trying to make him lose his temper.
Aubrey knows that she did great, and she enjoyed herself. She denies being at all nervous during the interviews.  Lisa says that she loved John Rich, and felt like they bonded.
Trump asks Lisa why she believes she should be in the finals. She believes very strongly that she should win the title, because every week, her teammates would always say that she did great. But also, she never used shifty tactics, and always told Trump the truth. She believes in her heart that she is the Celebrity Apprentice.
He tells her that Marlee thought she was absolutely fantastic, as did John. But neither felt that she was in control of her emotions. She says that she is in control, and knows when to use her emotions. He says she must admit that there were moments that were a little out of control, during the show, and possibly during her life. She admits that being raised by an Italian mother virtually guarantees an emotional lifestyle.  But she feels she's completely in control of when and how she uses her emotions.
Well, tough luck, because Trump agrees with John and Marlee. Lisa, you're fired.
To her credit, Lisa does not become emotional, scream, cry or yell. She simply tells everyone that she'll miss them, and that it's been a great experience. She even almost bear hugs the elevator operator. She interviews that she went out on a high note.
With three players left, Trump tells them that are no losers in the room. But one more of them will be fired …. on next week's show.
To be continued, next Sunday: In the first ten minutes, somebody will be fired. And then your favorite contestants return, and the final task begins. But to stage the ultimate live charity event, they'll have to set aside their differences and work together. The last Celebrity Apprentice, before the finale, next Sunday.