'The Celebrity Apprentice' – Teresa Giudice And Lisa Lampanelli Are 'Blown Away'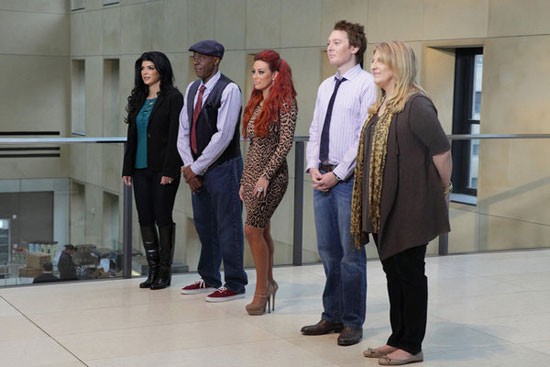 Last well, the celebrities were tasked with writing a jingle for Good Sam's roadside assistance program. On Unanimous, Aubrey O'Day pushed her ideas forward, and teammates Teresa Giudice and Project Manager Arsenio Hall let her. On Team Forte, Dayana Mendoza micromanaged teammates Clay Aiken and Lisa Lampanelli to a loss, and it was Dayana's turn, as Project Manager, to be fired.
This week on, Celebrity Apprentice: It's the third to last episode of the series (ends May 20,) so hold on to your hats, folks. We have a task, followed by a Board Room firing, followed by an unexpected visit by two of last year's top apprentices -  Marlee Matlin and winner John Rich - and a second Board Room, where two more of the Final Four will be fired.
On a strangely barren escalator, Donald Trump ascends alone to the atrium of Hearst Tower, where he is joined by the five remaining celebrities, and Robbie Myers, editor in chief of Elle magazine. With them are the founder of Farouk Systems, Farouk Shami, and his vice-chairman, John McCall. Their task is to create a four-page spread for the new CHI Touch hair dryer, which could be featured in Elle Magazine. Their offering will be judged on brand messaging, the print ad campaign, and overall pitch.
Lisa and Teresa will be the Project Managers of their teams. The winning team's PM will receive $50,000.00 from Trump, and a further $50,000.00 from Farouk Systems. With a total of $100,000.00 to be won, both Lisa and Teresa determine to win the challenge.
But first, Trump notices that Farouk is ogling Aubrey and her mass of red hair, and asks Farouk if he noticed that Aubrey looks more beautiful every week. Aubrey and Farouk flirt back and forth, before the teams are sent on their way.
Unanimous are visited by the CHI team, probably because Farouk couldn't stand being apart from Aubrey for another minute. He again praises her hair, and notes how gorgeous her eyes are as well. Aubrey's glowing from the attention.  Teresa and Arsenio notice Farouk's custom red cowboy boots, monogramed with the word CHI. Farouk (whom Teresa calls FaReek) demonstrates the new hair dryer, and explains the features and benefits of the product. Robbie Myers adds that the print campaign should merge the visual with the printed copy. Farouk says Aubrey makes him weak, and considers moving from Houston to L.A. to be closer to her. Focus, Farouk!
In Forte's room, Robbie explains that they are attempting to marry Elle's girl with what CHI is trying to do and show. She adds that the magazine does sexy, but never vulgar.
Aubrey again controls Unanimous in the War Room. She's already got a full concept planned around the product line's name of CHI – a word used in Zen meditation representing peace and serenity, she says. (Not really. Chi means 'life force.')Aubrey also thinks the line looks futuristic, so their photo shoot should as well. (Not really. It's like every other hair dryer, but has a touch screen.) She's developed a catch phrase 'Be at peace with your hair." She doesn't think the readers would need more than the poses and the catchphrase to get what the company is saying. Teresa and Arsenio are again pulled along in Aubrey's orbit.
Forte has a different take on the hair dryer.  Lisa says the dryer is lightweight, and extremely quiet. She's thinking along the lines of 'below the surface' or 'beauty on the inside.' She sees the connection between the dryer being judged by what's seen on the outside to women being stereotyped by their looks. Clay thinks the concept may be a little difficult for readers to grasp quickly, so he adds the copy necessary to underline the photos. They'll have four models, each chosen to represent a stereotypical woman, and copy explaining what the models are actually thinking below. Great! Let's get some models!
Unanimous and Forte are given pictures of a group of models. They will have to negotiate with each other's PM over their choices. Lisa and Clay couldn't care less, but Aubrey insists on a male model with long wavy hair, and a female with long red hair, reminding her team that Farouk liked her hair, amongst other things.
Teresa blows her chances of getting her choices by immediately showing Lisa her top two. Lisa can't help but mess with her, and manipulate the choice to her own advantage. Teresa hasn't a clue about negotiating, and has to run back into the office to confer with Aubrey over how to deal with Lisa. Aubrey's no help. Teresa winds up with the red haired model, but also with a male with a crew-cut. Lisa loves the finagling, but Teresa interviews that Lisa played dirty, like her dirty mouth. She calls Lisa "shady, shifty, blank …. You can fill in the blank."  Lisa laughs as she tells Teresa "it's a pleasure doing business." Clay eavesdrops from behind Forte's door, giggling. Teresa obsesses over Lisa's gameplay for the rest of the challenge.
As Unanimous bicker over Teresa's final four models – two females, and two males, one with almost no hair- Eric Trump drops by for an update. As Teresa tries to explain what happened, Eric wants to know why Lisa was driving the choices during a negotiation. Eric interviews that Teresa's loss could be the deciding factor in her being fired, should her team lose.  Aubrey's so bummed, she can't even flirt with Eric. But she has enough strength to take over explaining the concept of their project, and stressing that, once again, it was all her idea.
The models arrive at Forte, and Lisa and Clay begin to expand on the stereotypical roles.  They sort the ladies into tomboy, librarian, modern hippie and fierce glamour girl. Since neither Clay nor Lisa is great at clothing choices, Lisa takes one of the models with her on a shopping spree, leaving the choices of clothing to the model.
Clay, meanwhile is wrangling his models at the photo shoot, figuring that the CHI team could at least get the girls started on hair and makeup. But the photo staff needs decisions on backdrops and coloring choices. Without Lisa, Clay feels overwhelmed and begins to panic, deferring all decisions to Lisa's return. 
When Lisa finally arrives at the studio, Clay's begun setting up the shots, and she leaves the shoot in his hands, as she finally grabs lunch. He takes over the entire shoot, and is disturbed that Lisa does nothing to help.
Don Jr. finds Lisa at a computer. Lisa notes that Junior looks great 'all casual,' and he says he only wears a tie in the Board Room. Lisa seems tired, but relaxed, as she outlines her concept, and Clay listens in. Junior interviews that the concept is good, but might be too deep for a casual reader to absorb. Clay mentions that he's picking out the pictures of women, and Junior jokingly says, "What could possibly go wrong there?"
Unanimous' Aubrey has not only taken on the role of project manager, she's magnifying the stress of the responsibility, sighing and wondering how she'll handle it all, single handedly as usual. She's blaming Teresa for the bad model negotiation, and is angered that Teresa is now expecting her to handle the entire problem. Arsenio interviews that Teresa realizes she was duped, and can't let go of her anger at Lisa.  
As Teresa looks on silently, Aubrey oversees the creative decisions at the photo studio, and assigns Arsenio to the product photo shoot. Arsenio's pleased to work with the photographer, because he himself is a photographer. "I'm getting my Annie Liebovitz on," he chuckles.
As Teresa and Aubrey decide on the models' looks, Aubrey suddenly asks Teresa if she'd like her to be the redhead model of their group. Teresa says sure, and Aubrey goes into Supermodel mode.  When the redheaded model they had chosen earlier arrives, Teresa and Aubrey send her home, saying that her hair isn't as red as in the photo. Meanwhile, the hairstylists are working on Aubrey's unruly mane, eventually settling on a style that looks like a red haired version of Zooey Deschanel's trademark do.
Overall, Teresa is reduced to running around behind Aubrey and Arsenio, while they make all the decisions. People are wondering just who the Project Manager is, since Teresa seems more like a 'gopher' than a leader.
 Aubrey's in her element. Teresa can't even pick out an outfit without getting the bare breasted Aubrey's decisions. "She was sitting there with her boobs hanging out. Like, literally, they were out. Do you have any morals?" Of course not, Teresa, this is Aubrey O'Day! Who's got room for morals when your stuffed so full of creativity?
But Teresa has taken pictures of her daughters, so she knows what looks good and what doesn't in photography.  She has the female models in yoga poses, to emphasize the serenity, holding the hair dryers.  Aubrey and the lone male model just pose provocatively.
Aubrey asks the photographers to get tight shots of her, because (blush) Farouk did say she has pretty eyes. She tells us that she's been in Elle before, but only on the Worse Dressed list. Take that, Elle! Her hair looks so fierce! Hello!
In the morning, Unanimous arrive for their presentation, decked out in red outfits that match the CHI packaging. Farouk and Aubrey exchange flirty glances. Arsenio knows that Teresa is not great at presenting, but hopes she can step up to her duties as team leader. Of course, she doesn't, although Farouk couldn't be happier that he now has a huge photo of Aubrey for his private collection. ("That one's me!" she squeals.)  Arsenio adds his own touch to his part of the presentation, and is later praised for his 'understanding' of the product, despite his lack of hair.
Lisa and Clay think Forte has the win in the bag, so they aren't nervous about their presentation. Using the overhead projector, and a four page foldout booklet, they explain their concept and the possibility of even expanding on their work in future layouts.
Later, Farouk and his advisors discuss what they have seen. They think that Unanimous' photos are great, but lack information on the features and benefits of the product. Robbie says that the images are strong, and better than Forte's. John loved the presentation, especially Arsenio's input. He felt passion from Aubrey and Arsenio, but not from Teresa.
On the other hand, Forte did a good presentation, although it was not as passionate as Unanimous'. They understood the features and benefits, and spelled those out in their copy. But John and Robbie say that the pictures and overall look is dated, more suited to the 70's or 80's. 
Time to face the music in the Board Room. The celebrities file in, and Teresa is immediately asked if Lisa played her for a fool in the negotiations. Lisa's still chuckling, but Teresa is burning up with anger, calling Lisa 'sneaky.' To Lisa it was just a fun little moment. But she certainly doesn't think Teresa should be in the Final Two.
Aubrey plays both ends against the middle, refusing to choose either Teresa or Lisa as the person she'd like to see in the Top Two. Arsenio says that he was a little worried at Teresa's negotiations, but knew that he was working with two women who could pull the photo shoot together. Aubrey says Eric caught her off-guard when he arrived. She just wanted to fix the problem; there's no time for emotions in business. And fix it she did.
The teams are shown the opposition's work. Arsenio says that the photos are drastically different, but he likes his team's better. Lisa says the photos are beautiful, especially Aubrey's. Clay is not sure that the photos actually target the hair dryer enough. Teresa disagrees.
Eric tells team Forte what the executives had to say about their work, emphasizing that the lack of copy on the features and benefits was a big negative, that the overall look of the photos did not suit the pages of Elle magazine, and that Teresa was awkward and nervous during the presentation.