'The Celebrity Apprentice' Teams Are 'Unhappy Campers'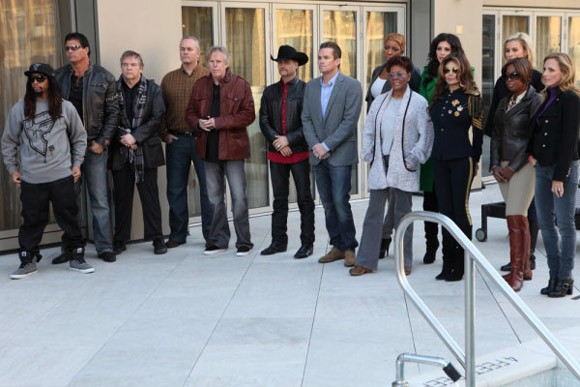 Week Three of The Celebrity Apprentice brings with it the big question that audiences are flooding the Internet to ask: will the Donald continue to encourage and reward the bullies of the teams? Weeks One and Two quite clearly showed that Richard Hatch, Star Jones, and even dowager Dionne Warwick, are using the series to pump up their own sadly deflated careers, instead of putting the charities, for which they are nominally playing, to the forefront.
But this week, Richard, Star and Dionne flew way under the radar. The challenge: create an outdoor camping experience – "Camping in the 21st Century" - with products and campers provided by "Camping World." They will be judged on brand messaging, originality and presentation. The winner gets $20,000 for the project manager's charity. Gary Busey is appointed head of the men's team "BackBone" , and Niki Taylor will lead the women's team ASAP.
With a choice of several campers, BackBone chooses a large, sleek, 'Tour Bus' style camper for their needs, while ASAP opt for a smaller, homier, vehicle. Neither team seem to have the first idea of how to market the concept, but head to the "Camping World" store to see what's available and pick up product. It becomes apparent that boys will be boys when they revel in the toys. The women, each in charge of one room of the camper, seek feminine, luxurious items to create a cosy home on the road.
Divisions in both teams show early on, as Busey can't seem to vocalize his vision. Soon, he has antagonized Lil Jon by ignoring his input, and we hear Mark McGrath and Richard Hatch sharing that they are not liking Busey's unfocused manner. Jose Canseco begins to criticize everything from the vehicle to the setting, and even country music (!), almost coming to blows with John Rich when Canseco and Hatch infer that country music is backward and for the less educated.    
While shopping, differences in focus and practice are clear as Dionne is shown dithering over her items, with NeNe Leakes noting how slow and difficult the process is for a 70 year old woman. At the cash, the girls realize they've chosen a lot of duplicate items. Star interviews that they lost their time lead because the task was not fully developed or defined, leading to confusion and disorganization.
Back at the site, McGrath orders a delivery of trees and hedges to be delivered next day, and tells Busey that he'll need about $500 for the delivery. Busey nods and agrees, but when Hatch later asks Busey for $900 for a delivery of trees, he gives all the available cash to Hatch. McGrath confronts Busey about the miscommunication, but Busey denies knowing anything about their earlier discussion.
John Rich, Richard Hatch and Meat Loaf leave to meet with the graphic designer, with Niki and Hope Dworaczk working on the brand material for the women.  The men struggle to find a theme for their banners and handouts, and call McGrath for help, but are told he doesn't know either, and that Busey and Canseco are playing catch instead of working. When Ivanka Trump arrives at BackBone's site, she is taken aback to see Canseco relaxing, and Busey unable to articulate any solid plans beyond "Happy Camping for Everyone." When Rich, Hatch and Meat Loaf return to the RV, they are stunned to see that nothing has been done, boxes remain unpacked, and Canseco is lounging by the fireplace, while Busey remains unable to tell the team how exactly they will present their challenge. Rich is baffled by the level of laziness.
With Niki away, Star takes over the actual work of decorating the camper. ASAP are unfocused and unsure of the overall vision Niki has for the project. They concentrate on making each room feminine and comfortable. When asked for more input, Niki and Hope can't understand why Star doesn't understand that the three hour shopping trip included all the items necessary for the vision. Niki and Hope return to find that the team needs to do more shopping to flesh out the look of the 'experience'.  
Challenge day dawns, and Star organizes balloons to compensate for a lack of greenery. The women's main focus remains on interior decorating. They are made even more nervous when Don Jr. arrives. As people begin to tour the campers, the girls showcase a tidy, neatly laid out, luxurious, but interior, lifestyle. Their presentation does not seem confident, with the exception of LaToya Jackson, who has memorized the camper details and impresses the Camping World executive with her presentation.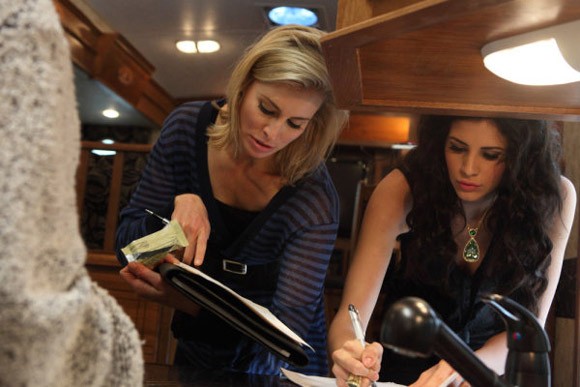 BackBone is pumped when their trees, hedges and astroturf arrive, and the look begins to take shape. With Canseco and Busey tossing the ball, and Rich playing guitar, the men relax.  As onlookers arrive, the guys present a laid back, fun, masculine scenario, with Rich serenading the crowd with a theme song he's written for Camping World. It's clear both the team and the visitors are having a good time.
With the task completed, both teams return for their showdown with Trump. Niki praises her entire team, and won't name anyone as a weak link. Her team generally approve Niki's style; even Star compliments Niki's work. When provoked by Trump, Niki admits that she and Dionne had a bad moment, but refuses to be drawn into an argument.
Gary thinks his team was fantastic. When asked about Gary's management, Richard, John, and Meat Loaf have faint praise for Gary, saying that he's unfocused, but a genius. Gary then thanks Marlee for sending him to an ear specialist who discovered that Gary has been legally deaf for years, and made him hearing aids to combat the problem. Mark and Lil Jon also praise Gary, but think the management was a train wreck. Gary, when confronted, says he felt that there were alliances working behind his back, and names Lil Jon as the weakest player. Lil Jon is incensed by Gary's remark, and claims he felt dismissed in favor of Jose and Meat Loaf. Trump says the Camping World CEO was very impressed by John's song, and Meat Loaf gets a guitar so that Trump can hear the tune. Pronouncing the men's team the winners, he awards the $20,000 to Gary's charity, and tells them that Camping World is matching the prize for a total of $40,000. The men are ecstatic, but as they leave, it's clear that Lil Jon is very angry with Gary.
With the knowledge that ASAP has failed, Niki says she feels she let her girls down and takes full responsibility. She will take responsibility as Project Manager, and be fired, since everyone worked very hard. Mr. Trump says he has a lot of respect for her, but she is fired.  
Niki showed great class when she accepted full responsibility as the Project Manager, and thus the person to be fired for the team's failure. Trump seemed completely taken aback that Niki did not attempt to apportion blame; the Trump style of management is far more vicious and self-righteous. Although The Donald may have risen to the top by any means available, there are still successful people who never have to stoop to street fighting. Rather than slinking out, alone, angry and defeated, Niki Taylor left the boardroom with her head held high, and her team showed their respect by leaving the board room with her.