'The Celebrity Apprentice' Recap: Trump Makes Penn Jillette Disappear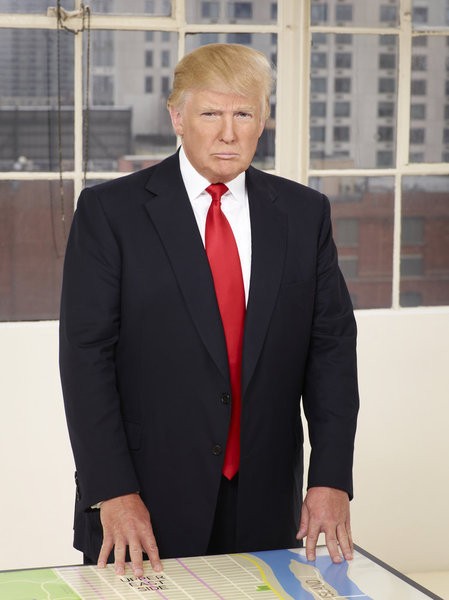 My biggest question is why the teams are being expected to sand, paint and finish their projects. This is the first time anyone's been asked to be 'hands on' in construction.
Both teams arrive at Macy's the next day, to set up their displays, and work on their presentations. Aubrey's delighted with her work, and calls herself a 'mini Trump.'  As Unanimous trim their handouts, and Aubrey crows about victory, their wall sign tumbles down. Worse, George Ross wanders by, and is critical of their work, saying that he disliked the silhouette of Eric Trump, and confusing their building design with the grilles of a Rolls Royce. The team feels less confident after his visit.
Forte are concentrating on placing their photo onto their display. They think they've got the win in the bag. But Dayana has concerns about the unfinished look, and feels it looks like they didn't properly complete the display.  
The executives are first treated to Aubrey's presentation. She goes over her points, and then asks Arsenio to tell them what success means to him, because he's a man – or was the last time she checked. What! Arsenio and the executives wonder at Aubrey's terminology and strange cackle. He speaks to the execs, and gives them the handout, while explaining the product pricing. Teresa then steps forward, says she'll be buying her husband a case of the fragrance, and hands the smell strips out. Arsenio claims the strips turned into money in his hand. Things seem to have gone very well for Unanimous.   
Forte are not quite as prepared. Clay hurries through a quick description of their display, while not mentioning much about the product.  He ends with the slogan "you earned it," but the execs prod for more information. Clay was not prepared with either more info, or anything for the audience to take away. Lisa hopes they've won, based on the picture of Dayana with a male wearing Trump's signature tie.
Execs Martine and Cathy discuss the two offerings. They loved Aubrey's display and slogan, and were happy with the scent strips. However, they felt the display lacked some creativity, and they didn't get the connection between Eric's silhouette and the concept. Clay's team nailed the branding with Dayana's photo, but Penn's slogan was thought to be pompous, and not readily visible. They felt that combining elements of both teams' work would create one good presentation.
Let's see what the Donald thinks. The teams enter the Board Room. Clay says that he feels his team won the challenge, and that everyone worked well together. Lisa adds that Clay is second in her list of top two Project Managers she's worked with – the first being Aubrey.   Lisa is also complimentary to Dayana's work on this project.
Trump tells them that both teams did well, and had elements that were phenomenal. Moving on to Aubrey, Trump asks her how her team did, and Aubrey says they were like 'family.'  He then shows both teams the others work. Lisa admires Unanimous' work, especially the takeaways. Arsenio thinks that Forte did a great job as well, especially with the beautiful Dayana as their model.
Aubrey jumps in to point out that she also had a sexy model – Eric. Trump asks Aubrey if she thinks Eric has a better hairline than he does. As everyone laughs, she says she has to admit they altered the silhouette's hairline a little to more resemble his.
Eric asks Aubrey to talk about her team, as she didn't seem very happy when he visited their work set.  She says he arrived close to the beginning of the project, when the concept was established, and she felt like she was carrying the brunt of the work. She's not putting down her team; she's just saying that she totally owned the project. Arsenio looks displeased, and Trump says that Aubrey's words could be considered insulting. Teresa grudgingly agrees, saying that Aubrey didn't want much iinput. Arsenio says he doesn't like his work being minimized. He says he felt his most important contribution was finding the Trump quote that they used as their slogan.
Aubrey jumps in to clarify that she came up with the line before knowing that Trump had said it. She insists that she, not Arsenio, came up with the slogan. Arsenio looks like he may explode, but she is actually correct.
Aubrey goes on to say that she based her concept on successful businessmen, notably Trump. She didn't want to use the overworked approach of other fragrance vendors, of having a hot girl ogling a guy in a suit. She continues to pile it on, saying that she wanted her approach to be forward thinking and innovative – just like Mr. Trump himself!
Trump would like to know who they think should be fired, but first, he wants them to hear what the executive judges had to say. Eric says they thought Clay's design was lovely, and Dayana's photo was elegant. But they hated the slogan, thinking it pompous and too biased for their buyer base, and the photo was too large, overpowering the product.
Clay thinks it's odd that they loved the photo, but wanted it smaller. He thinks the photo is far from boring, as Aubrey insinuated. Penn owns up to coining the slogan, but stands by his words, not believing that the expression is pompous.
George Ross now tells Aubrey and her team that the execs felt her slogan seemed consistent with the essence of the brand.  They loved the tester strips and the take away handout, which included pricing. But they thought the display was just okay, unappealing, and couldn't understand what relationship Eric's silhouette had with any other aspect of the display. He himself can't see any connection, and wonders why they used the silhouette. Teresa stumbles through an explanation until Trump bangs on his desk to stop her babbling.
But now, says the Donald, we have a dilemma. He had said that he'd give $100,000.00 to the winning team. While both teams had some good aspects, there is no clear winner. He had said that he'd give the money only if he loved the end result, and he doesn't love either. However, since it's for charity, he'll give $40,000.00 to the winning/non-losing team's charity, and $10,000.00 to the charities of each of the players on both teams.
And the winner is … Aubrey. She's excited to win for her charity GLSEN, and her specific platform of school bullying. Clay and his team are gracious losers, congratulating her on her win.
In the winner's suite, Teresa, Arsenio and Aubrey toast each other and Trump's generosity with champagne, and settle in to watch the goings on in the Board Room. Aubrey interviews that she's glad she won, but wanted to be the stand out, $100,000.00 winner, which she would have done if she had had the right players on her team.
Clay says he's surprised they lost, and still stands by their design. Trump points out that the executives really hated Penn's slogan. Clay says it's the first task in seven that he's lost. He tried to lead by consensus. Trump doesn't believe in leading by consensus, feeling that is not a strong way to manage, and reminds Clay that consensus leaves the Project Manager open to being fired.
Lisa says she doesn't lead by consensus, but she has a losing record to show for it. Trump says that he listens to everybody, and then makes a decision. Clay says he felt they all had a say in the decisions, although Penn has a stronger pitch to his ideas than anyone else on the team.
Trump wants to know whose fault it was that the photo was too large, and also wonders why Dayana's suggestion about takeaway material was not used. She may have come up with the idea late, but it was an important element of the project. He asks Clay which of the players will be allowed to 'escape' the firing. Reluctantly, Clay says it will have to be Lisa. Lisa practically races from the room.
In the suite, Aubrey tells Lisa that she should have not stuck up for Dayana so extravagantly. It would have been better to call Dayana's efforts 'good' rather than 'great.' Lisa's endorsement could wind up saving Dayana over Penn, which is not the way it should go.
Dayana, Penn and Clay wait nervously to be called back in to the Board Room. The Donald wants to know why Clay brought Dayana back in, when she had been a good team player. He says that he chose her based on her past history, and what he feels she could bring to the final weeks of the challenge. George Ross pounds the idea that not having a takeaway promotional piece, regardless of how great the display, was a factor in their loss.
It's Dayana's sixth time in the Board Room – a new record. Trump wants to know who Clay thinks he should fire. Based on past history, Clay feels it should be Dayana, but on this current task, it should be Penn.  But he feels the team would be at a loss without Penn. Penn says, if just based on this task, he would chose Clay as the person who okayed the ideas.
Trump goes into a long speech about how people should be judged for firing, which basically contradicts most of his decisions over this and other series. Clay mentions that he and Penn both knew one of them had to be the Project Manager, and apparently he was the stronger of the two to accept the title.
In the end, Trump says that he'd love to fire Dayana, if just because she's been at the table six times. But he's not so sure she should be there tonight. Clay lost the task, and he's the Project Manager. But Penn created the hated slogan. Penn, you're fired. Flashing a peace sign, Penn takes his leave of the game.
Penn's limo exit interview: "I love this whole experience, including tonight, including the getting fired thing. You know, I can tell you the rules of chess, but I can't tell you the rules of Celebrity Apprentice. That's what's beautiful about it. The fact that Donald Trump is a loose cannon. And he also does what he wants and doesn't back down. I came up with a slogan, and the executives didn't love it, and firing me for that is as valid a reason as anything."
Next week: She's been called back to the Board Room more than anyone ever.  Now, the teams have to compose a jingle, but with Dayana in charge. Clay loses it. Then there's Lisa . "You're going down, Miss Universe." Can Dayana survive again?