'The Celebrity Apprentice' Recap: Trump Makes Penn Jillette Disappear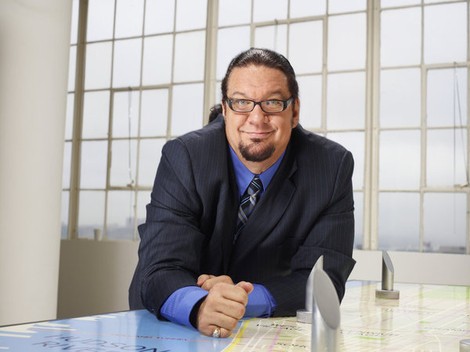 Last week on Celebrity Apprentice, the teams were asked to create puppets, and to perform for Brian Henson's "Stuffed and Unstrung," a live, improv puppet show aimed at adults. As Project Manager for losing team Unanimous, Paul Teutel Sr. was sent home, while Lisa Lampanelli, PM for Forte, received a check for $20,000.00 for her charity, Gay Mens Health Crisis.
After the Board Room visit, Lisa vowed that she would try to be nice when dealing with Dayana Mendoza, despite their ongoing feud.  Arsenio Hall was disappointed that Paul, a successful businessman and engineer, was fired over Teresa Giudice, of Real Housewifes of New Jersey. Arsenio's team now consists of himself, Teresa and Aubrey O'Day, whom Arsenio has had issues with before.
Have you ever wondered what Donald Trump's private apartment in the Trump Towers looks like? Well, it's an enormous space, with pillars, a grand piano, enormous chandeliers, and "gold everywhere!" as Aubrey notes. "Like Charlie and the Chocolate Factory, but it's all gold, instead of chocolate."    
Trump has a new men's fragrance, "Success by Trump," and he'd like the celebrities to put together a slogan and in store display for a Macy's launch. Macy's Executive VP for Marketing and Advertising, Martine Reardon and Cathy Glosser, Executive VP for Trump's Global Licensing will judge the teams based on the creativity of the brand slogan, the brand messaging, and in store display presentation. The advisors will be Eric Trump, and George Ross, Senior Counsel and longtime friend to Trump. 
Unanimous choose Aubrey O'Day as Project Manager. Penn Jillette feels that that Clay is more suited to the task than himself, so Clay will be Forte's PM. The last time Aubrey and Clay went head to head, Clay won the round. Aubrey's determined that it's her turn this time.  Especially when she finds out that Trump wants to sweeten the charity pot. Winning team will receive $20,000.00 but, if they do something he loves, he'll increase the win to $100,000.00. Both Clay and Audrey vow to be the winning PM's.
At Forte's first brainstorming session, Lisa answers Clay's question about what attracts men with one word - "women." Dayana thinks they should build on Trump's multi-selling tie collection by showing a female clad only in one of the ties. Clay assures her they'll find a way to get her naked at some point, but Penn's got a classier idea, of showing a woman leaning her head against a shirt and tie clad male. Penn moves Dayana's head against his chest to demonstrate. Clay is glad that Penn is once again being creative, but wonders why Penn did not step up as PM. Clay's also getting a feeling that Penn will pitch and re-pitch his own creative ideas until the team finally agrees.
Dayana offers to be the female model. Clay and Penn opt to hire the male model. Dayana thinks she should do the photo nude. "I just want everybody naked," she says. Clay wants a cologne advert, not a porno cover. Clay's also having trouble understanding Dayana's accent when she excitedly talks quickly.
Execs Martine and Cathy arrive, and Lisa and Clay pepper them with questions about their perspectives. Were simpler ideas more successful? Will the product be marketed more to businessmen, or those who want to smell like businessmen?  Martine says that women in general purchase more cologne than men, but that there is a very defined Macy's male consumer. Their demographic is male, 18-40, who is comfortable choosing his own wardrobe and fragrance, and is really looking to buy a piece of the Trump lifestyle.
In Unanimous' War Room, Aubrey and Teresa say they like the smell of Trump's cologne. "It smells like money," she says. She feels it's her time to step up and win for her charity, The Gay Lesbian and Straight Network. She feels she has to win this task, in her bid to be crowned the Celebrity Apprentice. She tosses tasks to her team members, asking Arsenio to look up the definition of success, and Teresa to find examples of in-store cologne displays.  Aubrey doesn't want to focus on money as being the pinnacle of success, saying that her definition of success is happiness. She says it's not about money or power, but about how much you've improved another's life by giving of yourself.  Arsenio thinks that, in our commercial society, it's more about material goods.  Aubrey feels that the 'money,sex and power' tack is too simplistic for Trump's taste. 'Bling Bling' is not new or fresh. Arsenio begins to wonder how he'll be able to work with Aubrey, who has great ideas, but won't listen to anyone else's.
Arsenio may be right, especially when their meeting with the executives finds Aubrey positioning herself as chief creative guru. Aubrey disagrees with the execs information on how to market the product, saying that in her experience, men look to the women in their life to make fragrance decisions. Neither of the execs responds, although their faces reflect disapproval. Aubrey says she needs to feel what the product is saying to her, from the product's perspective, and the perspective of the man who's created the product, that is symbolic of the buyer. Neither I nor the execs know what she's trying to say.
Arsenio feels Aubrey is 'running game' in front of the executives, to make her team members look less creative, and to make herself look like a genius. He thinks she should be talking less, and listening more to the executives who have created the product and marketing strategy.
"Your task is to really to stay true to the brand of Trump," says Martine, to both teams.   
Clay's team Forte seems to be working well together. While tossing around slogans, Penn offers "you earned it," and everyone likes the sound. He says that the one thing every successful person believes is that they earned their success. Penn's not really listening to any dissension, as Clay realizes when he tries to make another suggestion.  Since the whole team likes the slogan, Clay decides to go with the consensus.       
As to the construction of the 6 foot tall display unit, Penn likes the idea of showing tall buildings, with their concept photo as a billboard. Clay's beginning to wonder why they're bothering to brainstorm, if only Penn's ideas are chosen.  
At Unanimous, Aubrey tosses in a series of slogans she's written down. Although no one likes any of her ideas, Aubrey's quick to say that Teresa's offerings might work better as secondary concepts, causing Teresa to feel that the team is playing in Aubrey's one woman show.  Aubrey asks what the team thinks of "Trust your instincts," and Arsenio finds a photo on the internet of Trump saying, "Do you trust your instincts?" Looks like we have us a slogan, foks!
They then come up with a display idea – and it's very similar to the Forte concept, involving tall buildings and skylines. Aubrey wonders if they could co-opt Eric Trump as their model, looking like a young Donald. Aubrey expands on her ideas, but interviews that, as the person responsible for every element of the task, she'll be on the firing line should their concept lose the challenge.
Both teams head to the design house, JCDP, to begin constructing their display units. Audrey takes a little detour when she sees an interesting skyline. She asks Arsenio to let her sit on his shoulders, in order for her to be tall enough to take a picture.  Arsenio briefly considers dropping Aubrey on her head.
The teams are separate, but each has their own area for construction.
Penn describes to the designer their concept of a three dimensional building, using the cologne bottles as 'windows.' Clay feels out of his element, as he's more aurally than visually oriented. Clay's request for an acrylic façade is turned down, as they have limited time in which to build and paint the unit. Dayana feels that Clay is doing too much thinking, and not enough doing.
Clay drools over the male model. Dayana strikes a number of poses, all of which are beautiful, while Lisa and Penn snap the photos.
 Aubrey outlines her three dimensional design plans, and is thrilled when Eric Trump agrees to be her model.  When told that they need to purchase an adhesive vinyl for the display's front, Aubrey is happy to send both Teresa and Arsenio out of the studio, so that she can work on the project by herself.  
Aubrey can't believe it when Teresa calls from the supplier, asking again for the necessary measurements.  Aubrey feels she gave them the simplest thing to do on the list, but they can't seem to even get that right. When Eric visits to oversee and pose for his picture, she's delighted to take complete credit for all of the creative work. She says that Teresa at least wants to work, while Arsenio seems to just go with the flow. She calls herself a 'one man team.'
With time running out, Clay is rushing to put the finishing touches on their photo banner. Dayana suddenly wonders if they should print a small flyer or brochure as a hand out during their presentation. Clay's concerned that their time be spent on painting, sanding and finishing the display unit
Aubrey, however, has seized on an idea to create both a handout, shaped like the fragrance's bottle, and a smell strip that the executives can use and take home. She doesn't bother to respond when Arsenio suggests that the smell strip be shaped like the letter 'T.'  Both Teresa and Arsenio are left on the sidelines, without input. Teresa decides to show that she's willing, by offering to paint pieces of the display, although she's wearing a skirt and high heels.
In the next work space, Lisa realizes that Unanimous' plans can be heard, and that nothing separates the teams from seeing what the other is doing. She sneaks to the door to peek at their efforts, and discovers that the teams' concepts are virtually identical. Clay's concerned that neither will be considered creative, if both displays focus on the buildings theme. Dayana doesn't care what the other team is doing, she just wants Clay to be less wishy-washy, and she is concerned that their work is not properly finished.