'The Celebrity Apprentice' Recap: Puppets Behaving Badly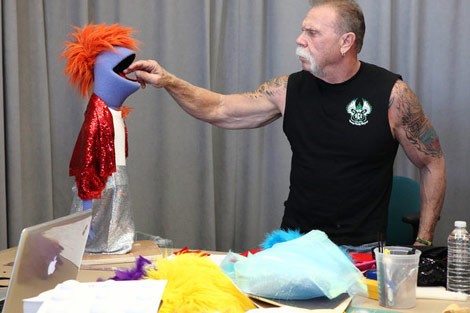 Previously, on Celebrity Apprentice: Teresa Giudice's team Unanimous won the competition for best 'commercial.' It was Lou Ferrigno and his 110% effort that left, after a nasty exchange of words with Lisa Lampanelli.
Dayana Mendoza and Lisa returned to the suite after the firing. Clay Aiken took offense to Lisa's triumphant, "We did it." Clay wonders about Lisa's attitude. With only three members left on Team Forte, everyone wonders if someone from Team Unanimous will be sent over to the enemy. Aubrey O'Day hopes that Clay and Arsenio Hall, who have become good friends, will be split up.
Teresa meets with the family of Matthew Levine, and is thrilled to present them with the check for $60,000.00, for her charity, the NephCure Foundation.
Trump and Trumpettes Ivanka and Eric, along with Muppet creator Jim Henson's son Brian, meet the celebrities in the 'great, great' F.A.O. Schwartz toy store. Brian Henson runs "Stuffed and Unstrung," a live, improv puppet show aimed at adults. Their task is to build two original puppet characters, and then perform those puppets in front of a live audience, working with cast members of the show.  Ivanka and Eric will be the advisors. Since the task requires four members on each team, Clay is shifted to Forte, to work with Lisa, Penn Jillette, and Dayana. Lisa wonders if their tiff from the other day will be a problem.
The teams will be judged on puppet design, the overall quality of the puppeteering and improv, and the total live performance.
Lisa volunteers to be her team's Project Manager, and Paul Teutel Sr. takes on the job for his team, although he knows nothing about improv. The winning team's PM will receive $20,000.00 for his or her charity.
Heading back to their war room, Lisa asks Clay if he's good at improv, and Clay says he's done a little. The bigger surprise is that Clay has years of experience with puppeteering, which he learned at his church. He's a little worried about working with Team Forte, having established good relationships during his time on Unanimous.
Dayana says that she's been studying improve for a year and a half, but Lisa shoots her down, as she's been doing improv for 23 years. Dayana wants to do a Latina character, and feels she could do it. Lisa finds it a little insulting that Dayana presumes that her studies make her equal to established performers Lisa, Clay and Penn. Lisa's worried that Dayana will whine until a fight starts, and Lisa's determined to do one whole task without fighting.
Unanimous are looking to create something very different for their task. Aubrey is still being quiet, and not contributing as much as before the board room battle with Clay and Arsenio. Teresa thinks they should make two characters that resemble Aubrey and Arsenio.
Aubrey's worried. Except for Arsenio and herself, there are no other performers. Teresa and Paul have no experience in improv, and Aubrey's still treading carefully, as she wants to be seen as a team player.  She's going to have to lay back, rather than push forward, during the task, and it's already driving her crazy.
She's right to worry. Paul's back went out that morning, and he's in a lot of pain. He's also not sure of what's required for this task. The team watches a video clip of the "Stuffed and Unstrung" show to get an idea of what they need to do. Arsenio is impressed at how well Aubrey is working with the team, stepping up as needed, but deferring to the PM.
They decide that Teresa and Arsenio will handle the puppets, and Aubrey will be the host. Paul's glad to lay back and nurse his sore back as coordinator. He reminds everyone that he took this job without any idea of how to do it, and he'll need a lot of feedback.
Brian Henson and Patrick Bristow (Co-Creator/ Director/ Host) arrive to give team Unanimous a few pointers. For one thing, they can't really rehearse anything, as the key to improv is winging it, whatever the audience throws at you. You have to trust each other, and yourself, to just say what comes to mind during the performance. This is very good new to Teresa.
When Brian and Patrick meet with Forte, Lisa asks for tips on characterization of the puppets. She's advised that broader characters can play more roles. Lisa's also well aware of the line between 'blue' or adult comedy, and classic comedy, and is advised that the classier route would be to indicate, but never specifically say anything too controversial.