'The Celebrity Apprentice' Recap: Pop Goes Debbie Gibson And Dee Snider While Aubrey O'Day Walks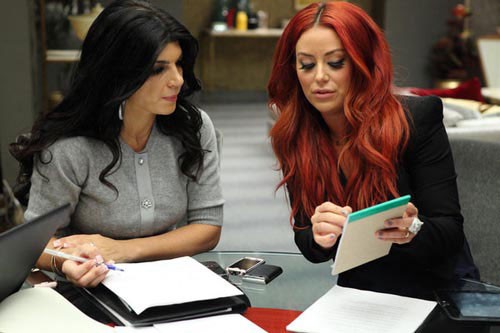 During an extended three hour episode, I watched the Celebrity Apprentice last night. And I only fell asleep twice! Here's what happened:
Last week: The teams put together parties to launch a new line of mock tail drinks. The men of Unanimous won the challenge with their beach party, and the women of Forte suffered the loss of Patricia Velasquez, who was fired. Aubrey cried crocodile tears, as she had hoped Dayana Mendoza would be the one to leave. Clay Aiken brought checks worth $50,000.00 to the National Inclusion project.
This week, the teams meet up at Trump Towers with Donald Trump and Trumpettes Don Jr. and Ivanka. Their task is to create a celebrity guidebook with photographs, notes and a pleasing design, using a Toshiba tablet. The goal is to raise money for charity by selling the books. Chosen as Project Manager for Forte is Teresa Giudice, while Dee Snider was made PM for Unanimous.
The team with the best book, to be judged by everybody's favorite morning man, Regis Philbin, will also receive an added bonus from Toshiba of $35,000.00. Both teams determine to do their best for their charities.
From the start, Debbie Gibson is not impressed with Teresa's management style. Dayana  offers her idea, which is to get the celebs to put forward their fave Broadway show, comedy show, etc. from their own perspective, so that the 'tourist' buying the guide feels like a New York insider.  The ladies break into teams that will take photos of each other in front of the selected hot spots.
Debbie and Lisa Lampanelli maximize their time with the graphic designer by keeping the photo taking to an absolute minimum. Teresa, Dayana and Aubrey, however, spent a great deal longer, and take a great many more photos, which leaves little time for the team to get their book finished and published before the next day's sale. Lisa, who is once again doing all of the work by default, is a nervous wreck, and Debbie finds herself being asked to do all of their signage within a half hour window. Teresa, rather than understanding that Debbie and Lisa are overburdened, thinks that they are being difficult in order to make her look incompetent.
When Dayana wonders if they should include subway maps and addresses for the chosen hot spots, Lisa blows her top, unable to cope with one more interruption. Shouting "Shut Up! Shut Up!" non-stop at Dayana, Lisa can't handle the pressure. About Dayana, she interviews, "develop a talent and a brain, and then maybe the world will take you seriously," before dissolving into angry tears.  
Dee 's group has a similar idea, although Dee insists that everyone remember they need donations from their largest donors as well. Penn's more engaged this week. Clay thinks all of their photos should have a theme, so they pose on top of the Trump Tower, with their chosen section of town visible in the view. The men write short thoughts on the city, with Penn writing a hilarious view of the city for inclusion by Paul Teutel Sr.
The men call their best donors, with Arsenio Hall seeming to have the best chance of bringing in the big money when Jay Leno promises to send him a blank check.
Both teams are pumped the next morning, as they flog their guidebooks in downtown New York City. Donors are arriving regularly with checks, and the celebs are having fun hustling the people on the street for donations. Arsenio has a problem with Jay Leno's donation though; it arrived by courier early in the morning, before his office was open, and the check is now being driven around the city. Arsenio's assistant vows to track down the check, and does, but arrives too late for the check to count in their total.
Michael Andretti, who was voted off the game weeks ago, pops by with a check for $20,000. Penn's partner, Teller, drops by with $20,000. Penn's ace in the hole, however, is the fabulous Blue Man Group.  The Group arrives in style, with an enormous blue puppet, and big blue balloons filled with money. However, when the balloons popped, scattering ten dollar bills everywhere, the passerby's took the opportunity to rush in and grab as much cash as they could. From the total $8,000. promised, only $2000.00 makes it into the teams coffers.
The ladies of Forte are not having much luck getting the 'man in the street' to buy their guide, but they have donors to spare. Lisa gets a $5,000. check from Jeff Foxworthy, while Dayana brings in a good amount from her friends in Venezuela. Teresa's husband brings $20,000. from their friends and family.
Regis joins the Trumpster for a look at the guide books. He likes them both, praising each in different ways. But which does he think should win the prize?
In the Board Room, Dayana wonders if one of the chairs now has her name on it, since it seems she's always on the 'firing' line. She thinks that even when she behaves in an aggressive fashion, the other women don't listen to her. Lisa explains about the blow up over Dayana's request to add subway directions, blaming Dayana's group for taking too long in photo taking, and saying that she (Lisa) wound up doing 90% of the work on the guide. Lisa praises Aubrey and Debbie for being proactive and helpful.
The ladies are blaming Teresa, as Project Manager. Teresa finally shows some fire when she fights back at the allegation that she mishandled the project. Aubrey and Teresa say they'd rather be on the men's team, but the men uniformly say "No!"
Teresa calls Debbie's outfit 'unprofessional,' and they have a minor catfight.
Trump tells the teams that Regis chose the women's team as the better book, although he liked both guides. So the women have won the $35K promised from Toshiba. BUT – the team who brought in the most for charity will be the winning team, and receive not only the funds raised by both teams, but the bonus money as well.
 Dee says that their team did well, but Clay is still angry with the waste of the Blue Man Group's donation. Arsenio explains about the delay with the check from Jay Leno.
Trump lets both teams know that they both raised a lot of money, but one team won over the other, based on just a $14.00 difference. The men win the challenge, and a grand total of $326,000.00 for Dee's charity, "The March of Dimes." They leave, and Trump turns his attention to the ladies.
Debbie says that when it came to fundraising, they were all equally responsible. Teresa says Lisa was like her right hand, effectively writing the book, and handling the details. Everyone brought in about the same amount of money. Except for Aubrey, who did not have any major donors.  
In the end, Teresa brings back Dayana and Debbie Gibson.  Dayana points out how much she's brought in for charity over the course of the show. Teresa won't say a good word about Debbie, and even manages to gloss over Debbie's 80's pop stardom. Trump wonders why Teresa didn't bring Aubrey in, but Teresa says they need Aubrey's help going forward. Debbie says she brings in ideas, creativity, proactivity, hustling, and being a team member when needed. Trump wonders what Teresa brings, and Teresa neatly sidesteps the question, saying that Debbie is only a team member when she feels like it.
Trump praises Dayana for remaining silent as Teresa and Debbie fight over the issues, and says that Teresa should have brought Aubrey back in, for not bringing in enough money.  On that basis, he then fires Debbie. Outside, Debbie hugs Dayana goodbye, but only waves to Teresa, before boarding the elevator.
Debbie's exit interview: "The worst thing about this experience for me has been seeing how shrewd and dishonest people can be, for very self-serving purposes.  And to sit inches away from people, and to know that they're blatantly lying, leaves me feeling a little unsettled.  Does my ego like that I was fired? No. But Mr. Trump can't fire me from being Debbie Gibson. So nothing is lost."
In the War Room, Dee says that he thinks Teresa will be fired for not bringing Aubrey, and she is incensed. They have a tiff, while Clay watches in amazement, and Lisa begs them to stop fighting. Arsenio interviews that Aubrey is the ultimate troublemaker, and he's thankful he's not on a team with her.  Dee says he sees right through Aubrey's exterior, but "Age and ruthlessness will always beat youth and enthusiasm."
When Dayana and Teresa walk in, Dayana sets everyone straight, saying that Debbie was fired, due to not bringing in the money. Everyone, including Aubrey, realize that it would have been Aubrey, had she been brought back. Teresa and Dayana almost get into a cat fight in the War Room.
For their second challenge, on the next day, Trump, with sons Don Jr. and Eric, meets the teams at the East 54th Street Rec Centre. The women have now lost 5 out of the 7 tasks. With only four women remaining, the men have the advantage, still having six players. So The Donald decides it's time to mix up the teams, pairing Teresa and Aubrey with Arsenio, Paul and Clay. Lou, Penn and Dee wind up with Lisa and Dayana as the new Forte. The men do not seem happy with the switch up. In fact, Arsenio falls to the floor.