'The Celebrity Apprentice' Recap- Oh My! George Takei Falls On His Own Sword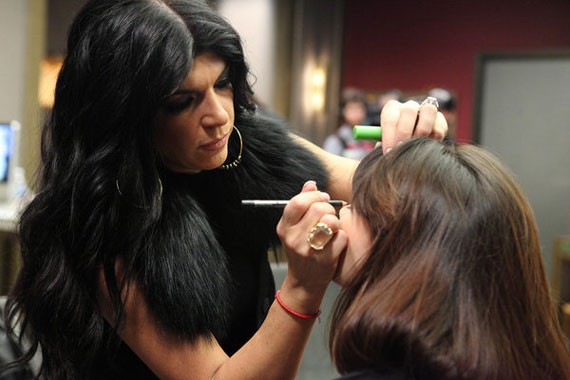 Trump then asks "very outspoken and very strong" Aubrey whom she'd chose, but Aubrey skillfully dodges the question, as she wasn't the Project Manager. Despite Adam's suggestion that they waterboard Aubrey to get an answer, she continues to elude them, citing instead the women that she would keep on the team, rather than the ones she would lose.
Moving the focus to the men, Trump praises the bravery of Dee, who's come through his surgery and is back for his team. The guys applaud Dee. George feels that Unanimous did an outstanding presentation, and then outlines how each team member contributed. So how was George as a Project Manager? Clay says he thinks George did a perfectly fine job. Eric, however, blows Clay's cover when he says that when he asked Clay how George was doing, Clay burst into laughter. Clay tries to do damage control, saying that this was their most difficult task so far, with teams at either end of the city. Arsenio says that George was a good manager for his favorite way to work, unsupervised. But was he too lax in management, asks Junior? Penn says that George continued the management style set in place from the first challenge, of assigning a task and expecting it to be completed properly. George defends himself by saying that he recognized people's strengths, and let them run with what they did well.
So who won? Don Jr. says the women did well in their attention to detail, the use of the logo throughout the presentation, the vibrant and energetic 'live' presentation, and a clear understanding of the demographic of the Ivanka customer. But the judges did not like the electric fan being visible in the window, and the shoes were not visible from the street.   
Eric tells the men that Paul's sign was a highlight; in fact, Ivanka would like to use it instore. The judges loved Penn's twin concept, and thought using Arsenio in the night scene, and Clay in the day, was terrific. The brand messaging, overall, was great.  But it was hard to see the second (night) window, the color of the 'day' window's background was a little bland, and the clothing was not appropriate for the sets. There didn't seem to be any risks taken, with the overall presentation lacking in creativity.  
The teams are then shown photos of the opposition's windows. Patricia – as 'the first Latino supermodel'  if she does say so herself – says that first off, she didn't like that the 'day' window showed a man giving women orders. Dayana agrees, saying that Ivanka should have been shown as the 'boss' in the office scene.  Penn says the women misinterpreted the scene, that, in fact, Clay was being given orders by the men. Trump asks why they picked Clay over, say, Lou, to be the model. George says that Clay is the youngest, while Lou is mature, and physically imposing, therefore inappropriate to be shown as the subordinate.
The men find the women's scenes confusing, and very busy. Adam, appointing himself the 'second Latino supermodel,'  says it is very colorful, but he can't figure out what is going on. Michael wonders why the 'Ivanka' model was a brunette in one photo, and a redhead in the other. Lou says that the photo makes him want to go on a picnic. No, I can't figure out why either.
So …. Who won? Turns out, it was the ladies, Team Forte, who caught Ivanka's eye this week. I completely disagree, but my last name's not Trump, so … Congratulations, ladies. Now go back to the suite and watch the men fight amongst themselves.
George is on the hot seat, as Trump asks whose idea it was to have the night set so dark that the logos were invisible, and Lou is happy to tattle that he mentioned that during the set building, but Adam was reluctant to call George for a second opinion. Adam says that there was no simulation of what the finished set would look like at street level. He did what George asked him to do. And Arsenio's clothing choices for the red carpet scenario were not very elegant. George mentions that they chose clothing similar to what they'd seen Ivanka herself wear. Lou agrees that Arsenio could have picked better clothes, so Arsenio should be fired. Paul puts George forward to be fired, as the communication wasn't very good. Clay praises George as a gay rights activist, but says that he's not always present as a manager. Jobs weren't so much delegated, as taken by people who thought they could do a good job on a task. Penn, always the diplomat, says he self-marginalized himself on this one, as he hasn't a good visual eye, and leaves those decisions to those who have a better grasp of visual concepts. Arsenio, another diplomat, says that if his clothing choices caused the team to fail, then he should be fired, BUT – he didn't think he could go wrong, since all of Ivanka's collection is so wonderful. Adam says that everyone did their job, so if someone has to go, It has to be the leader. Respectfully, Penn has to agree with Adam. Dee, who wasn't around for most of the project, is given a pass, due to his injury.     
George is not so diplomatic when he chooses Arsenio, for his fashion choices, and Lou, for misunderstanding directions, as the two that he would bring back to the Board Room. It looks like George is visibly sweating over his decision. If Lou Hulks out, it's gonna be Sayonara, Takei!
Lou again feels he shouldn't be in the Board Room, on the firing line. He gave 110% - doesn't this guy ever get tired? – and just wasn't given anything to do. He reiterates that he was the one who noticed that the set was too dark, but no one would listen to him. George says that Lou was enthusiastic, but another team member asked George to ask Lou to step back a little, as Lou was in the way. Lou says George was not aggressive enough as a manager, and let Adam take over on the construction site. George should have been stronger throughout the project. Arsenio adds that George couldn't be in two places at once, but they have the technology, via cell phones with photo and video capability, to circumvent that kind of problem. And there were people who didn't know what to do with Lou, so he was shuttled around, rather than assigned a role.
Arsenio creatively defends his fashion choices for the red carpet scenario. Junior wonders why they didn't use Ivanka herself as a consultant on the clothing. George says he wasn't aware that they had access to Ivanka, but Trump points out that the women did call Ivanka to access both advice and the use of her jewelry line. George says it looks like it's the leader that will have to take the fall, but wants to say that he's enjoyed his experience working with the team members on the show, and hopes to stay in contact with some of them in the future.
Both Lou and Arsenio say that they have tremendous respect for George, but Trump trumps them by saying he himself has the most respect of all. Nevertheless, it's hara-kiri time for George – and he's fired. George says his only regret is that he couldn't do more for his charity, the Japanese-American National Museum.
George Takei's Limo Exit Interview: "Donald Trump is a very rare individual, and to be invited by him to participate was a thrilling experience. Being fired is no fun, it is excruciating, but I was the Project Manager. I held the responsibility for the success or failure of our team. We failed, and I have to make my peace with it."