'The Celebrity Apprentice' Recap- Oh My! George Takei Falls On His Own Sword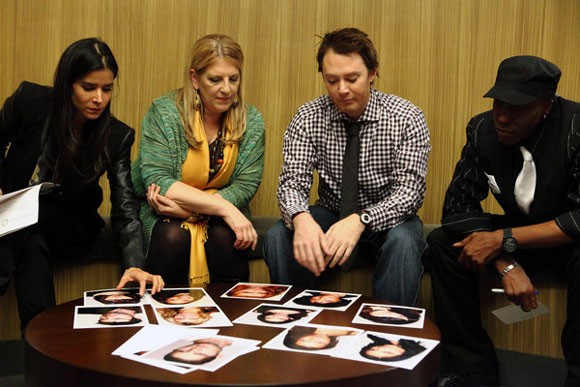 Last week, the Celebrities worked a Medieval Times angle. Lou Ferrigno hulked out when Penn Jillette mentioned his lack of focus, but it was Victoria Gotti who got the axe. Can the ladies of Forte pull it together, now that Victoria is gone, or will the men of Unanimous carry on their winning streak?
After the firing, Lisa Lampanelli swore she'd never Project Manage again, but she's more determined than ever that Forte kick some Unanimous butt. Penn Jillette had the pleasure to present his team's win of $40,000.00 to Linda Smith for his charity "Opportunity Village".
This week, Ivanka Trump's back, and hey! So is Adam Corolla, who had something better to do last week! Apparently Ivanka needs sales, as we start in the Trump Tower, in front of a display of her Fine Jewelry.  The celebrities are to design and build 'living window' displays in the venerable Lord  & Taylor store in downtown New York City for Ivanka's spring line of fashion and accessories.  Donald Trump Jr. and Eric Trump will act as advisors, while Ivanka herself will judge, based on creativity, brand messaging and overall presentation. The most compelling window display will be the winner.
Teresa Giudice offers to be Project Manager, but Dayana Mendoza insists it's her turn. With Debbie Gibson and Patricia Velasquez behind her, Dayana gets the job, but Teresa is not pleased. The men turn their attention to the two gay men on their team, Clay Aiken and George Takei, but go for George. Adam says their top 3 reasons for choosing George were that 1) he's gay, 2) he's gay and 3) he's gay. George says he'll "boldly go where the men have not gone before." What else could he say?
Aubrey O'Day comes up with a neat idea – a clock showing what a woman would be wearing at any given time of day. When the ladies agree, Aubrey gets overly enthusiastic. Debbie says it's becoming "The Aubrey Show."
The men get off to a slower start. George thinks they have to make four, not two, windows, and Clay wonders if George's slower processing time will be a problem. Penn comes up with an idea using twins as their models. Adam asks George to roughly sketch out his idea of the window's look, but he's reluctant without seeing the actual window space. Adam wonders when George will get into the game.
Ivanka and Scott Devine, creative director for Lord & Taylor's displays, drop by to hear what the men have so far. Ivanka describes her customer as being a "sophisticated, working, and aspirational woman." To the women, she adds that the core demographic is a woman of 25-35, who chooses clothing that can go from day to night, or weekday to weekend. Oh, and coral is the key color for her collection, and is found on all of the packaging as well.
The men decide to go with twins; one in each window with one being the 'Day' or office version and the other the 'Night,' perhaps showing a red carpet premiere. They choose Arsenio Hall to be in the 'night' window, and Clay Aiken for the 'day.' Adam and Paul Teutel Sr. will do the set design. Paul says he has sophisticated equipment at his shop for their use. George gives Paul a sample box to replicate as an example of what they need.
Dee Snider has to leave for a doctor's appointment, follow up on his broken finger from last week's challenge. He worries that his team will think he's not being a 100% team member. (Well, especially since we know that Lou is always giving 110%) And, indeed, Arsenio has his doubts about Dee continuing in the game. Arsenio's proven right when Dee discovers he needs immediate surgery to repair the bad break.
Forte choose Dayana and Aubrey to be the celebs in their windows. Debbie is not happy to be rejected as a choice, due to her age. Dayana assigns Debbie to photograph the fashions, and Aubrey, Tia and Lisa to Brooklyn to begin working on their sets.
Paul, Lou, Michael Andretti and Adam also head to Brooklyn. Adam's earlier career as a carpenter stands him in good stead, and he quickly sorts out the basics of their sets. Lou worries that Adam is making decisions without consulting George.