'The Celebrity Apprentice' Recap: Money Changes Everything

Donald Trump is back with celebrities, "celebrities," and a disgraced politician for the third installment of "The Celebrity Apprentice." He reminds us that the show is not just about giving has-beens a chance to be on TV; it's also about raising money for their favorite charities. Of course, philanthropy is best served as a side dish to the drama of reality TV, so Trump will "fire" someone each week.
This year's cast of characters boasts Reality TV man-whore Bret Michaels, Olympian Michael Johnson, Sinbad, someone named Goldberg, Baseball Star Darryl Strawberry, Celeb Chef Curtis Stone, and Former Governor of Illinois Rod Blagojevich on the men's team. The women's team has Sharon Osbourne's new face, "Hangin' with Mr. Cooper" star Holly Robinson Peete, Olympian Summer Sanders, Victoria Secret "Angel" Model, Selita Ebanks, Comedy Writer Carol Leifer, WWE Singer Maria Kanellis, and actual celebrity, singer Cyndi Lauper.
Trump begins the game by charging the teams to "pick a great name" and select the project manager for the OTHER team. Ooh Twist! The men want to knock off a player they perceive as strong and think that Cyndi will annoy the other women. The women all agree Bret Michaels on an hour of sleep should be the PM for the men's team. As for the team name, Cyndi Lauper: History Buff rattles off names of historical ships before the group consults a thesaurus and decides on the name "Tenacity." The guys go with "Rock Solid" over "Rock Hard." Trump likes "Tenacity" better (obviously) and talks about a girl he once knew named Tenacity. (Sidebar -  I knew a girl named Tenley who was recently on "The Bachelor." Debate: Tenley vs. Tenacity. Which name is worse?)
The Donald announces the task - run a diner for a day and raise money in food sales and tips. The teams go back to their huts and the guys wisely realize to let celebrity chef, Curtis Stone run the show. His strategy – get truffles and charge a lot of money for food.
Meanwhile, Cyndi Lauper demonstrates how ill-suited she is for managing this task. She does share a little nugget of trivia from her former life as an IHOP waitress who couldn't tell chicken pot pie from fried chicken and got fired after a week. However, it was a productive time, as she wrote a little ditty called "I Hop" which was changed a bit and became her hit tune "She Bop." How cool would it be if that last part were true?!?
Anyway, Cyndi's New Yawk accent is the best character on the show with Sharon Osbourne's British chirp holding her own. In fact, Sharon breaks things down for us with three key statements: 1) Cyndi's an artist, not a leader. 2) People aren't coming for the food; they're coming to see celebrities and give money to charity. 3) You can't just say, "Shut the Bleep up, sit down, this is what we're doing" in this context.  Oh Sharon, if anyone could, it would be you. But cheers to starting the game as a team player.
Each team settles into a Burger Heaven. Cyndi doesn't delegate or call donors, so Holly appoints herself to plan the menu and says she's calling everyone she knows. Eventually Cyndi thinks about which rich friends she can call and wonders if she should call "Ro" as in Rosie O'Donnell as in "that disgusting pig Rosie O'Donnell" to quote Mr. Donald Trump. She acknowledges the conflict of interests re: calling Rosie for the sake of Trump's show, yet while thinking aloud, she insults Trump's wife before realizing she's being filmed – for TRUMP'S SHOW! Still, she's all about letting her True Colors shine and says point blank in a talking head, "Ironically [Trump] called [Rosie] fat, and he, himself  is not a thin man." Very true Cyndi. By the way, "Ro" will not stopping by your diner.
Aside from Rod Blagojevich proclaiming his innocence to anyone who will listen and Bret Michaels announcing how many hours of sleep he's gotten each night, we don't see much from the men's team – making it easy to figure out who's going to win this task.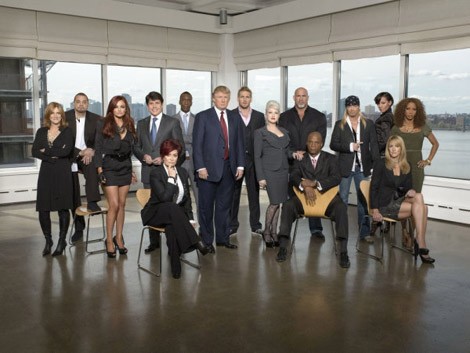 So back at the "Bleeping Star Wars Bar" Cyndi is singing while she serves and Carol is outside barking – a comedy term that doesn't mean acting like a dog. The women have a line around the block, which unlike the men's joint, includes regular people eating lunch for a reasonable price. Cyndi continues to be super fun to watch as she messes up orders and gets befuddled when Don Jr. comes into talk. 
The men's diner is less chaotic, but includes an Al Roker-appearance and a lot of people dropping serious dough. Don Jr's impressed, but unfortunately, the reigning Celebrity Apprentice, Joan Rivers has to eat a cold burger. To emphasize this drama, we see Rod defending himself and not serving burgers while a countdown clock shows Joan's burger finally arrive at her table after 9 minutes and 25 seconds. Her disgraced-governor-free experience at Tenacity's diner seems significantly better.
Bret Michaels is playing for a Type 1 Diabetes charity, because he suffers from the disease. He even shows us what happens when his blood sugar gets low, and he needs to take a few minutes to drink a coke.
Finally the task is over and everyone enters the boardroom. Evidently some birds had a chance to make a nest in Cyndi's hair for the occasion. Her snazzy look isn't lost on Trump, who reminds us how proud he is of his own unconventional 'do. Incidentally, Cyndi's friend, Edith finds him and his hair sexy. Edith, please show up on a future task!
Trump reveals Joan was a spy and she preferred the Tenacity experience over a cold burger from the Rock Solid diner. Rod defends himself…again, and everyone is visibly disgusted by his sliminess. However, despite $10,000 for serving Joan in a timely fashion, the women still come up short: Tenacity's total = $39559; Rock Solid's total = $57,905. As winning project manager, Bret Michaels will take $100,000 for the American Diabetes Association.
As the losing team, Tenacity has to find someone who is not as famous as Cyndi for Trump to fire. Eventually, they decide on Carol Leifer, a comedian and writer who no one has heard of. She attempts to make a case for her value on creative tasks and Cyndi agrees that losing her would be a mistake. Sharon realizes that there really is no one else to throw under the bus and Donald agrees. So Carol, you're fired – for not being famous enough, not having enough rich friends, and getting on Holly Robinson Peete's bad side.
Trump assures everyone that the show won't be all about friends with money. Next week looks like a "creative" challenge – let the egos start to clash!  
Story by Elissa Farkas
Starpulse contributing writer