'The Celebrity Apprentice' Recap – Do You Not Like Venezuela?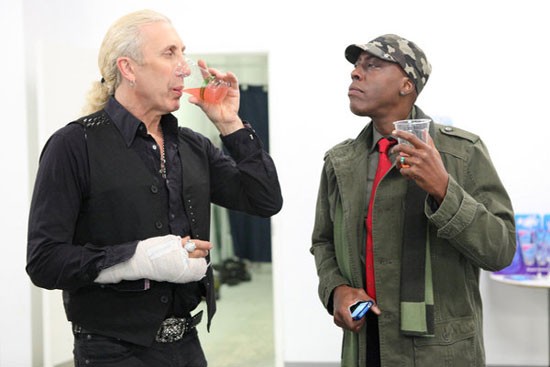 Last week, on Celebrity Apprentice: The teams were tasked with making a viral video. Unanimous' male team was led by Lou Ferrigno, and the female Forte team by Tia Carrere. The men's earlier frustration with Lou was forgotten when Clay Aiken and Arsenio Hall pointed out that Penn Jillette's brainstorming style was not supportive of Lou's management. Penn suddenly found himself being put forward as a possible target for firing. But the women of Forte weren't happy either, and Tia, as Project Manager, took responsibility and sacrificed herself for her team when they lost the challenge.
The Board Room tussles have taken a toll on both teams. Aubrey O'Day interviewed that their team was divided, not a good omen for any upcoming tasks. Teresa Giudice took particular offense at Patricia Velasquez calling her 'slow' and scattered during the challenges. Lisa Lampanelli took aim at both Patricia and Dayana Mendoza, pronouncing them 'brain deads.' 
Lou had the emotional pleasure of presenting his $50,000.00 win to a little girl named Abby, representative of his charity, the Muscular Dystrophy Association.
And so we begin another week …
Donald Trump and Trumpettes Ivanka and Don Jr. meet the celebrities on a rooftop high atop the city of New York. He's brought along Doug and Melanie, representatives of Crystal Light, who are launching a new product called "The MockTail." The celebrities are tasked with throwing a fabulous launch party, featuring the new flavors – Peach Bellini and Pomtini. Each team will pick one of the two. The teams will be judged on creativity, brand messaging, and the overall party atmosphere they create. Trump's paying $20,000.00 to the winners, while Crystal Light will kick in a further $30,000.00, for a total of $50,000.00 for the winning team's charity.
Clay puts himself forward for Unanimous. "I'm not a partier person, but I'm willing to do it." Aubrey will be Forte's Project Manager.  She immediately takes the opportunity to tell the reps that she's a huge fan of Crystal Light, and has lost a lot of weight drinking the product. "Sounds like you're going to win very easily," smarms the Trumpster. Clay worries that he may be undone by Aubrey's greater party knowledge. "Aubrey is a clubber – just look at that hair. Aubrey popped right out of her mamma's chotch and started grabbing onto a stripper pole. Can I say that?" You just did, Clay. 
Unanimous begin brainstorming immediately. Dee Snider wants to know if any of the men have either thrown, or been to, any great parties. Arsenio says he's a bit of a recluse. Even Paul Teutel Sr. is coming up blank. What, none of these celebs ever gets invited to big bashes? This is not looking good for the men.
The ladies of Forte gleefully mix up a big batch of Pomtini mocktails. Aubrey wonders if they should focus on the idea of the pomegranate as a 'forbidden fruit,' which leads the ladies to a Garden of Eden theme. Debbie throws in 'the UNforbidden fruit." Ooh, says Lisa, that's great. At only 5 calories, there's permission to 'indulge.' "Stir your – desires," is the catch phrase they're working with.
The Crystal Light execs arrive to give Forte more information. "Our brand personality is sassy. We're vibrant!" Aubrey begins to wonder if her theme will work with the brand perception.
Teresa, as a known party giver, has some great suggestions, including the making of mock tail popsicles. Aubrey puts Teresa in charge of the popsicles, and of getting together the furnishings for their scenario. Teresa jumps into action, thrilled to be able to work with her best skills. Aubrey sets Debbie to write and produce an original Crystal Light song, to avoid having Debbie offer one of her past 'hits.' Patricia takes on the branding aspect of posters and banners, but takes offense when Lisa offers to proofread her copy. Patricia feels that Aubrey and Lisa have been micromanaging every project since the beginning, creating a damaging environment.    
Don Jr.'s appearance makes Aubrey nervous, since his opinion means a lot to her, and she wouldn't want to jeopardize her possible future with the Trump family. (Eric's still single, after all.) She admits she also has a crush on Jr. She outlines their "Garden of Crystal De-Light" and mentions stirring their healthy desires. Wink wink. Jr. hopes that they are still keeping the element of fun in the idea, while Patricia sits off to the side, with a disapproving look on her face. Trump Jr. interviews that they seem to have all of the components in place except for the 'fun' concept, and that that could make it hard for them to win.