'The Celebrity Apprentice' Recap: Dayana Mendoza Takes Her Final Cat Walk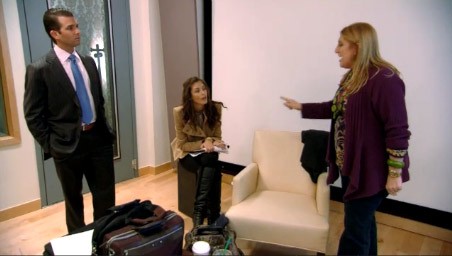 Last week on Celebrity Apprentice: The teams created a slogan and display for Trump's new scent for men. Although Dayana Mendoza's photo on the banner was praised, she was brought back into the Board Room for the sixth time. However, it was Penn Jillette's losing slogan that led to his firing.
Aubrey O'Day, Teresa Giudice and Arsenio Hall are all that remain of Team Unanimous, while Clay Aiken, Lisa Lampanelli, and Dayana are the last of Team Forte. Aubrey's overjoyed at her win for her charity GLSEN. Clay's devastated to lose Penn, as Penn was a strong player. Dayana knows she'll have to watch her back to stay in the game.
The celebs meet Trump and Trumpettes Ivanka and Don Jr., who are accompanied by Marcus Lemonis  CEO of Good Sam, the RV owners organization.  Their task is to create a 90 second jingle for Good Sam's roadside assistance program, and then perform the jingle in front of a live audience. They will be judged on the actual jingle, brand messaging, and the performance itself.
Trump wonders which team will have the advantage. After all, there's Clay Aiken, who's one of the great singers... But Arsenio points to Aubrey, and the Donald remembers, "We think of you as Playboy cover. It's actually singing, isn't it?" Ouch! Burn, Aubrey!
There's big money on the table. Trump will give $20,000.00 to the winning team, while Good Sam will throw in $25,000.00 plus a 100% share of profit made on sales of the Good Sam mascot merchandise.
Dayana offers to be her team's Project Manager, while Arsenio wants to lead his team. Aubrey doesn't look pleased, probably assuming that she would automatically be made Project Manager of a musical challenge.
Team Forte is ON IT, and Clay starts by outlining the basics of a good jingle. First, start with a lot of repetition. Lisa's thinking that Clay should use his crooner voice.  Dayana thinks that 'jingle' has something to do with Christmas. Once she's informed what a jingle is, she asks what rhymes with wheels, or oil, or, you know, car things. It's just occurred to Dayana that she can't write a jingle, or even a poem, what with English being her second language and all.
Clay says that jingles typically begin with finding a melody, to which words are added. He's getting frustrated, knowing that he should have been in charge of the task, and is insulted when Dayana suggests that they should call Debbie Gibson for help.
Clay wonders if they should go with a "Teen Angel," sixties style music concept. Dayana adds that they can then switch it up a little bit and take it to the eighties. Lisa and Clay, horrified at her suggestion, continue working on the sixties sound. Dayana's frustrated that her ideas are not being accepted.
Unanimous's Aubrey is trying to take over the task. She thinks doing something with cheerleaders would be 'amazing,' because cheerleaders do songs all the time. (Actually, they don't, they do chants, which are quite different.) Arsenio, grits his teeth, and gets in a dig when he says that he wants the team to play themselves, and something about mom's playing cheerleaders doesn't work for him.
Aubrey's next suggestion is that she teach them all a very simple tap dance routine. Although Teresa is okay with that, Arsenio vetoes the idea, as tap dancing has a different connotation to black men. He's not tap dancing. Aubrey name checks Gregory Hines, but nope,no tap dancing for Arsenio. End of story.
Aubrey feels like Arsenio is just shooting down her ideas, without giving them any thought. But the anti-bullying champion can't resist bullying Arsenio when she says, "Arsenio is the biggest girl on this show, so I don't know why he doesn't like tap dancing or wearing cheerleading outfits. We all know he does it at home."  Say what?!?!  (That sound you hear is the charity GLSEN tiptoeing away from any involvement with Aubrey 'The Bully' O'Day.)
Teresa is in the middle of an awkward situation. Aubrey's made it clear that she'll shut down creatively if Arsenio doesn't buy into her suggestions, while Arsenio doesn't like the two suggestions Aubrey's proposed so far. Apparently, a third suggestion from anyone on the team is too much to ask.
Good Sam CEO Marcus arrives to speak with team Forte. He has a bobble head doll of the company mascot, which seems to represent an average, middle aged man, who's wearing a halo. Marcus stresses that the jingle must highlight roadside assistance which will provide protection, comfort and security. But for him, having fun is an important part of the message. He doesn't want the team to play it safe.
Over at Unanimous, the team arrives at the recording studio, where Aubrey sulks that they have nothing organized. While Arsenio tries to write jingle, Aubrey says they should have an idea of what the performance will look like first.  "I could write you a song in two seconds, easily, but you have to have a concept, in order to have a song that isn't all over the place."