'The Celebrity Apprentice' Premiere Recap - Making Cheryl Tiegs Cry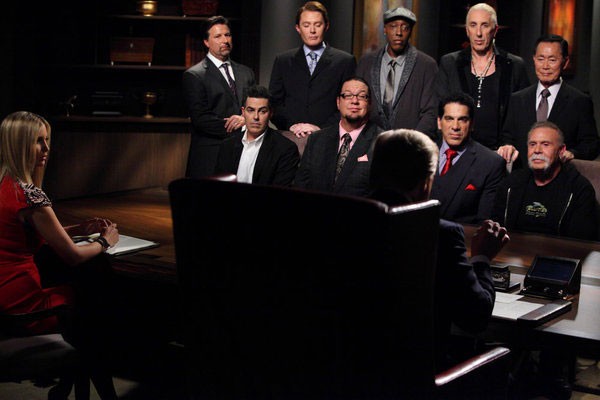 Dragging this board room conference on and on and on … Trump asks Lou what the 'gun show' was about. Poor Lou, deaf since birth, has no idea what Trump is talking about until Adam reaches over and squeezes his bicep. (And talk about a wasted opportunity – wouldn't it have been fun if Lou had opted to bring in last year's Marlee Matlin interpreter, Jack Jason? Missing that little guy!) Lou blushingly admits that he wore Paul's sleeveless tee as part of the team. Trump reminds us all that Lou is a former Mr. Universe, but he himself OWNS Miss Universe, so nanny nanny boo boo. George drools as the guys bond over muscles and weight training.
So, Don Jr., how did the ladies do in the money department? They raised $126,9620.00 setting a record for the amount raised on a first task.  But the men won, bringing in $332,120.00. Add in that extra $35 thousand … and even though well short of the half million Paul promised, Unanimous grabs the win. Even if Paul did charge one customer $305,00.00 for a sandwich, it's pretty impressive. In any case, almost a half million dollars will be going to Paul's charity, the Make A Wish foundation. Thank heavens, because I never did figure out the way to spell the name of Patricia's charity.
The guys leave to pop a few cold ones, and watch the ladies catfight on their locker room monitor. Paul makes a point of thanking the guys for not once complaining during the task. "No bitches!" he crows.
Patricia tells Trump that about 95% of the money they earned came from her donors, with the other large contributions coming from Dayana. Trump tells Dayana that her boyfriend, who is not rich, doesn't have a chance with her; no airplane, no future, apparently. Teresa and Aubrey also pulled in fans, though not necessarily cash. Debbie sticks up for Victoria, saying she was missed when on the Rachael Ray jaunt. Debbie hates to say it, but Cheryl was moving kind of slow. Patricia denies Cheryl's claim to have brought in $10 to $15 thousand in donations, even if the NYPD did rally to Cheryl's call. Aubrey dares to say she felt Victoria was the weakest, even though she knows – and Trump agrees – that she may take a bullet for it. Wow! Is this the first time anyone's been afraid to name a weak player for fear of being 'knocked off?' Even Don Jr. references a landfill somewhere in Jersey that might be Aubrey's next address. There's a lot of nervous laughter from the table.
Aubrey tells Trump that her six years of working for 'Diddy' have made her a very strict and focused business person. "I love Diddy," says cool cat Trump-iddy. Aubrey adds that she agrees that Cheryl was a little slower than the rest of them, but her positive energy was more helpful than someone making excuses or not pitching in. Getting back to Tia, Trump again tells her that her comment about defending herself in the board room wasn't very smart.  Tia, clearly prepared to go all Relic Hunter on Trump, also calls Victoria on her tardiness. Don Jr. wonders if anyone thinks the project manager should be the one on the chopping block, but gets a firm negative response to the suggestion. Dayana wonders how she, not nearly as famous and recognizable as some others at the table, was able to bring in more money. Lisa tattletales that Victoria spent more time on personal calls than calls to donors, and she felt Cheryl was unfocused. Patricia confirms that she's bringing Cheryl and Victoria back to Board Room for the final confrontation.
It seems to be a foregone conclusion that no one, not even Donald Trump, dares to risk the Gotti wrath. They still manage to draw out the firing, and in fact, the entire Board Room scene, for what seems like much more than the two hours of the entire episode. And since it's taken me almost eight hours just to write about this episode, I'm guessing the contestants must have needed oxygen and physical therapy after living through the events of the show. But I digress …
Despite Cheryl's protests, and Victoria's admission that she was holding back on some donors until her own shot at project manager, Cheryl's a goner. Patricia thinks that everyone held back except for herself and Dayana. But if Victoria would just focus, Victoria's got some awesome resources that can be brought into play. Trump's not going to risk his life or his empire to a Mob vendetta. Cheryl's been looking like she could break into tears through the entire episode, and this time, the tears are closer than ever. She admits that this game is just not right for her; she's a quiet, shy and hard working person who just doesn't fit into this group. The Donald respects her for saying so, and then fires her.
All that's left is for the trio to leave the room, but Trump, while reminding Victoria that she's got great energy but needs to pull herself together, doesn't give her a minute to speak, and tells her to go, go, go!
In Cheryl's limo exit interview, she tearfully says she feels she did as good as she could. She's actually happy to leave, as the environment wasn't right for her. She's as intelligent as any of the other women, but they have a toughness that she doesn't have, or ever wants to have.      
Next week: Trump gets medieval on the task. While presenting a show at Medieval Times, the ladies seem to be channeling "The Real Housewifes of Camelot." And someone makes Victoria Gotti cry. (Uh oh)