'The Celebrity Apprentice' Premiere Recap - Making Cheryl Tiegs Cry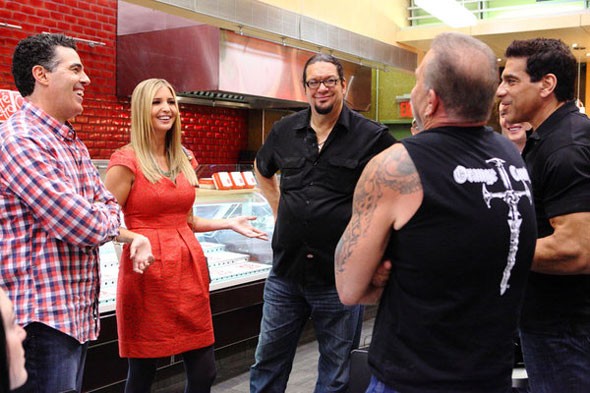 Forte work their phone list, probing for the best possible donors. Everyone calls in favors, but Cheryl admits that she's saving her big, big donors for herself. Unfortunately, it seems that Victoria is using the time to talk to family, negotiate insurance upgrades on her home, and haggle with her literary agent.
Unanimous is pleased to welcome IndyCar legend Michael Andretti to the fold, replacing Marco. Both teams knuckle down to prepping the sandwiches they'll be hustling the next day. Debbie notices that Teresa seems quite vulnerable, despite her table overturning reputation, and that Cheryl is laidback and lower in energy.
The morning of the task, team Forte discover that Victoria has not shown up as expected. Aubrey is thrilled that their red carpeted entrance and Celebrity Café signs look like an invitation to an exclusive VIP event.  As movie star and Grammy Award Winner Tia Carrere slices bread, Victoria arrives with news that she may have torn her cornea the previous night, which is why she's late.
Paul continues to subtly undermine George's abilities, although George says he sees through Paul's bluster and is sure the others can as well. George has a 'wow' moment when former bodybuilder Lou 'Hulk' Ferrigno changes  into an Orange County muscle shirt, interviewing that if he was in that shape, he'd be taking his shirt off all the time.  Outside the café, Penn juggles flaming torches while ten custom choppers pull up to the location. Penn keeps the carnival atmosphere going, using that big voice to perfection in setting the scene. It doesn't hurt that he's also brought in a dance group to enhance the festive air. Dee thinks they may be breaking several local ordinances, but he's having a blast!
Forte's team has a more low-key, subtle approach. Carol Alt, past Celebrity Apprentice player, and supermodel, drops by to help out, while Teresa's reality show fans take the opportunity to be photographed with their idol. Aubrey opts to stay outside and pull people in with her 'tendency to be heavily charming.' Wyclef Jean pops by to donate $15,000.00, pumping up the energy when he organizes a singalong with Debbie and Aubrey. Patricia's got friends with money to burn; Russell Simmons, Katie Ford, and Bravo's Andy Cohen, to name but a few. Victoria and Cheryl cobble together a $10,000.00 vegan sandwich. 
Things get serious at Unanimous' location as Penn and Clay work together to hustle in the donors. Clay proves to be a genius at upselling, to Penn's delight. Clay thinks Penn's idea to bring in a female dance troop to drum up business AND pay them a thousand dollars apiece for the privilege, is brilliant. The tattooed ladies shower Clay with their payment. Strangely, he doesn't seem to really enjoy having money 'rained' on him by large breasted females.
My all-time favorite moment so far? My darling, my secret crush, my Don Trump Jr., arrives at the 'Celebrity Café.' Greeted by Patricia and a fake paparazzi photographer, he's asked "who are you wearing?" Without breaking stride, he says, "I don't know." And walks into the café. No one does bland, uncaring throwaway lines like that, I say, no one! Just my darling Junior …
Well, he's not there to fool around, you know! He's got to find out how Team Forte are doing, quickly, and without a hint of a smile. He has an issue with the team making grilled cheese sandwiches, thinking that rather time consuming, but he lets the ladies get on with it.
It's pandemonium outside Unanimous' shop, but inside, you could have fired a cannon and not hit a soul. Where are the buyers? George and Michael worry that they'll never win if they don't start making sales. Clay's doing his best to keep the cash flowing, but is beginning to get skeptical about the half million Paul promised. At Forte's, Patricia worries that her team hasn't made enough money, her expression somber and unsmiling. Well, in all fairness, that seems to be her only expression, regardless of the situation.
Trump throws the teams a curve ball when he tells both project managers to bring their best celebrity sandwiches to the Rachael Ray show. She'll decide who's made the better sandwich, and that team will get a cash bonus. Lisa Lampanelli and Victoria Gotti represent Forte, Adam Carolla and Arsenio Hall, Unanimous. Rachael tastes both offerings, but holds off on a decision.
Okay, teams, lets hit the Board Room! Patricia tells the Donald that she feels her team, with star player Dayana, won the task. The team praise Tia on her handling of the cash register, unleashing Trump's first dig. "So Patricia, if you lose, you're not bringing her back." Tia's quiet response, "you can bring me back, it's okay" unleashes a terse "Tia! That doesn't make you very smart."  Ouch! Digging deeper, the two male Trumps press for an answer to the killer question; assuming you lose, who are you bringing back in to be fired? Patricia dithers, but finally cites Cheryl for not brining in the money, and Victoria for not being a team player, and keeping the team waiting without bothering to keep them informed on her whereabouts.  Victoria defends herself by saying that she was left in the kitchen making sandwiches for hours while everyone else worked the red carpet.
Trump next turns to the men, welcoming Michael to the show, and mentioning his respect for his father Mario, the original racing Andretti. He asks Paul who was his biggest star, noting his own celebrity when he says, "When you're out on the street like with Trump, they go totally crazy. The biggest star in the room by far." Got anybody even close, Paul? Well do you?  How about Penn? Spitting fire, juggling, AND bringing nice looking women that donated money into the act – yep, it's gotta be Penn. As weakest players, he has George and Arsenio, George for his meeker personality in a group of strong personalities, and Arsenio  just because he couldn't think of anyone else. Could Paul be mistaking meek for reserved, asks Ivanka? Well, George has a history of fighting for his life, first as a child in internment camps, then through the years that he had to survive and overcome.  Trump defends George's leadership in the gay movement over the years, and says that some of the quietest people he knows are also the strongest.
Hey, what happened with the Rachael Ray sandwich-off? Thanks for asking. It turns out that Café Metro will donate $35,000.00 to the winner …. Drum roll please …. Team Unanimous.